Here's the Secret: Big Busts Beware
The chemise is a great piece for a romantic evening. It would be a sure bet on Valentine's Day. It isn't something to wear everyday, it looks too dressy and fancy for that. It is possible to pull this one off outside the bedroom if you wear a tank top underneath (it's see-through). It didn't fit me well in the chest, but I imagine it would fit fine for smaller chest sizes. The materials are comfortable and soft, this item is made well.
Published:
Pros:
Gorgeous and Romantic
Lots of Sizes Available
Accurate Sizing Other than Cups
Cons:
Cup Size is Small/Off
A little Boring and Typical
This Secret Passion Chemise reminds me of Valentine's Day and Christmas all in one, but to my discovery it is great all year round! I decided to order this dress based on the bunches of personal pictures that shoppers had posted. I loved how this looked on them – it looked like something you could even leave the house in! I was really excited about that! Overall, I am not sure I will ever leave the house in it though, and this is why...
Packaging:
Came hung and gorgeous
The Secret Passion by Dreamgirl came in a nice plastic garment bag hanging on a cheap plastic hanger. The packaging wasn't stellar, but it was nice that is was secure in the plastic garment bag. The items looked lovely hanging on the hanger. I could tell how gorgeous this set was as soon as I took it out of the shipping box.
If you care to hang your lingerie items, then the packaging is great for reuse and storage. I however, think this item is tough enough to be folded and put away in a storage box with the rest of my lingerie. My secret is with sets like this, that come with more than one piece, is to store it in a Ziploc bag. This keeps the items clean and dust free and also keeps sets together when often times they get lost in the mix!
Contents include: Chemise and Thong
Made in China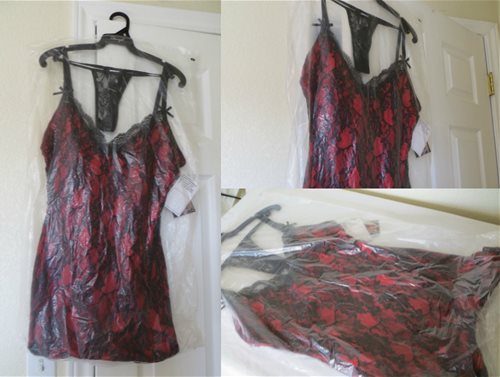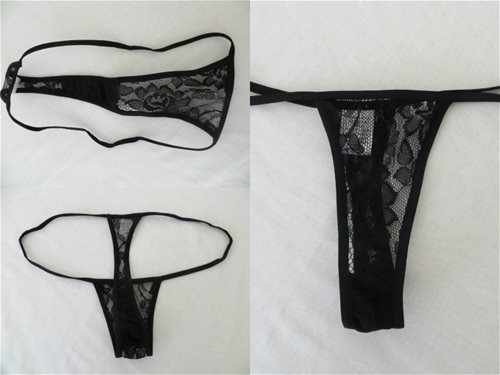 Care/ Maintenance:
By hand only
The care instructions for this item: hand wash in cold water, do not bleach and line dry.
This set does take some extra love for care. It is not the easiest piece I have ever washed by any means. The double layers are gorgeous but slightly difficult to scrub and rinse. I felt like the lace never fully rinsed out the detergent (which is a delicate solution for handwash items). After washing, I hung this chemise to dry and it maintained its shape well.
Size:
Correct sizing, yay!
This chemise is available in a wide range of sizes: S, M, L, XL, 1X/2X and 3X/4X. Currently the product page only shows the medium in stock. There are enough reviews on this, in many different sizes, I suggest you check them out and hopefully there is one in your size!
As for my review, I reviewed the size Large. Typically I review Small or Medium items, but I wanted to be able to wear this out of the house, so I thought going up a size would make that happen. I was wrong of course. The sizing is pretty right on, therefore this was baggy on me. It didn't look like a dress or a shirt, it was a weird mid-range thing. It was just awkward. My bad. I should have went with the Medium.
Oh yeah, and if you can't tell from the pictures I posted, my measurements can be found on my
profile page.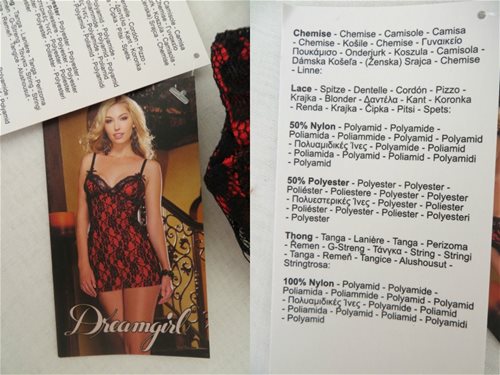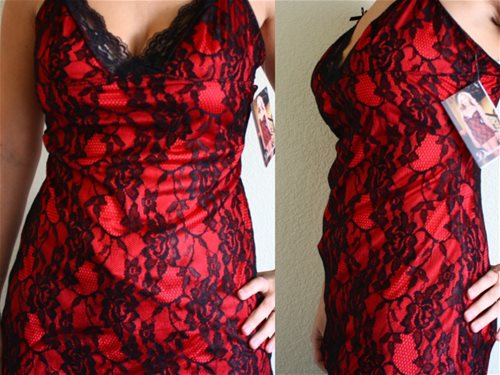 Design/Shape:
Very lovely
This item is truly a pretty piece. I really love the look of the lace contrasting the red chemise, I think it is just gorgeous. The lace is flowery and looks stunning against the inside layer. It reminds me of a holiday, specifically Valentine's Day.
The red color is a sincere red. It is veering toward the orangey side instead of the maroon. The images of me wearing this are the actual color of the chemise. I am not sure how the colors changed for the up close images, but ignore the orange color.
The top of the chemise has a lot of pretty and feminine details. The cups have seams down them allowing for more room. The outside of the cups are lined with a lace piece that lays gently on the skin. The bras straps are connected at the top. They are fully adjustable and are stretchy. There is a small satin bow attached where the strap meets the cups. The front is a pretty deep V neck style, and shows plenty of cleavage. The back of the chemise is unique as well. There is a bra-like clasp section in the back with two hook and eye closures, to fit 3 different sizes. Below this is a peep hole in the mid-back. These simple touches give the back of the chemise a unique and flirty design.
Experience
continued...
The thong is basically your everyday lingerie thong. It is black and lace with elastic bands. The lace panel is in the front, and the back is a smaller lace panel. There is a white tag on the back which is very hideous and can be seen when wearing this lace thong, I suggest cutting it off. The thong also has a crotch fabric liner.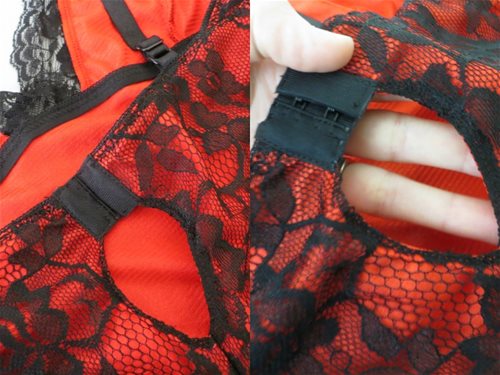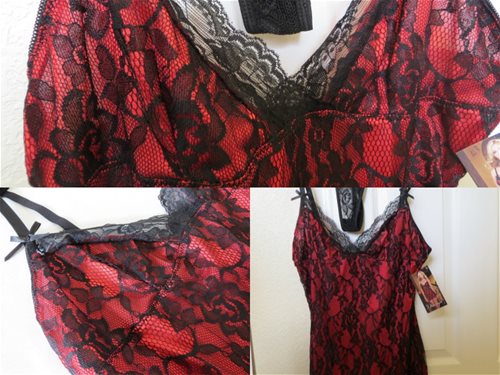 Material/Texture:
Silky inside and surprisingly smooth outside
When I see anything with lace, I automatically think itchy and uncomfortable. Mostly this has been the case for me. This item however is not. I was happily surprised that the outer lace layer is smooth and soft. It doesn't catch on your skin like some lace does. The inside lining is also silky and smooth. It is very light and delicate.
The materials of the chemise are 50% nylon and 50% polyester.
The material of the thong is 100% nylon.
The thong is soft to the touch but a little bothersome when worn for an entire day. Like I said before, I had to cut off the tag because it was itchy and annoying. The front panel was comfortable, but the back seemed to be irritating.
The material is pretty flimsy and thin. It does not stretch when pulled, it has almost no give at all. When you hold this up to the light you can see right through it. When it is on, I suggest wearing it in the bedroom unless you have a tank top underneath.
Personal Experience :
It's pretty, not spectacular
Overall, this dress is just gorgeous. It is a bright red with the elegant contrasting black lace. It is detailed and looks very romantic. I do think it is pretty, but nothing out of this world. It is a nice piece to have in my collection for the romantic evenings, but not one that I am crazy about wearing all of the time. I think that if I had gotten this in a size smaller I might wear it out, but then again I am unsure about this since it is so revealing and the cups are pretty small. As you can see in my personal pictures the bottom line of the cups are splitting my boob in half. This is because if I wear it where it is supposed to lay, underneath my breasts, my boobs are literally falling out of it. There is no support what-so-ever. I definitely recommend this to smaller boobed ladies who like the romantic look of red and black contrast. Overall, it is a good addition to a lingerie collection, but I will be wearing this selectively as it is not my absolute favorite.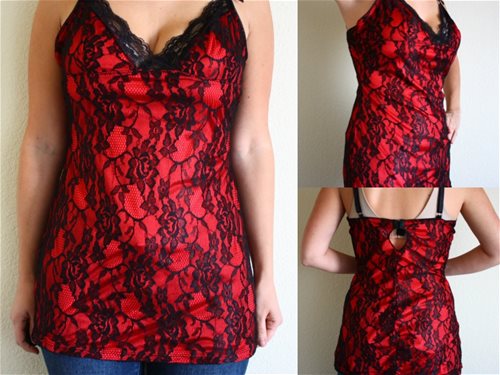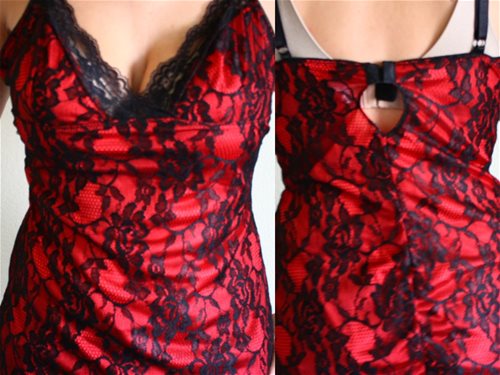 This content is the opinion of the submitting contributor and is not endorsed by EdenFantasys.com

Thank you for viewing
Secret passion
– chemise review page!