Ho Ho Hokay (S)
This bustier is potentially a really sexy number, provided that it fits you correctly. If you have a shorter torso, it may ride up and then bunch up as it tries to ride back down and get caught on your hips. It does look good paired with a black blazer or sweater, and looks great with jeans too.
Published:
Pros:
Pairs well with sweaters, Adorable and sexy, Makes a statement, Soft material
Cons:
Boning isn't terribly supportive, Not that comfortable for all day wear, Not great for short torsos
This outfit comes in pretty pink tissue paper, and has only a single tag safety pinned on in true Coquette fashion. There's one tag on the inside of the corset that gives you the size, materials, and care instructions. This is 100% polyester, and should be hand washed and hung to dry. You might be able to get away with running it through the washer, but the drier could damage the boning.
I got this in a small, which according to Coquette's
new chart
means that I should be between a size 4-6, with a 34-36" bust, 26-28" waist, 36-38" hips, and weigh between 100-120. I'm about 5'2, I weigh about 120, around my bust measures 32" and underneath measures about 28 1/2". I've got about a 29" waist and measure about 34" around the top of my hips and 38" around my butt and wear a good solid B cup. This fit me pretty much like a glove.
Included in this set is the corset, two removable straps, four removable garters, a ribbon that ties around the top, and a teddy bear broach. This is actually a bustier and not a corset, since it doesn't lace at all and offers minimal cinching. Be that as it may, it's still a nice piece. The inside is a matte red, and the outside is that same bright matte red with a lace overlay. The ruffles at the top and bottom are very soft and almost beg to be rubbed repeatedly. It secures in the back with a series of hook and eyes, and a 50" ribbon runs through two small loops and can tie in the front or back, or not be worn at all if you want. Here's an image of the measurements: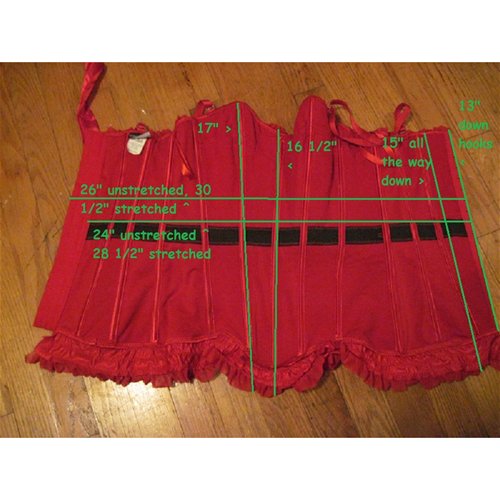 The straps are easily removable, and easily adjustable from about 9" to about 18". The garters also remove easily and adjust fairly easily and can go between 5 and 8" long. They hold up some stockings better than others, but aren't really remarkable.
The boning here is plastic, which is a good and bad thing. The good thing is that it has a bit more give and is cheaper. The bad thing is that if you slouch at all or have a shorter torso, it's going to bend. I'm about 11" from the top of my breasts to the top of my hips, and for me what would happen is that the bustier would naturally ride up, and then as it would naturally ride down it would catch on my hips and then distort. After a while, it would ride itself up under my armpits and become slightly uncomfortable. If your same measurement is about 13" long or longer, you shouldn't have much of a problem with it riding up and down. As for the rest of the construction, it seems pretty solid and I don't really have any complaints aside from the fact that the red ruffles were sewn onto a black band that becomes visible if you move wrong.
Here's a shot of how the boning bends when it catches on my hips: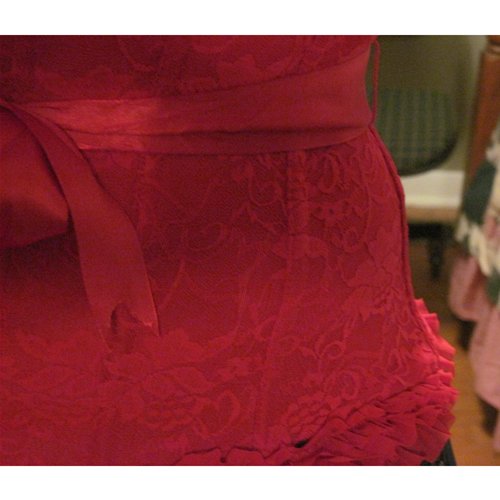 You can easily accessorize with this. I would pair it with something black, preferably cropped. I don't have a cropped sweater that is also black, so I opted for a blazer or a longer sweatshirt:
Here are some pictures of it with nothing in the way:
Experience
This was my replacement option for the disaster of a
holiday
outfit
I had initially wanted to wear. I was only able to wear this for about 6 hours before I got uncomfortable and ended up changing, but I don't think it's the outfit's fault really. Most of what bothered me was how it would get caught on my hips no matter what I was doing, which wouldn't happen if my torso was longer. I can't really fault it for being too long for me, because I'm fairly short. Otherwise, it's relatively comfortable for shorter periods of time.
This content is the opinion of the submitting contributor and is not endorsed by EdenFantasys.com

Thank you for viewing
Lace corset with ruffled top
review page!