Noodle Boning
If you are looking for a corset by definition...this one isn't even close. It doesn't bring the waist in at all because the boning is very floppy. The other material are gorgeous and soft, however. The price is high for plastic, but it does look very pretty.
Published:
Pros:
Gorgeous!, Runs a tad large, Stretchy, Comfortable, Will fit large busts, Removable parts
Cons:
Tacky broach, Plastic boning is a joke (bends in half like a floppy noodle!), No bust designation
The Lace Corset with Ruffled Top is the softest corset I own! The ruffles and lace are incredibly smooth and flexible. It is very stretchy and comfortable, so it can be worn with jeans or as lingerie. However, I was a bit dissapointed in certain aspects because the boning is a joke. It's flimsy and can be bent in half! There are no cups either, doing nothing extra for my bust. The price is high for plastic boning, but the rest of the materials are exquisite.

*Contents/overview: One piece corset with removable parts

*Corset
*4 Garters
*2 Straps
*Teddy broach

This corset has plastic boning and metal eye and hook closure in the back. It has adjustable and removable shoulder straps and garters. It also comes with a removable ribbon and teddy broach. There are no designated cups, padding, or under-wire. It is made in red and comes in sizes S, M, L, XL, and 1X/2X. The sizes have plenty of stretch.

*Material: Excellent

The corset is made of 100% polyester, exclusive of trim. The trim is the elastic band, metal hooks, Lycra shell, and plastic boning. I own a lot of corsets. Many of them have ruffles and lace but none near as soft. Seriously, the ruffles feel like feathers! They are made of a stretchy mesh. The lace is also stretchy and just as soft. It is thin and has a gorgeous flower and swirl design to it. The inner shell is a felt feeling Lycra. The boning is plastic and really flexible. I can completely bend it in half, even when it is on me I can flip it up. The red color is very bright.

*Design/craftsmanship: Good, Weak boning

This corset can have straps or not. I prefer to wear it strapless unless I'm going to wear a mini jacket or something over it. The corset has eleven pieces of boning. There's one in the center and then either side is evenly spaced out. Most of them are straight up and down, but a few are slightly angled to help create an hour glass. There are two rows of closure about 5/8" apart.

The bust has a sweetheart neckline, but it isn't very pronounced because of the ruffles. There are actually five layers that covers the bust and go around to the back. If you pull the ruffles up, there is red satin in between. They also decided to use black spandex and thread, so that can sometimes be seen. Horrible choice! The bust has no under-wire, padding, or anything extra. It doesn't even tucker out. The only thing that defines the bust is the slight angling out of the second and third rows of boning. There's also a thick spandex strap sewn into the waist, but it is too low to offer support.

The bottom has the same ruffles, but the last two rows are sewn further apart from each other. The top follows the bust line, but these ruffles are slightly more straight across. It is hard to tell from the front of the corset but the middle actually dips down slightly. From the dip in the bust to the point at the bottom, the corset is 14 1/2" long, but there is a polyester lip of ruffles that adds 2". So this corset is about 16 1/2" long (standard for a medium - especially Coquette). This corset should fall on or slightly below your hips.

Since this corset is so flexible, it's easy for me to put on by myself. The hooks go right into left if you are attempting to do it behind your back. I prefer to flip it around and sit it on my left hip. I start at the top and then hook to the bottom. When I'm done, I twist it to the back and pull it up to my bust. On the outside of the corset are two loops of string in the sides. This is where the 1 1/2" wide ribbon gets put through and tied around the waist. If you don't like the ribbon, you might want to cut off those loops.

The straps are like a bra and attach with 'S' hooks. The same goes for the garters which are also stretchy, but durable. They have plastic attachments and stay put. The little teddy broach is tacky to me, so I unpinned him and left him off.

*Cleaning/care/storage: Hand wash, plastic bag with padded hanger

The tag says hand wash and hang dry. It came on a nice padded hanger. The corset has hanging loops on the inside. I would store it like a tank top on a hanger. Made in China.

*Sizing/fit: Runs a little large
Experience
I wear a medium in most Coquette corsets. I choose to wear a large if the material isn't stretchy or the cups look too small. For this corset, I'm totally fine in a medium since the material has lots of give and there are no designated cups. I have plenty of room. Especially around the middle, it will accommodate someone larger than me. My D breasts are not smashed but aren't extra supported either.
The medium is supposed to fit a 8-10 dress, B cup, 36-38", 26-30" waist, and 38-40" hips. I weigh ~142 pounds (size ~8); curvy but fit, with size 34/36 D breasts. My waist is about 30" and hips 38.5". I like the fit, but the boning is a joke. It warps and doesn't contribute to a strong hour glass. It is very comfortable, but I wouldn't call this a great corset. The bust is comfortable enough, but won't be good for chests smaller than a C (In M or larger), they will definitely get lost. I think that this corset would fit DD breasts. I had extra room in the band. So if you have a 36 or smaller band but larger than D breasts, you might be able to squeeze in and have more cleavage than I do. I am wearing it on the smallest hook row.
My Re-done chart: For the medium - runs a little large
Dress: 8-10 (possibly 12)
Cup: C-D (possibly DD)
Band: 36-38"
Waist: 29-32"
Hips: 38-41"
*Possible accessories:|
If you want to wear this out, a dark denim or black sleek pant would look great. The ones I am wearing above are American Eagle Artist. If you want to cover your shoulders or arms a cute mini-jacket works just fine. The one I am wearing is from Maurice's. You can't see my shoes, but I'm wearing a simple 4" heel from Pleaser in patent leather red. A black shoe would work just as well.
If you are wearing it as lingerie,
these
stockings would look great.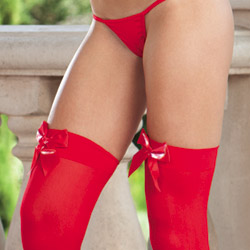 *Conclusion:
4 stars ❤❤❤❤
As a functional corset, this isn't a good one. The boning is a complete joke, but the material are gorgeous otherwise. It is very comfortable to wear and is well made. I was hoping for a better hour glass figure, but this corset is too weak to provide anything like that. I imagine that the boning will not hold up for the plus sizes and will warp badly. Keep that in mind when ordering. As long as you are looking for a pretty top, this will please you. It's gorgeous!
Follow-up commentary
2 months after original review
Being that I don't find this corset sexy enough to be worn in the bedroom, I don't know how often it will be used. It's kid of unique! It has held up perfectly and I've had no issues with hand washing.
This product was provided free of charge to the reviewer. This review is in compliance with the FTC guidelines.

Thank you for viewing
Lace corset with ruffled top
review page!