Holiday Ruffles and Bows!!
I like this because you could wear it out on the town if you wanted. More than one use is always good. I would give this a 5 if the ruffle on the bottom where not there. I can handle the no underwire I don't need it. I can even take the band off the back if I want to. Really I think if they did the things I suggest more women could wear this and would wear this.
Published:
Pros:
Cute slimming and any body type could wear this I think.
Cons:
No underwire so a limited number of people can wear this.
I was so excited to be getting this chemise. It looked so pretty and I really wanted something different for the holidays.
It came as usual in a brown discreet box and label. The chemise had its own very nice black hanger. Everything in the shipping box is recyclable. To give this as a gift you will need to buy a nice gift box.
First you notice the shape of the boobs. You would think there is an underwire. There is no underwire to this at all. It gives great shape, very little support. I am a B 1/2 cup and it gives me a nice shape. I would say someone who has bigger boobs could wear this. Maybe a C cup if you can go without a wire. If you are one that cannot go without the underwire and support you will have to go elsewhere. There is a nice size bow in the middle of the boobs as well. This has a ribbon that ties behind the neck. It has padding for the boobs. There is a band of material and sequins across the back. I think is for the boobs. It really does not give much support. The sequins run over the sides so they itch. There is a nice wide band of sequins that run around the boobs and down the front. They are applied over Lycra material. Where the sequin sits is nice and smooth to the touch. The mesh on the sides is a little itchy. There is a seam that runs down the side. The seam gives it a slimming look. It has a patch of Lycra down the back this feels smooth. This covers the ass but leaves the hips exposed. The bottom ruffle mesh with sequins well let's say that it itches. The sequin hit your skin a lot. I really don't like the ruffle now that it is on.
This comes in a Small, Medium and a large. I got the large. This chemise fits well. Like I said I was excited to get it. It is easier to step into then to go over the head. The ribbon around the neck is nice touch. My boobs look good in this. Most times I have too much room in these things because larges fit a bigger cup size then I am. I would like them to take of the sequin band in the back. Take off the ruffles on the bottom. I would like them to add an underwire and I think they would have a complete hit. I am going to wear this under cloths I think the top would look great as a Christmas top. The bottom well if you had a very nice jacket/sweater the whole thing could work. I am not that daring but I am wearing under a skirt.
I have not found any loose threads. I don't see any elastic. I think this would last a long time. I think if anything would give it would be the sequins.
Mesh
Synthetic fibers. Soft and stretchy.
Lycra
Lycra is a synthetic fiber known for its exceptional elasticity (stretch ability). Lycra is very strong and durable material, able to be stretched repetitively and still recover original length. It is resistant to body oils, perspiration, lotions, and detergents with no static or pilling problems.
Care
Lycra cannot stand high temperatures so never soak, boil or bleach this material. Wash in tepid water and allow drying in an airy place. This material can be machine washed at 30 degrees. Lace should not be bleached and ironed. It also shouldn't be tumbled and dry cleaned.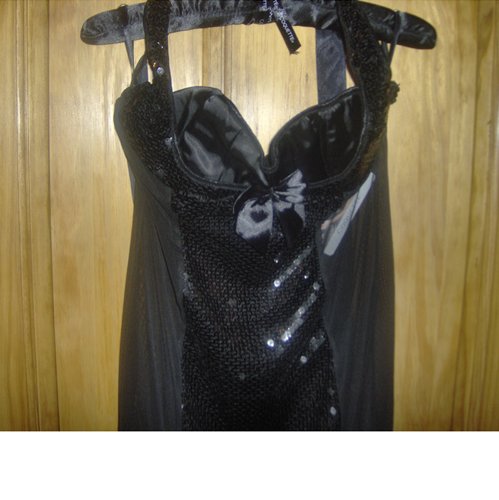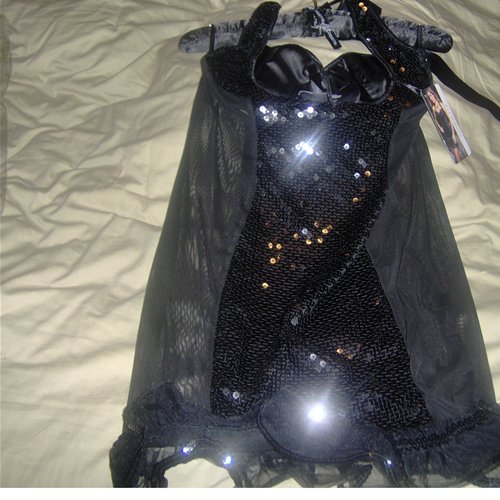 Experience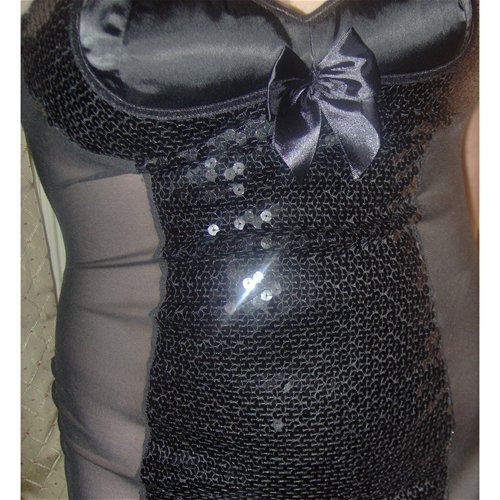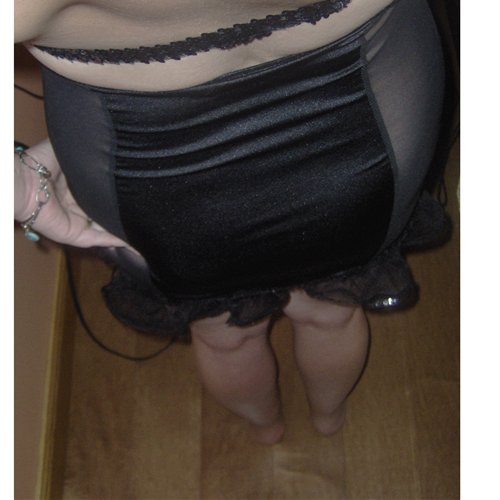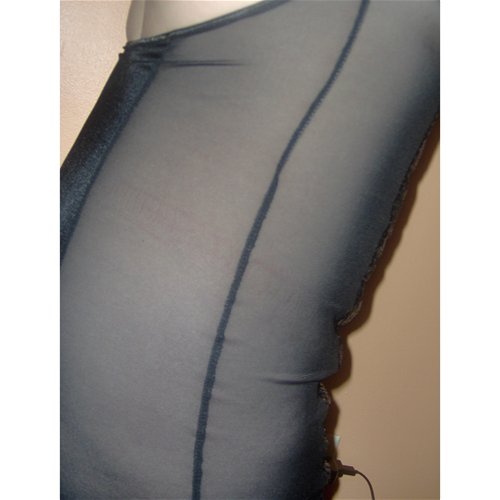 I don't usually take pictures of my body because I hate the way things look on me. This chemise looked good and makes things look slimmer I had to show you. Seeing is believing. First off I have a 34" waist. This fabric is stretchy. When I have this on it is comfortable. When I gave it a pull it had a good 1 1/2" half comfortable on each side. It measures from the bow to the ruffle 20" long. My husband is not home right now and I emailed him some more interesting pictures of me in this. He and I are set to go out on the town. His comes home in the next week or so. I can't wait to wear this out it makes me feel sexy and slim.
Follow-up commentary
26 days after original review
I like this more than before. I took the bottom ruffles off. They made my legs itchy after a while. But now I am in love with it. I bought a very nice over coat and out we go. I get so many compliments on it. I am so glad I got this.
This product was provided free of charge to the reviewer. This review is in compliance with the FTC guidelines.

Thank you for viewing
Holiday halter chemise
review page!