Itchy and scratchy.
Honestly if it were not for the seams being so itchy due to the sequins I would wear this pretty little thing more often. But it is a chore to not get uncomfortable and loosing the mood due to scratching and adjusting. The chemise fits extremely well however has no support for your boobs, had to add my own strapless bra to make me feel comfortable. Going to see if I can eventually adjust the seams to not be so itchy, not sure how.
Published:
Pros:
Very pretty
Nice sizing
Stretchy materials
Cons:
The sequins itch like crazy
No support for breasts
Hard to keep back sequin strap straight
When the holiday halter chemise first shows up it is in the typical EF packaging which consists of minimal cardboard and brown packing paper. This is great if you are buying as a gift for your significant other and wish for them not to guess that you have gotten them this type of gift. Once you remove the packing paper you will see inside the chemise inside a thin plastic bag with a padded satin hanger holding its halter straps. Once you remove the plastic you can find the Coquette tag which is easily removed. I suggest removing it with a pair of scissors as to not snag the fabric. Once this is done you can easily remove it from its hanger and try it on.
There are two main types of material other than the obvious ribbon which make the end of the halter straps and sequins that are attached to the front center, the breast area hems of the ruffle and the beginning of the halter straps. These fabrics are Lycra and mesh. The mesh can be found on both sides of the chemise and makes up the ruffle at the bottom. Mesh is a soft and stretchy material which can be machine washed at 30 degrees. Lace should not be bleached and ironed. It also shouldn't be tumbled and dry cleaned. Lycra is very strong and durable, it is able to be stretched repetitively and still recover original form. It is resistant to body oils, perspiration, lotions, and detergents with no static or pilling problems. This fabric can not stand high temperatures so never soak, boil or bleach this material. Wash in tepid water and allow drying in an airy place.
This chemise comes in small, medium and large. I chose small as my measurements are 32C chest, 23 waist, 34 hips. The outfit fits me pretty well without overstretching or being too small. The hem is not too short and the breast area covers well. The downside to the breast area is that there is no help when it comes to support, you can't do much adjusting with the stretchable back sequin strap and there is no under wire for the cups.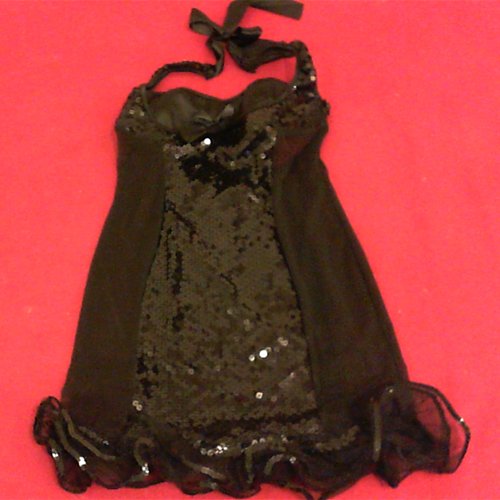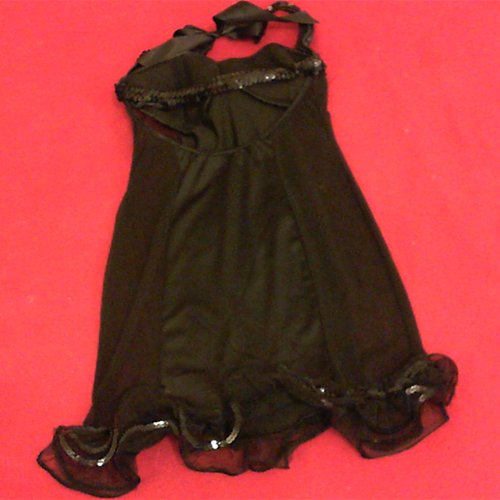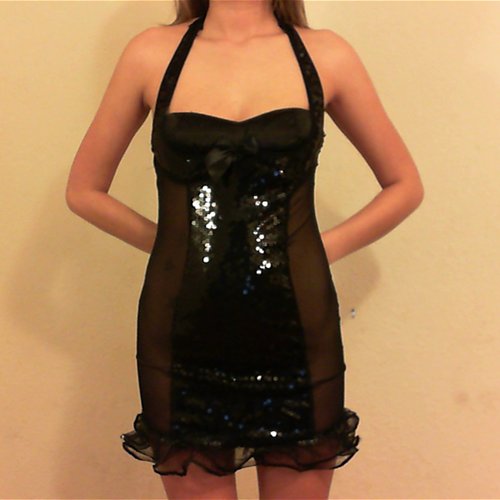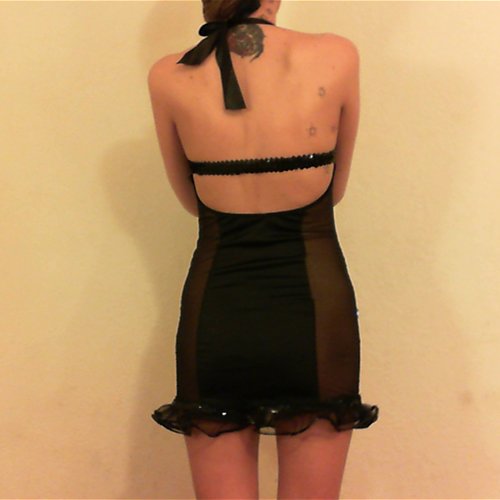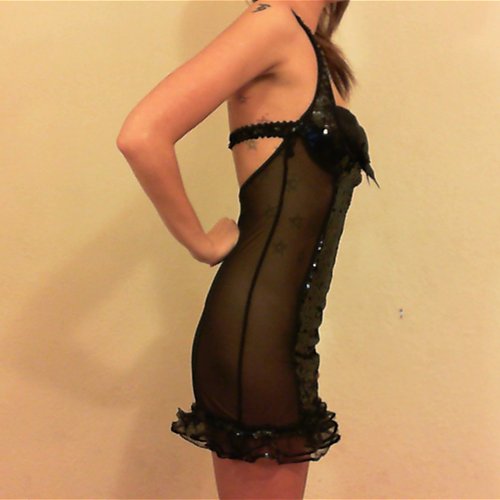 Measurements-
Length of ribbons on each halter strap- 17 inches
Back sequin strip- 13 inches un-stretched, 24 inches stretched
Length of side- 23 inches
Length of front including ruffle- 24 inches
Length of ruffle- 2 inches
Width across chest- 13 inches
Width of front sequin area at widest point- 8 inches; Most narrow- 6 inches
Bust height at widest point,(center of each breast)- 4 1/2 inches; Most narrow- 2 1/2 inches
Length of back from lowest dip to hem of ruffle- 16 1/2 inches
Sequin width- 1/4 inch
Interior hanging loops/straps folded- 3 inches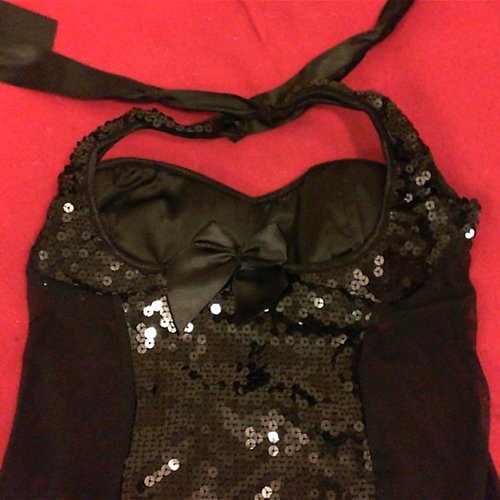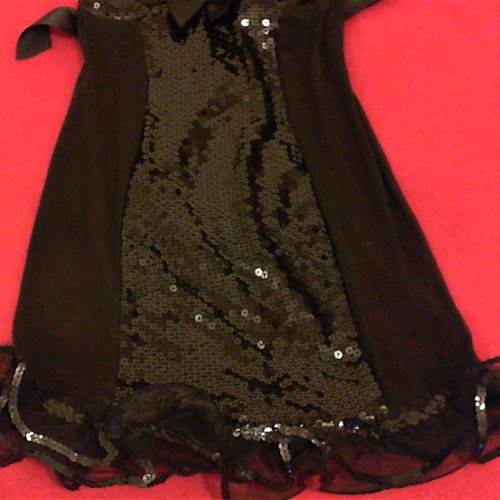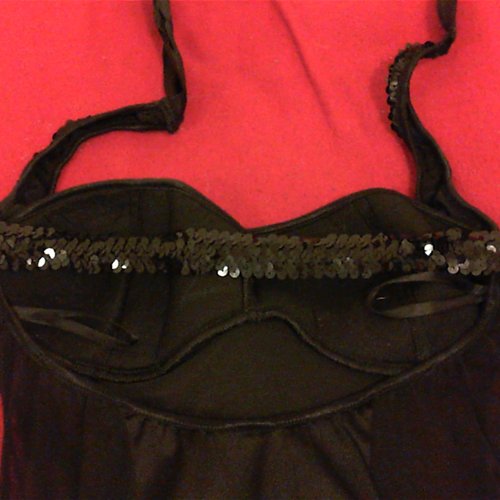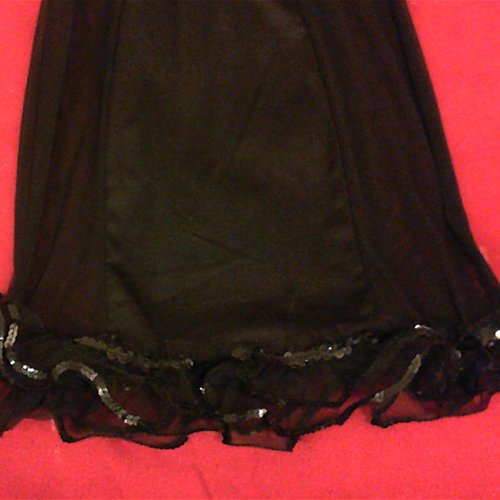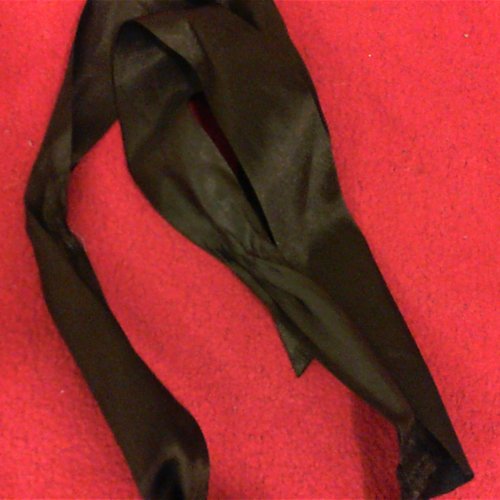 Experience
Okay now once you have this on it looks fabulous, but the downside does strike you quickly. Those pretty little sequins are not tapered off before they are sewn into the hemline. This ends up scratching you and since the side of the garment is mesh you cant really do much about it other than itch or ignore the buggers.
Here is an up-close look at what you are dealing with. Now it may look like its not that big of a deal but sequins have sharp edges.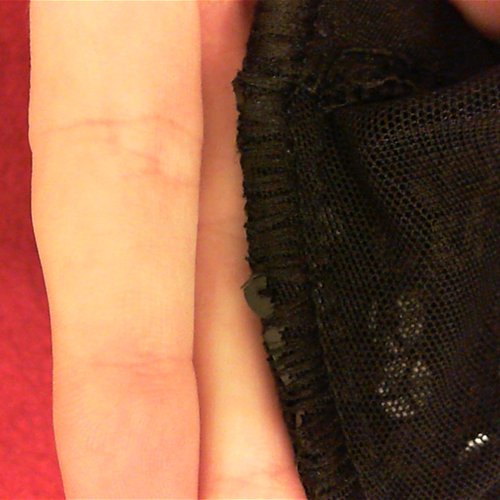 I have found a way to make myself more comfortable in the breast area, I just add a black strapless bra and lay the sequin strap across the top of it so I can have the support I need.
This product was provided free of charge to the reviewer. This review is in compliance with the FTC guidelines.

Thank you for viewing
Holiday halter chemise
review page!