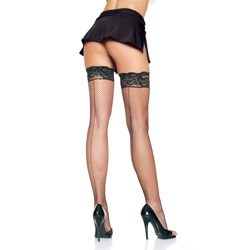 Stay up backseam fishnet stockings
Stockings by Leg Avenue
I Could Play Tic-Tac-Toe on My Thighs...
They're affordable, they hold up, and they fit well. The thigh band was a bit intense, but everything else more than made up for it. I'd say, weigh those thoughts, and go for it.
Published:
Pros:
Held up well; Sizing guideline was flexible!
Cons:
Thigh band was too tight.
Let me assure any who read this that the size guidelines are just that: guidelines. I'm 5'0", am a plus-sized woman, and have thighs of approximately the same thickness and density as English Oak. And these fit. They were a little long, but that just meant that they went all the way up to my crotch, which frames the pertinent area rather nicely, actually.

They didn't slide, either, which is a miracle! No wrinkles around my ankles! It was hard to put a hole in them, which means they're sturdy, and the only real complaint I had was with the stay-up thigh band at the top. Everything else is just a matter of learning the product.

The band is just a wee bit too small, so it dug in, and got uncomfortable. The grippy strips were fine, and didn't tug at my skin, which I appreciated, but I did develop dents at the top from the tight band. As I've said, though, I've got sturdy thighs, so your mileage may well vary.

I would recommend that if you are planning on doing a lot of walking or dancing in these, or just if your thighs rub together like mine do, that you'll want to put some layer of fabric between those thighs and under your feet, otherwise you'll develop a rash and after a few hours it might feel like you've been walking on a red-hot grid. Ouch. But, please, by all means, test that out for yourself, and then let me know here how it worked for you!

Also, please consider having a friend check that your backseam is straight. If you just look in the mirror behind, you're going to have to twist, and that will distort your view, leading you to think the seam is straight when it isn't. And a crooked or twisted backseam is an unfortunate thing.

One last thing. After a few hours of wearing them, I discovered that I had little square indentations on my thighs. I imagine that if your lover wore these, you could get the simultaneous pleasure of cutting these fishnets off of them, and then making them play tic-tac-toe with you, with the resulting marks...

Have fun!
This product was provided free of charge to the reviewer. This review is in compliance with the FTC guidelines.

Thank you for viewing
Stay up backseam fishnet stockings
review page!