I Feel Quite Rebellious in These Leggings
The Ripped Leggings by Music Legs are extremely comfortable and make me feel like a rebel when I wear them. I am a size XL and the "one size fits most" actually fits me. The brand suggests the leggings are best suited for those who are between 5'-5'10 and between the weight of 100-175lbs. My size belongs in both of those categories and they fit quite nicely. I'd say the sizing is pretty accurate!
Published:
Pros:
sizing is accurate, comfortable, price, unique, super stretchy.
Cons:
not available for those who wear plus sizes, the top area of the leggings are see-through.
I purchased the Ripped Opaque Leggings by Music Leg recently because… well honestly, I thought they looked badass. They are only available in black, and in a "one size fits most" size. Usually one size fits most products don't fit me because I am a size XL. I figured that for $14.99 though, I should try them anyway.
The leggings are packaged in plastic, with a cardboard insert wrapped around the leggings. The front of the cardboard piece states the brand, product name, size, and has a photo of the leggings worn by a model. The back of the cardboard has the sugested weight and height for the person wearing the leggings which are: 5'-5'10" (100-175lbs).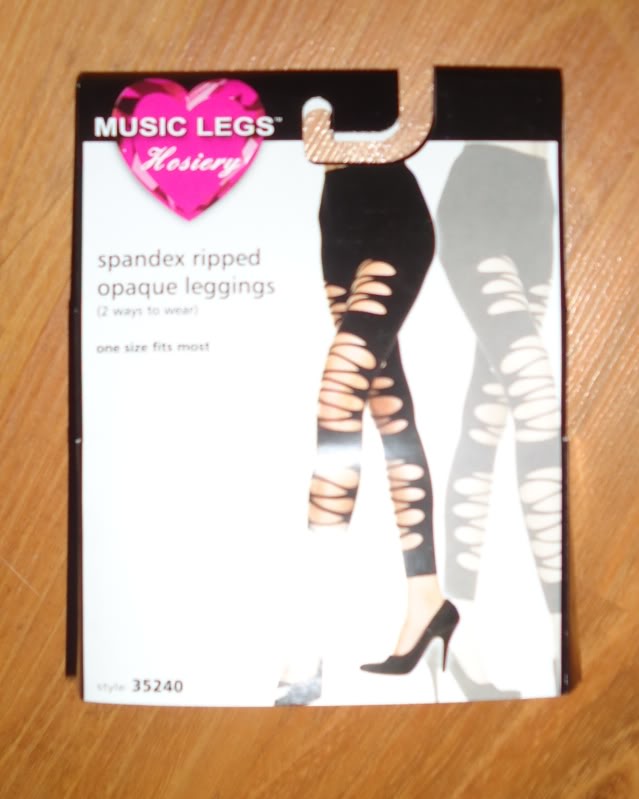 The leggings are 88% nylon and 12% spandex. The leggings are ridiculously stretchy (just like any pantyhose), so I am not sure if unstretched measurements will be very helpful but here they are anyway:
Length of leggings: 33 ½ inches
Waistband: 9 ¼ inches
Those are UNSTRETCHED measurements. Like I said, these will stretch to fit in width and in length to accommodate the sizes suggested by Music Legs that I had stated above. Also, there are 22 rip "holes" going down each leg (yes, I counted).
When I seen the tiny waistband on these leggings, I was scared. I don't wear pantyhose because I can't stand the feeling of a waistband cutting into my stomach area. When I seen this, I had assumed that it would be uncomfortable. Luckily though, they were comfortable once I had put them on and I did not feel restricted.
When I had the leggings on, there was a bit of extra length to them (I am 5'6). With the extra length, I was able to adjust the ripped areas to the way I liked them. If I wanted the hole to look larger or smaller on the top of the legging, I could adjust it accordingly. My thighs are quite thick, and I found that while they were comfortable, my thigh fat sort of, "poked" through the ripped areas. While it's not extremely noticeable from afar, you can see it up close. The first photo is of me bending over trying to take a photo of my legs, and the second is taken more of a straightforward shot.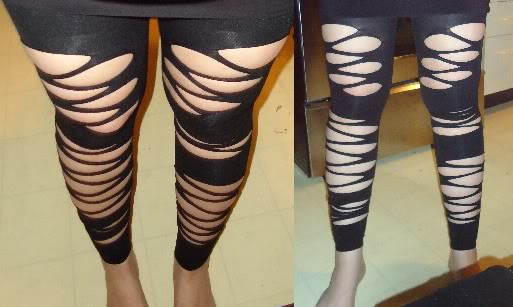 The leggings were extremely comfortable and it felt as if I were wearing nothing on the bottom. One important thing to note is that you'll need to wear these leggings with a shirt/dress/skirt or similar item long enough to cover your bum (unless you wear black tight shorts underneath). The stock photo on the product page makes the entire material of the leggings look like they are not see-through, but in fact, they are at the top. When I tried the leggings on, I was wearing pink undies and when I turned around to look at my butt, you could see my underwear through them. I am not sure if this is because I am on the higher end of the suggested weight for these leggings, but they were definitely see-through at the top for me. Though the photo below is not the best quality, you can see where my black shirt ends, and the leggings are. If you look closely, you can see that the leggings are not completely solid coloured at the top.

The care instructions are on the cardboard packaging, and are all in symbols. After looking up exactly what the symbols mean, I've learned that the leggings should be hand washed in cold water and hang dried. Also, you should not bleach, iron, or dry clean the leggings.
Overall I rate these leggings a 4 out of 5. I love everything about them, but they lose a star because they are not offered in larger sizes to accommodate those who wear plus sizes.
This content is the opinion of the submitting contributor and is not endorsed by EdenFantasys.com

Thank you for viewing
Ripped opaque leggings
review page!