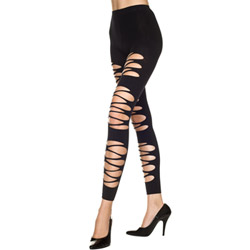 Ripped opaque leggings
Leggings
by Music legs
Ripped Opaque Leggings: only for skinny model legs, too snug on me!
Even though these leggings don't fit me properly quite yet, I hope that they fit better come spring. I'm looking forward to wearing these with a casual dress, as well as cut off jean shorts. Gotta love the 80's/90's style coming back, makes me feel like a teenager again! Note: if you have plus sized legs, stay clear of these, as they will make your legs look heavier.
Published:
Pros
Good quality, strong and durable, comfortable.
Cons
One size fits most, no plus sizes.
Use
Are you looking for a unique spin on the black leggings? Do you like the style of ripped pants that shows some flesh? The 80's seem to be back with a flash, and the Ripped Opaque Leggings by
Music Legs
might be what you're looking for. Wear them with an over-sized sweater, t-shirt, dress, or whatever you fancy. If you're really in the mood for the 80's, layer these with a ripped pair of jean shorts, or even the
Belted Beauty Dress that I recently reviewed
... they would pair up nicely.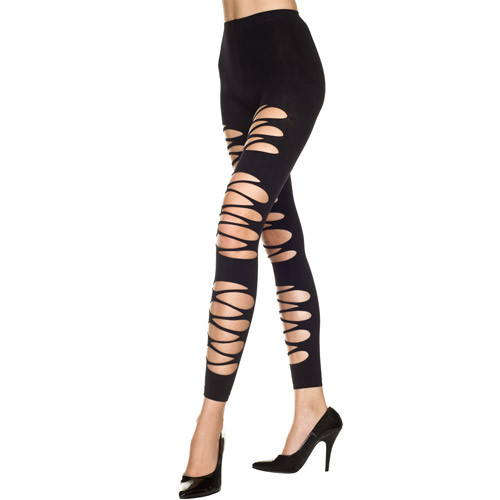 Design / Craftsmanship / Material / Size / Fit
The leggings by Music Legs are black in color, and can be a little more sheer then regular black leggings. Depending on the size of your legs, the bigger they are, the more sheer they will look. The leggings are made of 88% nylon, and 12% spandex, however, Eden Fantasys just have the product listed as spandex. I'm going from the original information on the packaging, and they call these pantyhose, but a legging as well.
The leggings feature ripped style, similar to what you would have seen in the late 80's, early 90's. These remind me of back in the day with Madonna, New Kids on the Block, Blossom, Janet Jackson, and many others who used to wear ripped pants. Yes, I too used to be one of them! They come only in the color black, and are only "one size fits most".
The sizing are:
5'-5'10", and 100-175Lbs.
These leggings can be worn two ways: the rips at the front, or the rips at the back. There are a total of 22 ripped holes in total, but keep in mind each pair of leggings may vary. The length of the leggings measure to be 33.5" in length, and 4 1/4" across. The thigh measures 8.5" around, and that's without it being stretched. The bottom of the leggings at the ankle measure 3.5" across, and 7" around.
When it comes to the waist, I didn't think I would even get them pulled up. I did, but I won't be including a photo of that, as I feel I look too fat. The waist measures 8 1/4" across, and 17" around, that's without it being stretched. These can obviously stretch to fit a number of waists, as I normally wear a size 14. The waist elastic measures 1.5" in height, and the distance from the top of the leggings, to the crotch is 9.5" long.
*Tip: Remove all rings and bracelets before putting these on, to avoid ripping or injuring yourself! I was wearing a ring and it got caught... I'm such a klutz!
Experience
Even though these leggings didn't fit me quite the way I wanted, I will be keeping them for some time. I'm currently losing weight, as I had gastric bypass surgery, and have already lost 116Lbs. I'm currently at 184Lbs, so I'm above what is recommended for the sizing of the product. By spring I should hopefully be able to fit into them properly, and be able to wear them. I want to wear these with jean shorts, like what I would have done in the late 80's early 90's. The quality of the tights/leggings are excellent, and I'm amazed that I didn't rip them trying to get them on or off! These are worth every penny... if only I can get into them in the next few months.
Please ignore the fact that I need to shave my legs! Yes, I know I should have done that before snapping a few photos, but I was too lazy. The lower portion of the leggings fit my legs fine, it's just the upper portion that make my leg skin puff out at each rip.
Care and Maintenance
Even though these are leggings, you will want to pay extra attention to washing these. Do not toss these in the washer or dryer, as they can get caught and rip. Hand wash these in cool to warm water, and use a mild detergent. You will want to hang these to dry, to help hold their shape. Do not iron, as it could possibly damage them.
Packaging
The packaging is like any other socks or pantyhose product that you would purchase from the store. The outside of the packaging is made up of a cardboard label, that folds around the product. The front of the label is mainly white in the background, and has a models legs wearing the product(front view). It has the Music Legs Hosiery logo at the left top, which is a pink heart, with white lettering. Below it in black lettering it states: "spandex ripped opaque leggings", "(2 ways to wear)", "one size fits most".
The back of the label is black in nature, and contains writing in white lettering. The back has the same info as the front, and contains the companies website: "www.musiclegs.com", the fabric breakdown, and the washing instructions.
The cardboard packaging is recyclable, and can easily be opened up to further view the contents. Inside it contains the leggings that are folded and wrapped around a white cardboard insert, which is placed in a clear plastic sealed bag for protection.
Follow-up commentary
9 days after original review
I've dropped another 5Lbs since I wrote the original review, and they're starting to look better on me. Just another 5Lbs, and I will be in the size/weight listed on the packaging. I can't wait to wear these this spring!
This product was provided at a discounted price in exchange for an unbiased review. This review is in compliance with the FTC guidelines.
Thank you for viewing
Ripped opaque leggings
review page!