Ripped opaque leggings - Brings out the 80's kid in you!
The Ripped Opaque leggings are a sexy look right out of the 80's. They give you a sexy retro look to go with your favorite oversized shirt or skirt and will have people turning their heads to check you out.
Published:
Pros:
~ Cute Look
~ Adorable Style
~ 80's Look
Cons:
~ Very slender legs needed
~ excess skin or fat may 'bulge' from the holes
The Ripped Opaque Leggings by Music Legs is an adorable idea. They are sexy and functional. Wearing these leggings is a stylish alternative to your typical leggings or pantyhose. Leggings are sexy to wear with a skirt or oversized shirt. These leggings have a ripped style that is unique and adds a nice touch of pizzazz to your outfit. However, they are designed to fit those who have extremely slender legs and will not fit those with thicker thighs.
Music Legs Ripped Opaque Leggings are made of 88% spandex and 12% nylon, though they seemed more like nylons everywhere they stretched.
Although they claim to be leggings, in reality they are more like pantyhose. For this reason, they should be worn under something. If not you will clearly be able to see through any stretched portion. The ripped legs can be worn in the front or back, either way, they are both an adorable 80's looks. The rips are horizontal and extend up the leggings from the upper ankle to the top of the thighs.
Care instructions for these are as follows: Spandex cannot stand high temperatures so never soak, boil or bleach this material. Wash in tepid water and allow drying in an airy place.
They are easy to care for; I simply tossed them in the washer, cold water, with my regular darks and air-dry them. This may loosen up the fabric. Therefore, if they fit you well you might consider hand washing them.
They come in plastic wrapped package with little a cardboard and it is recyclable. You can store yours in the package or tucking into your lingerie drawer.
Eden offers them in 'one size fits most' and the label says it will fit the size range of 5' - 5'10" and 100 - 175 lbs. Also, the buttocks area has more stretch than the legs do.
They measure out as 32 1/3" in length, and 4" across while not wearing them. This will obviously change after they are worn in a little bit more, but shouldn't change dramatically.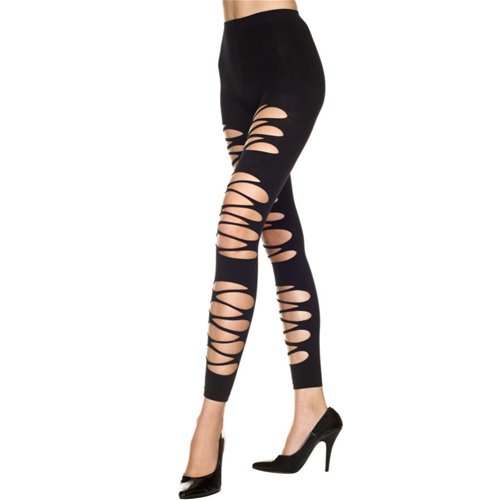 Experience
I am a fairly skinny person, weighing around 120 - 125. I am 5'5" and have a 36 inch waist. I was literally on the floor trying to get these on. When I finally did, they were so stretched that they looked like sheer nylons. And the worst part was my thighs and my lower legs were buldging out of the cuts. I was only able to force myself to wear them for a few minutes before I had to litterally peel them off. I love the look and think that they are a great concept, but they need to have a little more stretch to them. I am going to put them through a few washes to see if this stretches them out a little for me and then I will try again.
Follow-up commentary
2 months after original review
These will just never fit me right. No matter how many times I try to stretch them. I really wish they would have fit because the look is just adorable to me.
This content is the opinion of the submitting contributor and is not endorsed by EdenFantasys.com
Thank you for viewing
Ripped opaque leggings
review page!