I Used to Eat Crayons...Only the Hot Pink Ones
Joseph wants his technicolor dream coat back! The color of these thigh highs is totally not represented in the photo. The color is florescent pink and super bright. The shape of these is decent and the thigh band keeps them up. The material is super thin though so these are excellent for a special occasions but not long time use.
Published:
Pros:
Lace band, works best for shapely thighs.
Cons:
Super thin material, runs easily, could blind you.
True story...as a 5 year old kid I used to eat crayons like most of my friends. But I only ate the hot pink ones. I swear the last time I have seen this color pink was way back then and maybe once when I made an ill color decision to put hot pink rubber bands on my braces.
My boyfriend got these to go with an outfit he got to review with me. That outfit was bright pink...these are even brighter! The color in the picture is NOT the color you will get. It looks more like this...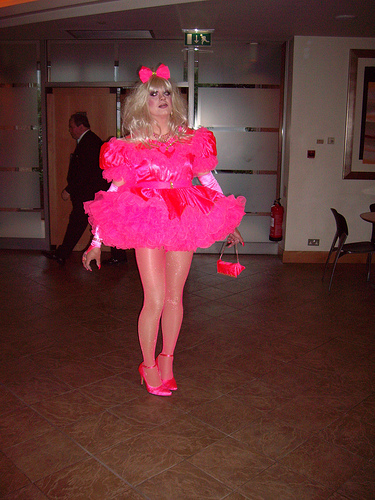 So why is there some weird girl in a tutu on my review? Because no matter which of the like 107 setting I have on my camera was used to take a picture, it still came out looking like 50 times less hot pink than the actual color. I should even call it hot pink, neon doesn't do it either. These are florescent pink! So the color is more like the bow in her..or his hair...
*Contents/overview:
They are a great price and of course don't come in only blinding Barbie high heel pink (black, white, baby blue, purple, baby pink, blue, and red). So my rating will mostly be based on the material and fit etc. These stockings and nylon and have a reinforced lace thigh band which makes them able to be worn without garters or with if you want. They also have a closed toe. So aren't for wearing with strappy sandals.
*Material:
These stockings are made of a super thin 100% nylon. They are sheer so this may be why they feel so thin. Tattoos you have can be seen. This thinness makes them feel weightless and smooth against the skin. The material stretches nicely without compromising shape. They went back to almost the exact small shape they were when I unfolded them from the package.
*Design/craftsmanship:
What is weird is that I think these are less durable than the back-seam version that is cheaper. They run easily and will get caught on THE tiniest nick in your nails. The lace band however is very sturdy. It is thick enough to provide a bit of shape and control to the top. They didn't roll at all either if they were placed correctly. The lace has no pre-cut holes for garters so if you are using ones with metal attachments make sure to not poke holes because the lace will run at that point.
*Cleaning/care/storage:
If these last longer than one wear (I'm surprised mine did), it will take careful cleaning to not cause runs. Hand wash them and drip dry. Because they are so thin, I would not run them through a washer and dryer. When storing, I fold them in on themselves, like socks to decrease the chance of rips.
Experience
*Sizing:
The thin material makes them less durable but more comfortable. The package says one-size 90-160 lbs. I think these probably fit more like 105-165 pounds, or like 20"-25" thighs if you pull them up further than right above the knee. The band doesn't have any gel on the inside to help hold them up so if you don't have shapely thighs these won't work for you, but if you do, you shouldn't have any fitting problems. These could be worn without garters, not problem. My thighs are currently about 23.5" muscular and they fit like a glove. You could always make a SMALL slit in the inner side of the lace band to add a little more room. When I say little, I mean 1/4" no more!
I am 5'6" and my legs are about 31" long. These stockings also are longer than others I have. Stretching them without too much pull gave them a length of 40". These could be worn by much taller women especially if they have shapely thighs to keep them up.
Conclusion: I'm giving these 3 stars. The sizing is decent and works best on shapely thighs and taller women. They have a pretty lace band but have a ridiculous color! The material is the main down fall. It is too thin and gets runs easily. I don't imagine these lasting long, but I will be purchasing more as needed for different outfits etc.
If you want these with a back-seam, you can read my review of those
here
. They have less colors, but are also a dollar cheaper!
Follow-up commentary
29 days after original review
These thigh highs can only be recommended for a one or two time occurrence. After wearing a few times, they start to be show that they don't really hold their shape. The nylon is REALLY thin and doesn't really go back to its shape. I find this odd because I have a lot of stockings. I even have the same ones with the back-seam in white and those are still holding up strong. I wish I could say that it is just this color, but can't. Again, these are great for a special occasion or light wear, like maybe for photoshoots etc. but not really ideal for sex or going out in.
This content is the opinion of the submitting contributor and is not endorsed by EdenFantasys.com

Thank you for viewing
Lace top thigh high
– thigh highs review page!