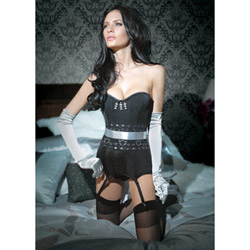 Spellbound corset
Corset
by Coquette
I will break the spell you put on me (Medium)
The Spellbound Corset is a lovely corset. It has a removable belt and wrist restraints, six removable garters, and two removable straps. It fits like a dream and looks damn sexy. The restraints are only meant for teasing and light play so do not expect high quality restraints. If it doesn't appeal to you in the bedroom, it can double as shapewear worn under clothing.
Published:
Pros:
Excellent fit, six garters, removable garters/straps, belt and restraints, doubles as shapewear
Cons:
Minimizes chest, hard to put on, hand wash only
Description
The Spellbound Corset is from Coquette's new Spellbound collection. According to a
press release
, this collection is meant to be demure and delicate with a fetish flare. They added subtle bondage elements to the collection to pair bondage with femininity. Sounds like a winning combination to me.
The corset comes packaged in a plastic bag and does not include a hanger. Safety pinned to the corset is the product tags and a small bag containing the six removable garters. There are no included stockings or underwear. The corset is made of 80% nylon and 20% spandex. This means the corset has a fair amount of stretch and is soft. In the same press release mentioned above, Coquette explains that this corset can also be used as shapewear and I'd have to agree. Aside from the boning, this corset does remind me of some pairs of Spanx I own. Of course, this is much sexier than industrial strength granny panties.

This corset is a solid, opaque black with a lace panel that runs along the waist. The lace panel has silver foil-like thread that is used to highlight patterns in the lace. This lace panel is not sewn onto the corset; rather, it is attached at the sides with one string and is attached along the back closure. If you wished to remove this panel, you could use a seam ripper to remove the lace panel. There are twelve pieces of plastic boning in this corset. They are fairly strong and do not bend weird when I move or sit in this corset.
At the top of the corset, there are three silver and rhinestone decorations. They look like a leaf and berry pattern. They're connected to the center of the chest by means of a string. One of my decorations has decided it wants to be different and it just won't lay flat. Along the entire length of the top of the corset is a small, black ruffle that is trimmed in the same silver foil-like thread that is found at the waist panel. There are no cups or underwire in this corset. However, it's tight enough that your chest will not go unsupported. There are removable straps included with this corset. The straps are adjustable, much like everyday bra straps.
The back of the corset features 18 hook and eye closures. There are two sets of eyes so the size of this can be adjusted slightly. The six garters are merely standard, black garters with plastic closures. The points of this corset where the garters are attached come down to a point so the bottom of this corset is not straight across.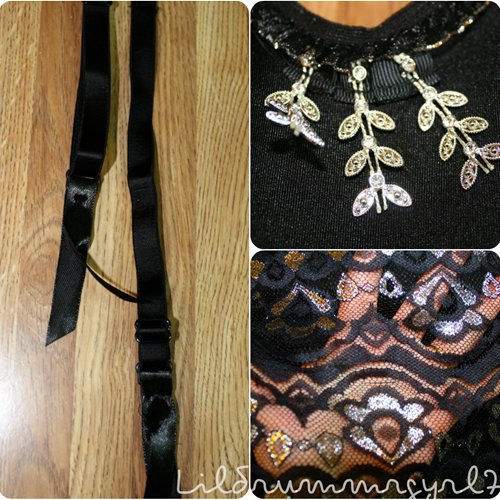 This corset also includes a removable belt/restraint sash. This belt/sash has one long silver piece which splits into three pieces at each end. One piece of those three pieces on each side is to be used to tie the sash into a belt. The belt is tied around the waist. There are two string loops on the side of the corset that you can thread the belt through to hold it in place. These strings are black so they blend in with the corset if you choose not to use the belt. The remaining two pieces of the sash are used to bind your wrists, either at your side or behind your back. The product tags included information on how to tie the belt and restraints. These restraints are for
VERY
light play. They will not withstand even regular bondage play. When my wrists were restrained at my sides, I was able to untie my wrists. The fabric is slippery and loosens easily. These restraints would be best used for teasing or purely aesthetic reasons.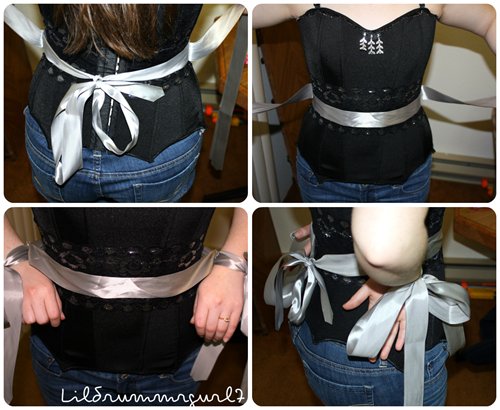 Measurements
This corset is 26.5" wide at the waist, 27" wide at the chest, and 32" wide at the hips. Along the back closure, this corset is 14.25" long. In the center of the chest, it is 15.25" long. Measuring from the very top of the cups to the point where one garter is attached is 18" long. The lace panel of this corset is 24.25" in width and 5.75" in height. The small details at the center of the chest are each 2" long. The sash is a whopping 79" long. Each piece of the end of the sash is 30.5" long. The garters can be adjusted from 5" all the way up to 8" in length.
Cleaning and Storing
To clean this corset, it is recommended that you hand wash it with a mild detergent or lingerie wash and hang it to dry. Do not wring this corset, doing so can warp the boning. Do not use bleach on this corset, that could ruin the color of this corset.
Experience
This corset has removable straps as well as hanger straps on the inside. I find it easiest to hang this corset on a plastic clothes hanger in my closet. It can be folded and stored in a drawer as long as you do not fold it horizontally. When it is folded, make sure the boning is not bent or warped.
Fit & Experience
I've always had a love/hate relationship with Coquette. I've never found anything from Coquette that worked with my body shape. I'm very pear shaped, with large hips and a much smaller chest. Everything I've owned is always gorgeous and very well made, just not flattering. But finally I found something I can love! This corset fits so well and is actually pretty comfortable. I think this fit me so well because it does not have any designated "cups" so my chest is free to fit where ever it damn well pleases. The corset fit well throughout the waist and hips. It was tight on my chest and minimized by bust. However, I don't have a very large chest so this wasn't too uncomfortable for me. If I wanted any cleavage, I had to "situate" my chest so that my boobs were nearly spilling out of the corset. Because of the thin material, you could see my nipples through the corset. If you were concerned about nipple outline, you could wear pasties under this corset. The length of this corset was almost a little too much for me. It covered my hips well but when I had the straps attached to the corset, it was pulled up a little too high and the trim at the top irritated me under my arms. Those who are shorter than I am may have a problem with this being too long. Those who are taller, however, will appreciate the length of this corset.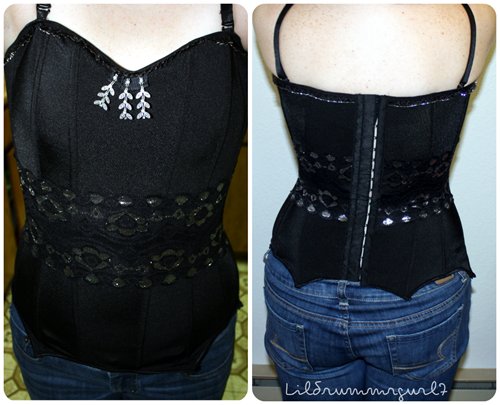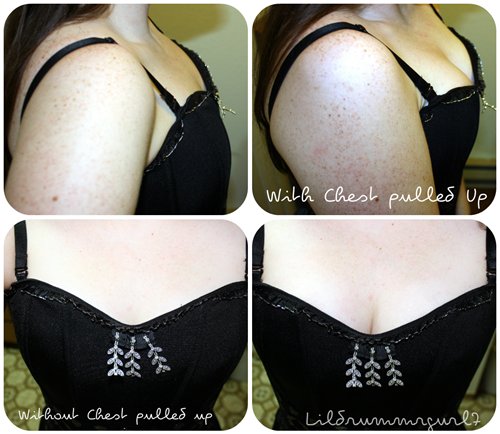 I found this corset to be a huge pain in the butt to put on and remove. Because it has 18 hook and eye closures, it's not something I can put on by myself. Usually with bustiers designed like this, I can put it on backwards, fasten it, and turn it back around. With the corset however, it was much too form fitting for me to fasten it in the front and then turn around. I had to have help from my partner to put this corset on, which I feel kind of ruins the element of surprise with lingerie.
This corset may not be comfortable for extended wear just because of the trim at the top. If it doesn't irritate your skin, this is a perfect corset for extended wear. The material is breathable and the boning moves with my body well. This corset would even be appropriate to wear out in public, with or without a cardigan over it. It looks great with jeans, as long as you're not wearing a bulky belt with the jeans.
My Measurements:
Chest: 36C or 34D depending on the bra.
Waist: 28"
Hips: 39"
Height: 5'4
Coquette's Medium Size Chart:
Chest: 36-38 B
Waist: 26-30
Hips: 38-40
Dress Size: 8-10
This product was provided free of charge to the reviewer. This review is in compliance with the FTC guidelines.
Thank you for viewing
Spellbound corset
review page!