Put Him Under Your Spell (L)
This classy little number can be worn either in the bedroom or out. It is a bit dressy, so is more suited to evening wear. In a large, this will work for a C-DD cup size. It offers some support, but there is no underwire. Smaller breasted ladies may not fill this out they way they want. I love the center detailing and the black and silver lace in the center. Restraint/belt is more for light play than true bondage.
Published:
Pros:
Holds you in, in all the right places
Boning is secure
Wonderful and classy design
Cons:
Limited breast support
Panty & gloves not included
I love lingerie, particularly from the brand Coquette. They have wonderful styles and this is one of my favorites. What I like best is that you can wear it out as a top or wear it in the bedroom for a private show. It can be worn with a skirt, some slim pants, a under a suit, or with some crotchless panties. The corset is versatile and classy.
Design
This is a thick, well put together corset. It does not appear to suffer from the same boning issues that other Coquette corsets have. The boning is very secure and there does not appear to be an issue with the boning coming through the fabric. The most striking part is the three rhinestone leaf details on the center of the corset. Each leaf detail has three sets of leaves with a center rhinestone.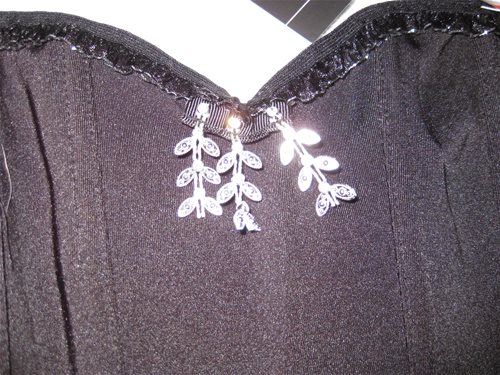 Starting at the top, there are two straps that you can take off if you want. Fully extended, the straps go from 8.75 to 15" un-stretched. They are 1/2" thick and fully adjustable.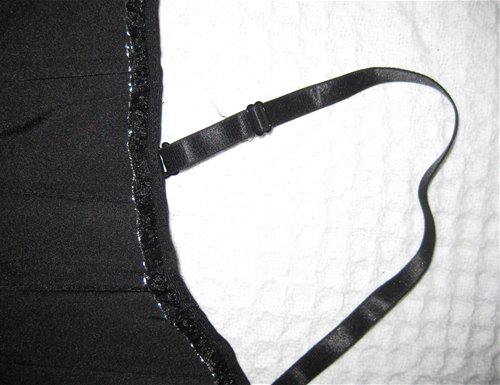 The top has a finished edge of 1/4" gathered lace with silver edges. The body is black and there is a 6" wide, black lace with silver detailing. The lace is see through. It is only connected on the sides, so it can move when you move.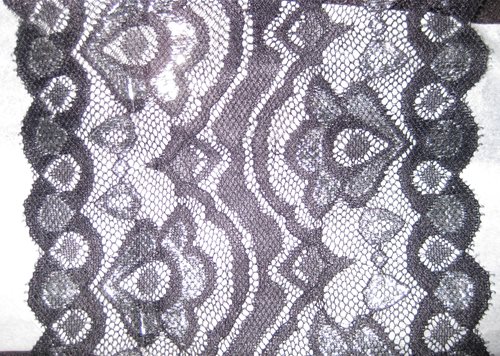 There are 12 plastic boning pieces. The bottom of the corset is not straight across. The bottom comes to a point at the end of each boning. You can also attach one of the adjustable straps at these points. The garters adjust from 5.5" to 9," so they should work for everyone.
There are two columns of hooks, with 18 hook/eye clasps. These are difficult to get hooked by yourself. I got them hooked by hooking them in the front and slowly turning the corset around. Unfortunately, using this method, I was not able to get them onto the tightest setting, so the picture in the experience section below is not as snug as I would normally wear it.
There is a an 84" by 1.5" satin ribbon. The ribbon is a single strand at the middle (22"). At the 31st inch on each side it has a double layer, which you can use to restrain someone. It can be worn as a belt or used as a separate restraint. The edges of the lace are singed so that you do not have to worry about them unraveling.
Sizing
Size L
Coquette sizing
Cup - C
Bust - 38-40"
Waist - 30-32"
Hip - 40-42"
[underline|My Sizes}
Cup - 34D
Bust - 39"
Waist - 29.5"
Hips 37.5"
Actual measurements of this corset:
Length at center front - 15"
Length at center breast - 16"
Length at center back - 14"
Bust 33" un-stretched to 39" fully stretched
Waist 25" un-stretched to 32" fully stretched
Hips 33" un-stretched to 40" fully stretched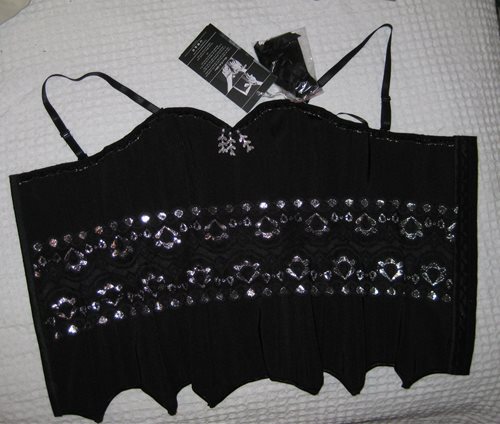 Material
80% Nylon
20% Spandex
Exclusive of trim
Hand wash cold and hang dry
Made in China
As with all items made mainly of Nylon, you will need to keep this away from heat to avoid melting the material. Unless it is very soiled, I would spot clean it.
Packaging
This comes in the traditional clear, plastic, resealable bag with 'Coquette,' written in silver, diagonally across it.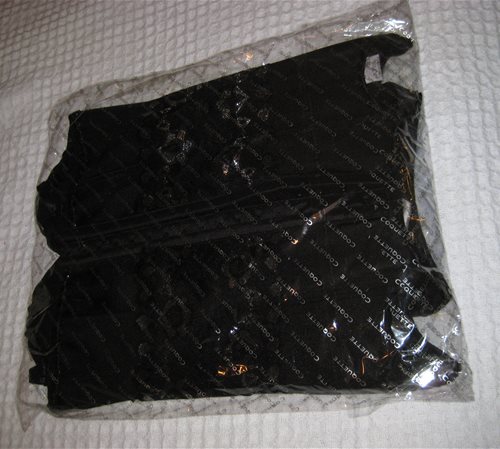 Experience
This looks great with the
Black Crotchless Panty by Coquette
and
gloves
, both available here on EF. Please see my review of this panty and I will be posting a review of the gloves soon.
The corset looks feminine without being frilly. This black corset is made feminine by the addition of the black and silver lace and the rhinestone detailing. It is very comfortable, but shapes you well. You can wear this out of the house or wear it for a night out on the town. I am 5'5" and found that this was comfortable to sit in. If you are shorter, or have a shorter torso, the boning may cut in. Speaking of boning; the 12 plastic boning pieces keep you tucked and trimmed nicely. You do not have as much control as you do with laced corsets, and is not intended for waist training. This does have some give, but it will provide good support around your midsection. The breast design is not well defined cups, but is more just a space for your breasts to rest. I found the breast area to offer some support, but the overall look was minimizing. I am a D cup and the breast area worked well.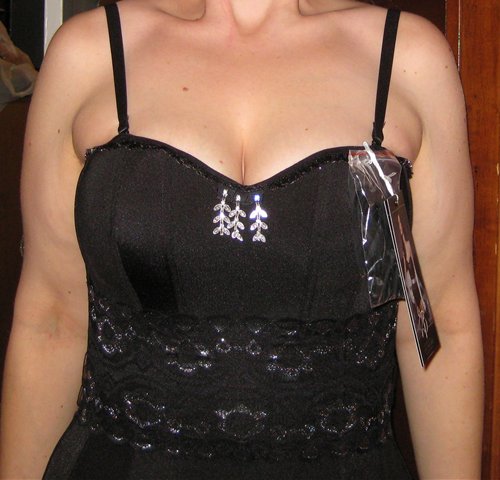 As it is snug fitting, it stays put when you roll around. With the straps on, I did not pop out of the top. This is great. Because it is snug, it is a personal as to how comfortable you feel being hemmed in. You can easily wear this when having sex or if you are tied up. The only drawback for bondage is that the top does not have the option of opening in the front. If you are tied down on your back, your partner will have trouble removing this without untying you.
I got many compliments on this. It can be worn out with a little black skirt or pants. For events where you want to show a bit less skin, you can wear a jacket over it. It can be worn without a bra as is pictured below.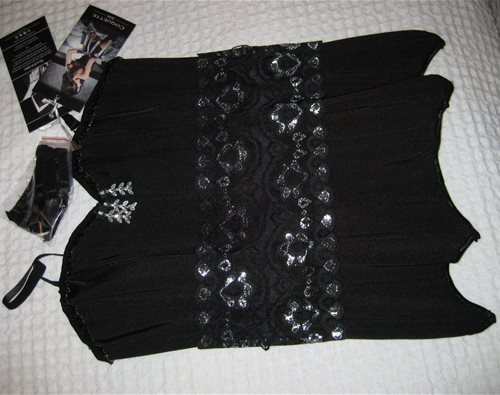 It has some space for your breasts and keeps them in place. It does flatten them out a bit. If that is a concern, you can wear a thin, black, underwire bra underneath.
As far as the satin ribbon, I did not use this. The ribbon appears to be comfortable and well designed as a light restraint. This will not be strong enough to hold the serious BDSM player.
I feel very sexy when I am wearing this. If something happened to this corset, I would definitely buy another. I would recommend this to anyone from a Small to a 1X/2X. It will hold you in all the right places and cover any tummy pooches you might have. I would buy this again. The only drawback was the lack of breast support. I really like this well-made corset and gave it a 5 out of 5 stars for all of the great things it has to offer.
This content is the opinion of the submitting contributor and is not endorsed by EdenFantasys.com

Thank you for viewing
Spellbound corset
review page!