If Only I could lose 3 inches... from my spine
While I love the idea of this corset, the sizing of it is what makes it a total flop for me. I squeezed into it for an accurate idea of how it fits someone, but it flat-out hurt my hip bones (digging through the fat to rest on the top of my bone). It does give you some sexy, out-of-this-world cleavage, and it's terribly fun to unzip in a striptease... But the muffin top and pain weren't worth it to me. Definitely for the vertically challenged, and not for those whom the sky loves more.
Published:
Pros:
sexy front zipper, acetate doesn't stretch or warp, shiny
Cons:
cheap zipper, 11" long, really small hip size for large
Presentation
I wanted a corset that would be a front-zip style. I think it is sexy to just release your breasts head-on to your partner. I thought this corset might just be my ticket, and it was currently available in a size L.
I had two other Coquette corsets, the black polka dot mesh in an XL (which was way too big for me), and the purple corset in a size L that fit pretty much like a glove.
I figured the large in this corset would be ideal, and I'd have some ease in simply zipping it up and down.
It came in a plastic bag, hung up on a plastic Coquette hanger.
Materials and Quality
This corset is 100% Acetate, exclusive of the trim. Acetate is pretty firm, does not have too much give to it, so try to order your size accordingly. The zipper up the front is "studded" with rhinestones wrapped in plastic. It's a pretty cheap zipper, that feels cheap and looks cheap. I was disappointed with this from the moment I saw it. The black zipper piece itself has 3 small rhinestones set into it.
Acetate feels soft and cool on your skin. It feels satiny, but is not forgiving of your curves and bulges (which is good for corsets, generally speaking).
As far as quality goes, Coquette failed with this in a few areas (however I am almost certain that this is probably just a fluke with my corset since everything else on the corset seems well-made to me).
At the bottom of the zipper, on the corset's right side, the ruffled trim is not sewn to the underside of the corset. Therefore, the frayed end just kind of flaps open there for everyone to see. It seems like an easy fix for someone with needle and thread (though you shouldn't have to FIX brand new clothing).
Other than that, there are only two loose threads that just fell off the corset upon unwrapping. Now that I think about it, maybe those were the threads that were supposed to be holding up that bottom ruffle trim.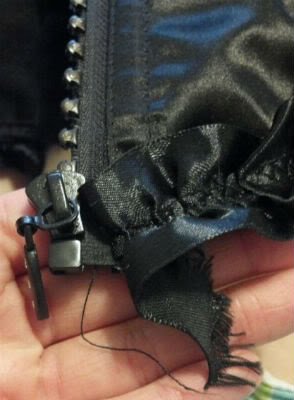 Care
This piece was made in China.
You should probably hand wash it only (maybe even spot-clean it if you really don't need to wash the entire thing). Let it hang to dry. Do not throw this in the washing machine. While it looks pretty well made, I would not want you to compromise the zipper. Do not iron, you might melt the acetate.
Experience
Design
There are a total of 8 vertical bones on this corset. There are two little bones that connect with the two front/bosom area boning to give you extra cleavage support. The front 4bones curve inward to both push your breasts together and to give your waist a contoured, hourglass look.
There are 15 hooks and eyes along the back.
While the zipper is nice in front and simple to use, unless you are easily and noticeable smaller than your corset, I would suggest leaving the zipper up while putting it on and sticking with the hooks and eyes (with a friend to help). The zipper seems to delicate to use to put on, at least for me.
However, for taking off? Unzip away. It's my favorite part of this corset.
Fit
I won't keep you in suspense here. The fit is a smidge small and short. I was able to get into it, but because of my height it actually hurt and left some marks. (I was that hardcore just to try it on for a review.)
It ends an inch below my bellybutton. I am 5'9.5" so someone, say, 5'5" might find this to be the perfect fit.
Also, probably because of the height too... The boning directly on the sides landed on my hip bones. Literally ON top of them, gouging inward and resting on the bone. Yes, muffin top extraordinaire here, but measuring around while it was on my body, I would suggest the hip area of your body does not exceed 37" since that it how it naturally squeezed my fat to fit.
It could also be affected by the little tire I have put on in weight, but my measurements have not changed too much. I am currently a full C-cup, 32" under-bust, 38.5" at fullest, my waist is more of a 32", my hips are more like 41".
Coquette says a size large should fit someone who wears size 12-14, has a C cup, 38-40" bust, 30-32" waist, 40-42" hips.
I think that they are a bit small on this one.
However, if you have a shorter torso than me, you might find this one fits you well.
The garment measures:
Bust: 31" across on widest hook
Waist: 29" across widest hook
Hips: 32" across widest hook (my biggest issue, wtf?)
The back measures 11" long, the front center measures 12" long (ruffle adding 0.75"), the armpit measures 11.5" long.
To me, this is warped sizing. It just doesn't fit well. If only I could loose 3" from my spinal cord, it would fit more appropriately! ....and, not to mention, this dug
into my hipbones, through my fat
. Ouch. And I think I know, even when I get healthier, I will never be skin and bones around my hips.
Recommendation
Heights 5'0 - 5'7", or those with shorter torsos.
Bust, C cups unless you want spilling, tight cleavage. I already was filling it out.
Waist, 29-32"
Hips: 32-37" max.
Overall, this was a sexy as hell corset that was failed by short-person sizing. I know you ladies need clothes that fit your torsos, so this would be it. Unfortunately, for me, this is yet ANOTHER piece of lingerie I have bought that will not fit my longer torso and curvy hips.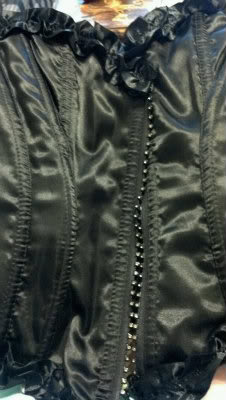 This product was provided free of charge to the reviewer. This review is in compliance with the FTC guidelines.

Thank you for viewing
Fully boned satin corset
review page!