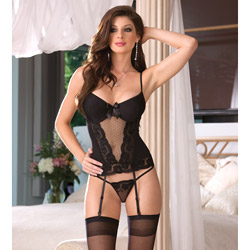 Belle De Jour bustier
Bustier and panty set
by DreamGirl
If only it could hide the cellulite..
So long as you're not looking at this item solely for the accessories, you're not too terribly likely to be disappointed. The bustier is very flattering and easily worn under your normal every day clothing.
Published:
Pros:
Flattering, can easily wear under clothes.
Cons:
Thong material irritating, included stockings are a joke
I am not an experienced individual when it comes to lingerie. I have up until this point only worn pieces on two occasions that I can remember. Once was my wedding night.
It's time to spice things up, don't you think?
My husband had been dropping hints for a very long time, I guess I just finally got around to taking the hint.
The reason I chose this particular set is because coming from someone who is somewhat inexperienced, this comes with the entire outfit. Other corsets were more appealing to me, but all required additional purchases (stockings, garter). That and as a friend pointed out, this is less frilly than its competitors. Why is this a good thing? You can wear it under clothes and give your significant other the surprise of a life time.
Hook eye closures: The bustier has two rows of hook eye closures in the back. Now honestly I expected 3 or 4 rows. So if you're really tiny this could be an issue. Thankfully on the tightest setting it worked wonderfully for me.
Cups: The cups are underwire. To my disappointment though, they are not padded or lined in any way. I don't need the padding, but I think it would give this piece a slightly more finished look. It would also eliminate the problem of visible hard nipples. Some people may like that, I however feel better if they're not visible under clothing.
Thong: I don't like thongs, or as I not so lovingly refer to them: butt floss. But given the fact that it is kinda needed for the overall look, I gave it a go. Initially they surprisingly were not that bad. Aside from being on the slightly large side, I was quite pleased.
Then the night progressed. This thong is made up primarily of the mesh material, and I did not find it kind to my body. This might just be an individual thing, (Is she going to say it? Is she going to say it?) as I have a significant amount of scar tissue on my perineum. The joys of childbirth. (OH! she said it!) By the end of our session I felt very irritated, and even this morning it's still slightly bothersome. That being said, this thong will not be put to use again. It is cute though!
Stockings: What!?! I am not entirely certain how DreamGirl came up with their sizing. I ordered a Medium (proper sizing for the bustier), I'm 5'7 and 135lbs and these stockings come up to my hips. They are cheaply made, but again it's needed for the full affect. They were thin enough that I was able to roll them down and still get them to work with the garters. While the stockings didn't have any holes, I don't think we caught it and caused any runs, they did have these weird thread lines. Which, coupled with the excessive length made them pretty ridiculous looking.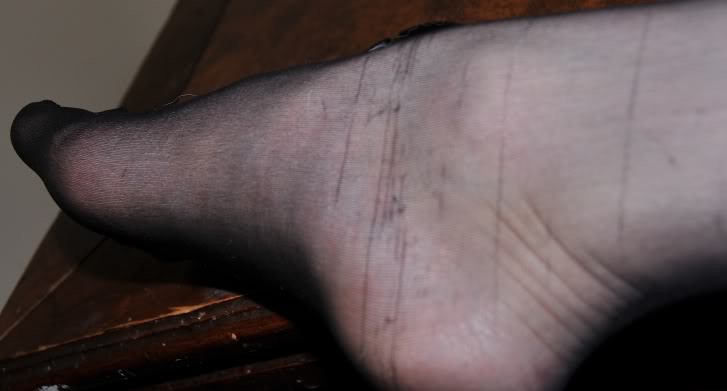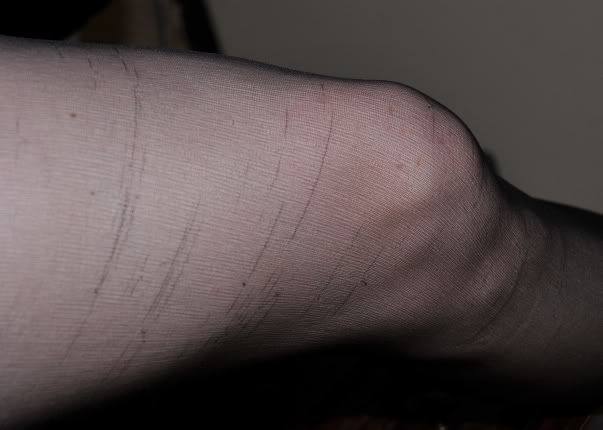 Bustier: Overall is very comfortable and flattering. The lacing at the bottom does tend to curl/fold up which makes it appear shorter than it really is. Despite what the product description says, the bustier does have some boning. The tag is really my biggest complaint, I found it horribly itchy. Perhaps the positioning was slightly off.
The fact that this piece has straps is a huge plus for me. I've always been uncomfortable with no straps.
Wash directions:
Hand wash in cold water.
Line dry.
94% polyester
6% spandex
Garters: This is probably one of my favorite features. If you don't like them, they are totally removable!
Removal: I had a few hook eye closures get caught slightly. But when you're looking at so many hooks I don't think that's avoidable. Overall the entire outfit was easy to remove.
Packaging: The set arrived in a clear (taped) plastic bag. Then it was wrapped up in hot pink tissue paper and again taped. I thought the tissue paper was a very nice touch.
Overall I do really like the bustier. Considering for me the thong and stockings were a bust, I do slightly question if I should have just gotten something else. Since the biggest reason for getting this particular set is it had it all.
In the end, stockings are cheap, and thongs are aplenty...and I'm satisfied with the bustier. It's been a very long time since I've seen my husband strip down as fast as he did when he caught a glimpse of me in this. So it's worth it for that reason alone.
Now if we could just find a way to minimize the cellulite!
Follow-up commentary
3 months after original review
I still absolutely love the bustier portion of this set. Coupling it with a better quality stocking and more fitted thong only adds to the enjoyment! I still wish the cups were lined or padded though.
This product was provided at a discounted price in exchange for an unbiased review. This review is in compliance with the FTC guidelines.
Thank you for viewing
Belle De Jour bustier
– bustier and panty set review page!