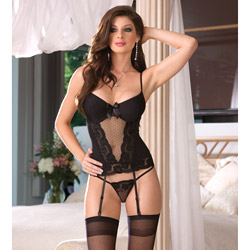 Belle De Jour bustier
Bustier and panty set
by DreamGirl
Not a Favorite
I was a bit let down by this set. It has a great rating and looks awesome in the pics, it just didn't work out for me in person.
Published:
Pros
Comfortable, can be worn under clothing, provides some coverage
Cons
Odd-fitting underwire and thong, not much bust support
The Belle De Jour (Is it just me, or shouldn't it be Belle Du Jour?) bustier set by DreamGirl comes with a bustier (sort of), thigh highs and a thong.

This set is available in Small, Medium and Large. According to the size chart, the Large fits sizes 10-14, C-D cup, 36-38" bust, 28-32" waist, 38-40" hips, 140-150 pounds. I was a little unsure of if I would end up fitting it, since I'm a bit larger than the sizes, at 38D, " waist, " hips, 160 lbs.

The thigh highs are pretty basic black. My thigh measures 20" around where the top of the thigh high sits, and they were a comfortable fit. Without garters, they didn't stay up at ALL though. These seem to be of pretty average quality, nothing spectacular but not total crap. They do snag quite easily, so they're probably only going to be good for one or two uses. I'm 5'11" and these were tall enough for me, they may actually be a bit too long on someone closer to 5 feet tall.

The thong is so very pretty, as you can see from the pictures, but I ended up totally not a fan of it. I'm smaller on bottom than on top, so size large panties usually fit me perfectly. Laid flat, the waistband measures 15.5" across and stretches up to 23" across, so in theory it would comfortably fit 32-46" hips. However, the band hit me at a weird spot, leaving it feeling pretty loose on my 40" hips. The crotch does have a crotch liner, but that area of my thong did an incredibly weird bunching thing, making it look like I had a mutant vagina or something. Thanks so much for that, thong! The care instructions say to hand wash this thong in cold water, but I'd honestly probably just toss it in with the delicates. (I would stick to hand washing for the bustier, though.) Laid flat, the actual fabric part of the thong measures 14" from front to back, with the front part measuring 4" wide across the top, and the back measuring 2" wide. The crotch area measures about an inch across. I'm so disappointed that this fits so oddly, because it really is pretty.
Experience
The bustier itself was a little bit of a disappointment for me, too. I honestly can't figure out if I got a faulty one, or if it is just like that, but the underwire of one of the bra cups seems to be twisted in a funky way, making it interact with the boning in a weird way. I'm not sure how to describe it other than uncomfortable. I'm considering removing the boning from this because although it's quite comfortable, it really isn't doing anything complimentary to my figure. This brings us to the part of the report where I post unflattering photos of myself: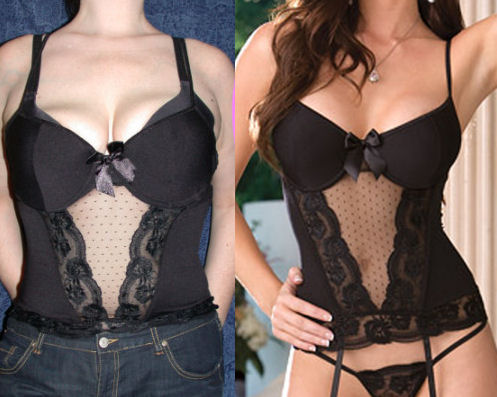 That would be me on the left and a close-up of the model from the product info on the right. It's ok if you weren't sure, I get us mixed up all the time, too. Anyway, other than pointing out that I obviously need a tan, this might be handy to see how the bustier looks on an average body vs. the model. I'm wearing a bra under it for the photo, because this bustier does terrible, terrible things to my boobs. Although the cups look fairly firm in the photo, they're actually made of the same material as the rest of the bustier, a stretchy polyester/spandex blend.
The model must be much shorter than me, because I have it stretched as far as it will go vertically, but it still makes it look like I have a really short torso. I think I'd like it much more if it actually came down towards my hips like it does in the photo. If you measure straight down from the bow between the bra cups, the bustier measures 13" long. The back measures 10" long, where it closes with 10 sets of hook-and-eyes (like what you use to fasten your bra). There are 2 different settings here, allowing for about an inch of difference in fit. I'm size 12, about 160 lbs, 33" waist, and the tighter sitting fit me comfortably. However, I noticed that instead of helping to give my stomach a more flattering shape, the boning likes to bend WITH the curves, accentuating the roundness. (The boning pieces are located along each side of the lace V in the front and about 2" to either side of the closure in the back.) The bra straps on the bustier are adjustable, but are way too stretchy to offer much support. The bust area of the bustier kind of fits my 36/38 D boobs in terms of coverage, but the underwires dig uncomfortably into the sides rather than reaching back as far as they should. This would probably work much better on a C cup.
The garters on this set are both adjustable and removable. Yay!
I feel like if this set fits you well, it could be a great set- it seems nice quality and easy to mix and match with other pieces. For me, however, the funky thong fit makes it unwearable, and the odd underwire/boning issues don't leave me feeling sexy in the bustier. I'll report back after I remove the underwire, boning, or both, to see if that improves my opinion at all.
This product was provided at a discounted price in exchange for an unbiased review. This review is in compliance with the FTC guidelines.
Thank you for viewing
Belle De Jour bustier
– bustier and panty set review page!