If only my butt didn't look flat...
The Ashley Boutique striped boyshorts are an excellent purchase. They're high quality, true to size, and feature a long liner that makes these suitable for daily wear, but they still maintain an easy transition from day to night with the sexy lace back. Buy these now!
Published:
Pros:
great quality, unique, matching bra in many sizes, true to size, sexy, comfortable, long liner
Cons:
my not-flat butt looks flat, bow turns sideways sometimes, expensive
The Ashley Boutique striped boyshorts aren't really boyshorts in my opinion, but for the sake of the review I will refer to them as boyshorts. These fit me very well and I love the quality, the lengthy liner, and the pattern. They are very well made. The sheer back is just as comfortable as the front and adds sex appeal to the cute design on the front. My only complaints are that the bow shifts so you have to turn it sometimes to make it straight again and that it flattens my butt so it looks like I don't have one when I know I do!
I love that these come with a matching bra, which I also reviewed
here
.
Basics:
- These arrived in Oh La La Cheri packaging and a hanger like so: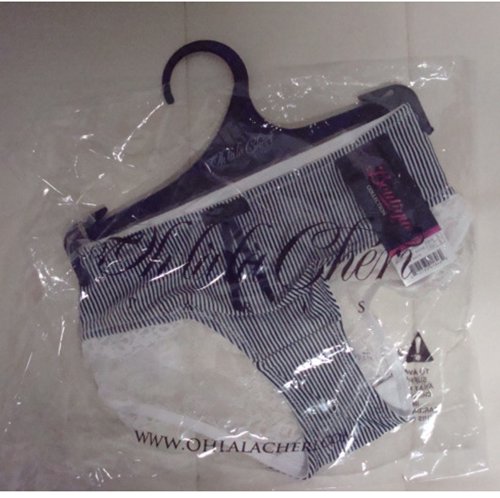 - These are full coverage, but feature a white lace back that is sheer: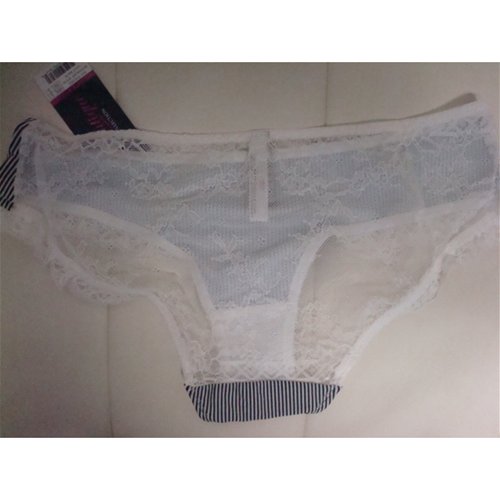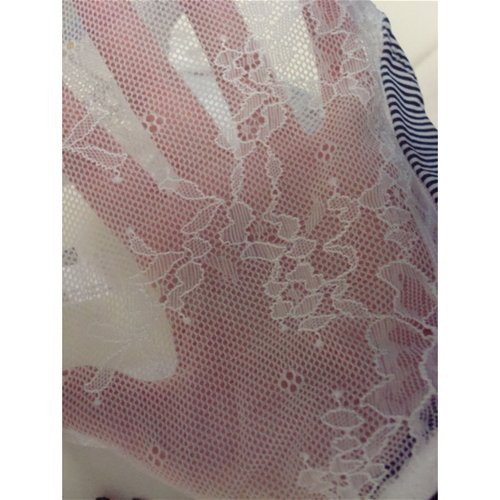 - The front pattern is black and white stripes, and there is a 2.75" long black bow on the front center. There is also 1/2" trim around the bottom that stops getting closer to the crotch to avoid itchiness and discomfort.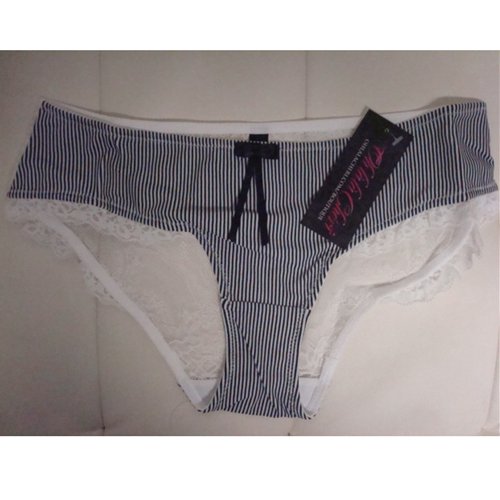 - The waist is 26" around unstretched and 40" around when stretched, so it's pretty stretchy. The leg holes are 16.5" around and the liner is 4.25" long. It is 3.5" at its widest, 1.5" at its thinnest. The sides that sit on the hip are 3" long excluding the .5" trim. In my opinion, this is actually true to size or maybe slightly larger, but definitely larger than many size small underwear is on EF. I have gotten some size smalls that just are ridiculous and my butt can't fit into them when I'm always a size small (I am a size 2).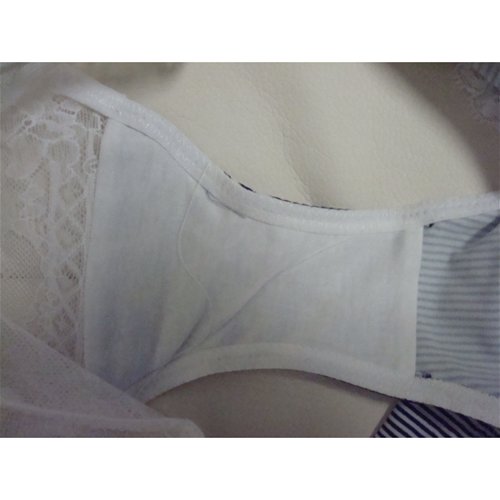 - These are 90% nylon and 10% spandex. The tag instructs that they should be hand washed in cold water and hung to dry. I don't think there would be a problem with a gentle cycle on the washing machine, but be careful not to put things in with zippers or hooks that could catch onto the lace. Personally, I own a wonderwash that I throw my lingerie in, so I don't have to physically hand wash them all, but they are still getting an incredibly gentle wash that is essentially hand washing. I only use gentle, eco-friendly laundry detergent from brands like Seventh Generation, so that is what I will use for this as I do with everything else. Nothing has ever torn this way, and I will continue to use this method.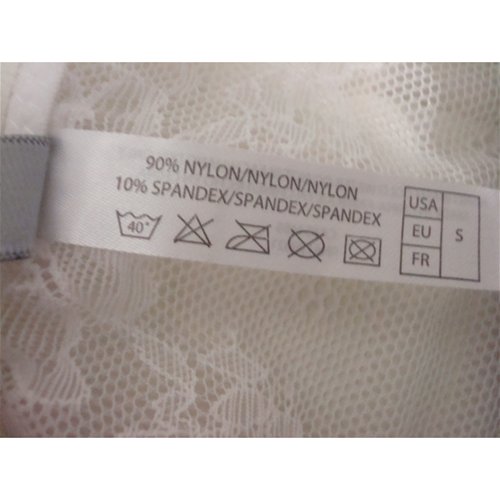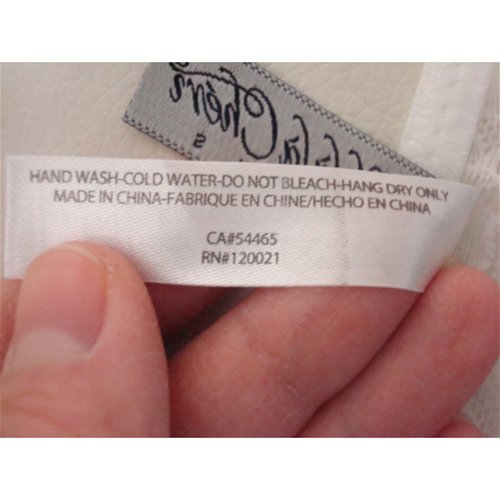 Experience
These are great underwear. I love them and so does my partner. We picked them out together as one of our favorite sets (I own the bra as well) and we are very pleased. I was nervous about buying the bra online, worried it would not fit and then I would only have half of the set. I had no reason to be! This set is beautiful, unique, and sexy. It's easy to wear all day long but then transition to night without any awkward changing session. I peel off my clothes and wah-lah, I am already fancy. This is great for my partner and I since we are often more spontaneous. Some days I'm not positive if I'm having sex later, and wearing something super special underneath can be a let-down when it doesn't happen. This is a comfortable set I'll wear even when my partner is out of town because I just love it! It is comfortable for everyday use. I just wish my butt did not look flat. They're expensive, but if you use some Eden points or a coupon code toward them, it makes them a lot cheaper. They're worth it! Get them!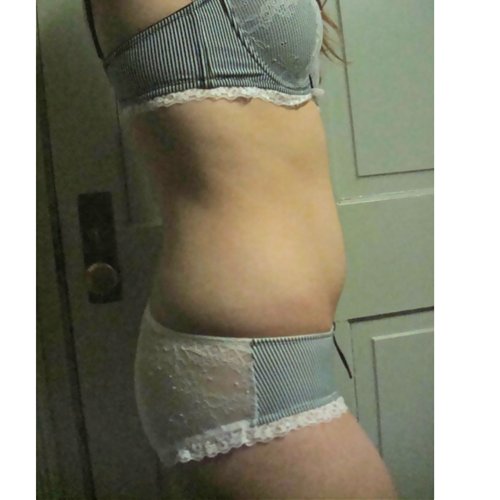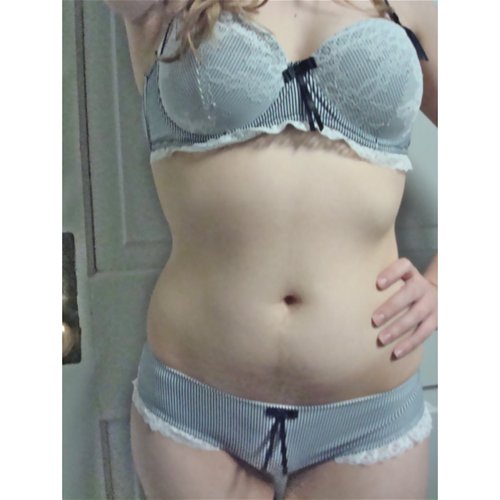 Follow-up commentary
2 months after original review
I really love these. I still think they could look better on my butt, but I love how cute this set is and the quality of the lace. I hand wash them using a hand cranked machine and they have no tears or problems. They are just as comfortable for wearing throughout the day as any other underwear made fully of cotton. I really love these and will be sad if/when the whiteness becomes stained. My partner also really approves!
This product was provided at a discounted price in exchange for an unbiased review. This review is in compliance with the FTC guidelines.

Thank you for viewing
Ashley Boutique striped boyshort
– shorts review page!