In love with panties, in hate with chemise.
This lace trimmed halter chemise with adorable ribbon tie and matching cotton crotch panties looks fresh and stunning... until you start moving around. The construction is a bit complex and the front portion starts to bulge no matter what I do. It's difficult to predict how it will look on different bodies, but the unique design and extra-comfy panties might be worth a try.
Published:
Pros:
* cotton crotch
* overall quality is nice
* cute and interesting design
Cons:
* too baggy on small breasts
* no support for bigger ones
* no sizing for M/L
Creamy onyx halter chemise by Escante is a part of Creamy Onyx collection, which also includes bra & skirt set and bustier dress.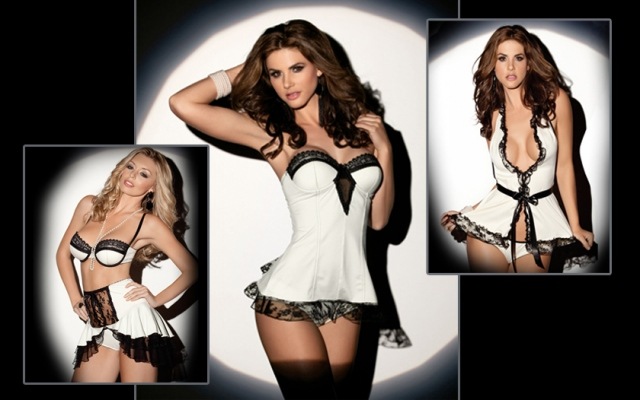 -----
Materials and care
According to the tags, Creamy onyx halter chemise and panties are 90%
nylon
and 10%
elastane
exclusive of decoration. Panties also have a hygienic
cotton
crotch. This lingerie set is recommended to be hand washed in cold water separately. Use only non-chlorine bleach with it, when needed. Also, do not wring or twist it, line dry and iron only at low temperature. I would also recommend to place some thin white cotton cloth over to protect the material while ironing.
The material is smooth and very stretchy. It felt strangely slick at first, but I got used to it. Lace parts are a bit rough, but they won't bother you much as they don't really touch any parts of the body.
-----
Design and construction
Creamy onyx halter chemise is a two-piece set of full back panties with cotton crotch and apron-style halter chemise.
----------
Halter chemise
: too complex, too short.
The construction of this piece is rather complex and it actually took me quite long to figure out. According to
the product page
it's apron style. "Apron style" means it is supposed to tie in the back just like a regular apron does, but this one doesn't. It works rather like a robe and closes in front. The back is open and fabric forms a short skirt, which barely covers the buttocks.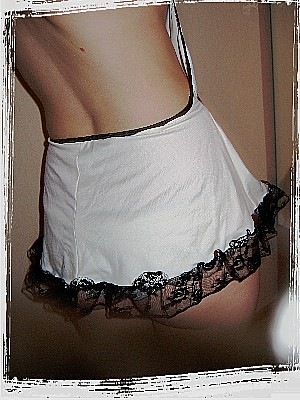 This skirt-like part measures 9.5 inches from a thin elastic at the waistline to the lace ruffles at the bottom. Black ruffles add another 2 inches to the length and have a very nice floral pattern. Lace quality is not so great, though. There are small nodes at the ends of some woven flowers and they don't look very secure.
Front portion consists of two pieces of fabric with black lace trim which come all the way up to cover breasts. They measure 15.5 inches from the waistline. In terms of width, these two pieces narrow down from 7 inches as they go towards your neck. Halter-style implies that you should tie them behind your neck. For that purpose, there are two 18" long elastic ties attached.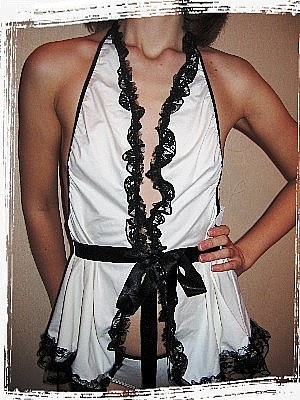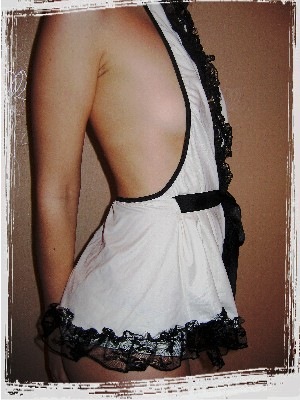 Again, as you can see, the front is rather open, there's nothing to cover the tummy and the panties are showing as well. Apart from everything I've already mentioned, there is a satin ribbon that ties at the waist. In fact, there are two parts of the ribbon, both 25 inches long and sewn to the side of the chemise. There's also a closure in form of a plastic hook similar to that used in bras.

----------
Full back panties
: well-made and comfy!
Matching creamy panties that go with the chemise are very comfortable. They are full-back, have a cotton crotch and fall somewhere between low-rise briefs and bikinis. Both waistband and leg openings are made of black elastic and show some neat black wavy stitching. Elastic, however, is visible only on the waistband. All seams are firm, comfortable and well-sewn.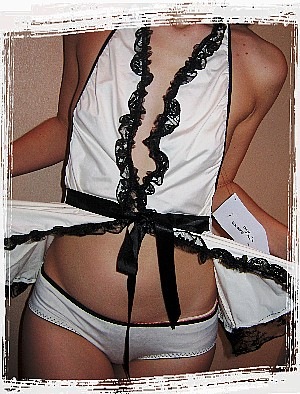 -----
Sizing and fit
This set comes in two sizes - S/M and M/L. However,
Escante size chart
is a bit ambiguous. There are S/M and L/XL, but no indication of M/L whatsoever.

Anyway, based on the requirements for all the given sizes, hypothetical M/L size chart would, probably, look like this:

I got it in S/M and it's quite true to what Escante puts in its size chart. Chemise is very stretchy and has a free fit, so you don't really need to worry about the waist of underbust measurements. I even think that the open front work great with pregnant bellies. However, the breast sizing is tricky. The lack of breast support restricts this set to those with C cups and smaller, but you can see how weird it looks with my A cups. So, basically, it might be most appropriate for B or C cups. As for the panties, for a comfortable fit I would recommend S/M size for those with 34-37" hips. Here are my current measurements to help you with sizing:
- 32" bust;
- A cups;
- 27.5" underbust;
- 26" waist;
- 36" hips;
- 120 lbs;
- 5'6" high.
Experience
-----
Matching accessories
As this set is made in black and ivory, you can pair it with black, creamy or transparent shoes. Both platforms and high heels will look nicely.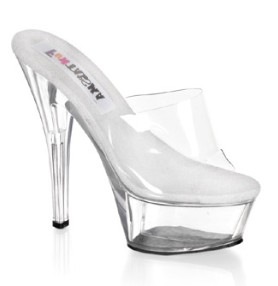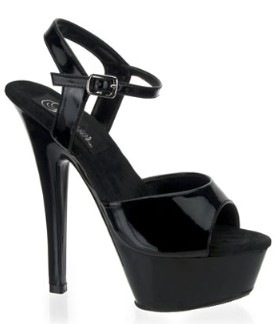 -----
Conclusion
Now, as I look at the "Cons" section, I'm wondering if so few cons are enough to give this set only 3 stars. It has a decent quality, a bit too delicate, but well-made. Construction is difficult to figure out, but it makes it rather unique-looking. Panties are great and comfy, but chemise moves around and bulges on me so much, that I haven't even removed the tags yet in order to sell or give it away to someone else. Most likely, my personal disappointment is the main reason to deprive this lovely set from one more star and give it 3. Sorry, Creamy onyx chemise, but you could do better.
This product was provided free of charge to the reviewer. This review is in compliance with the FTC guidelines.

Thank you for viewing
Creamy onyx halter chemise
review page!