Sexy chemise. Can't wait to get the other pieces!
I was actually surprised that I liked this chemise on its own and that it fit me pretty well. Overall I would say I am happy, satisfied even!

I still plan on getting its matching friends eventually, but now I am not in as much of a rush as I was before!
Published:
Pros:
Pretty color. Should fit most. Nice style. Low back..
Cons:
May not look good on smaller chested women. Fairly pricey.
This sexy chemise is a cute addition to any lingerie drawer. Its sexy cream color is different then your average white. Its design is unique. Its ties are superb. Its (for lack of better words to describe it) simply stunning.
I personally thought when I ordered this that the chemise wouldn't really be enough on its own. I ordered it knowing that there where other lingerie pieces that matched it perfectly. So I really got it more as an over coat for the Four Way Flutter Set. But now that I have seen it in person and have personally tried it on, I'm not sure that, that stands anymore(since after all) this is a pretty sexy piece. I still plan on buying its besties though ;)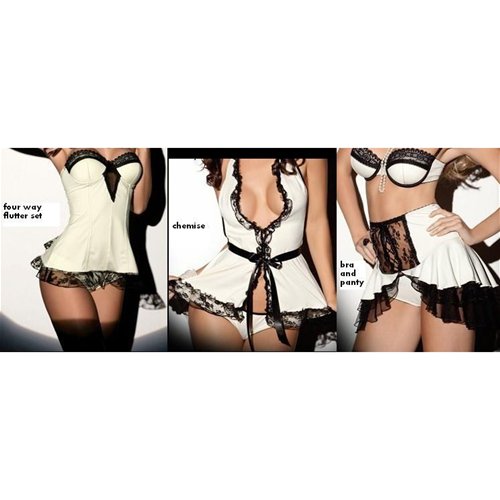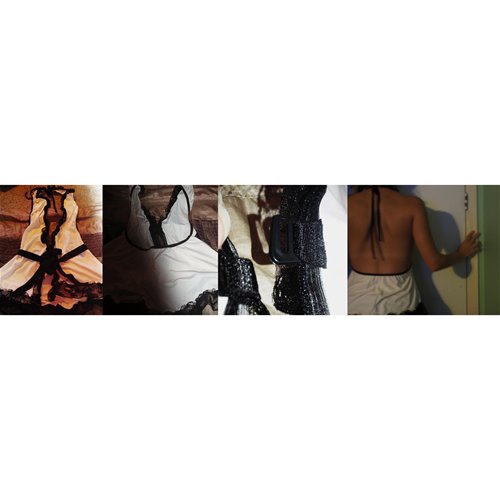 Chemise
The chemise is pretty. The design for the front is pretty obvious since there is a picture of it. Something that you can't tell from the picture though, is that there is a clip in the front that you can use to keep it closed(not that the bow doesn't do the job) The clip is about an inch higher up then the bow would lay though, so it makes the whole chemise look better when it is closed. Another thing you can't tell from the product pictures (since there are no images of that back) is that this chemise has an extremely low back, which I find to be a very sexy touch!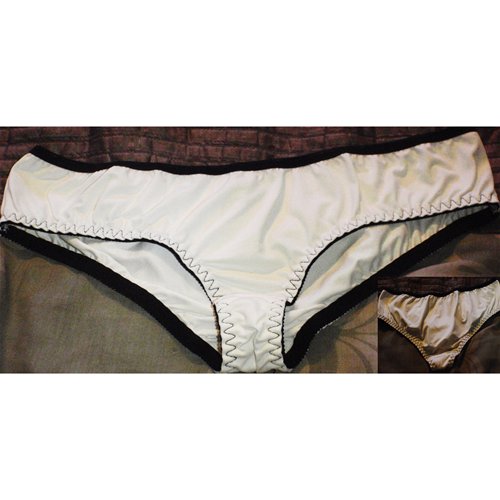 Panties
The panties are very simple just the same pretty cream color as the chemise with a black trim going around it. They actually fit very well, which I was happy to see. Above in the picture you can see the back and front of the panties. There is pretty much full coverage with a little cheek hanging out(but that would very by the size of one "back area") wink* wink*
Sizing
I hardly think with this piece a sizing chart is really necessary but I will include one below anyway
Note: I made up the medium/large since there was not a medium/large size available in Escante's sizing chart. But don't worry, it is based upon the rest of the size chart, it isn't something I pulled out of thin air…mostly ;)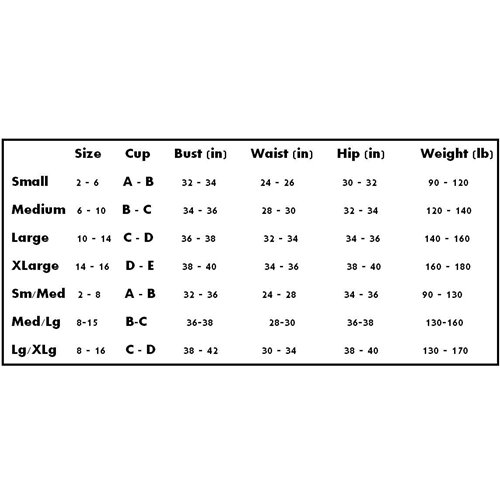 I would say if you fall in between 80-160 pounds a small/medium should work for you. If you weight more then that I would probably go with the medium/large.
Feel free to ask me any questions you have about this piece in the comments section and I will respond to back to it in the comments section... and leave a comment on your page with my response just incase you forgot which review you asked the question on.
Experience
To be honest I haven't worn this chemise that much, its not at the top of my favorites pile yet, but once I get the other matching pieces I think it will be. The color is something that I am fond of, I think it is an elegant look. I'm very excited to see what it will look like with the other pieces! Even though it will cost a lot to get everything! Oh well, lingerie is worth it right!

Overall the quality of this piece is good, it certainly doesn't look like it is going to just fall apart any time soon. The lace is gorgeous and seems sturdily in place, as does the ribbon.
This content is the opinion of the submitting contributor and is not endorsed by EdenFantasys.com

Thank you for viewing
Creamy onyx halter chemise
review page!