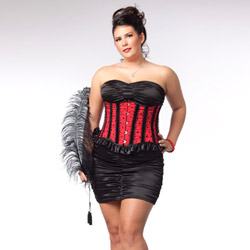 Dot satin waist cincher
Cinch by Coquette
Instant Tummy Tuck!!! Dotted Waist Cincher 1x/2x
This would be great for anyone looking to look sexy and slimmer inside or outside the bedroom, throw on a sexy dress that you wear when going out and draw the attention of everyone around. This may be too frilly for some even the guys you can simply have on a dark shirt or dress over the cincher and it works the same way.
Published:
Pros:
The craftsmanship, price, amazing lifting ability.
Cons:
It does hurt the back or at least it did mine.
For almost a year since I have been a member this piece said to me "buy me, you know that you want me" each time that I looked at it. I finally broke down and bought it and yes I am so glad that I did listen to this piece. This hot little number works wonders for everyone with or without self esteem issues. This baby it tucks, it pulls, and it gives lift to the bust section. This is the Dot waist cincher by Coquette; it comes in sizes ranging from small up to and including 1x/2x. This can be worn by itself if for the bed room, a nice dress or even over a Tee shirt. If you don't want people knowing that you are wearing this than you can wear it under your clothes. Still giving you that slimmer appearance. For me the only draw back is that it has frills to it. I'm really not the girlie type of person and I do not go after the satin and lace type product unless it speaks to me, and as I said in the beginning this one definitely spoke to me.
This came to me in a plastic bag on its own hanger and the only other thing that it came with were the removable garter straps. Along with an extremely long satin tie string interlaced in the back of the piece. There are no straps for over the shoulder and this piece is literally topless. It goes under the breast covering the rib cage and abdomen area.

This killer piece is a beautiful mixture of lace, polyester, satin, velvet, plastic, and metal. Now some pieces can be machine washed (if) it weren't mixed with the other materials. For me; I suggest a hand wash with a damp rag and mild soap and air drying. This piece can't get too wet because of the two metal bindings that are in the front acting as the fasteners. It can't get too hot because of the plastic binding that is goes all around the piece.
The sizing for Coquette to me seem to be pretty dead on target: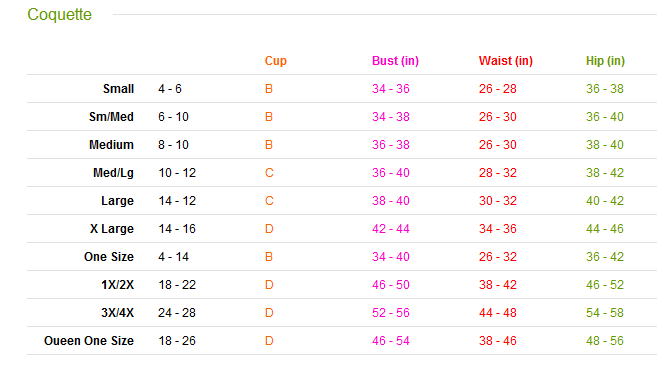 Normally I just move away from Coguette products because the sizes only go up to a single D cup and I'm a DD. Since this is topless I had to try it out. Unless it is a spandex and nylon or polyester mix that I know will stretch to fit, and it's REALLY cute. Now typically I can fit the 3x/4x products comfortably, the babydolls with the flowing material that can cover my belly, I can wear in the 1x/2x size.
I was bound and determined to get into this baby. I untied the amazingly long string, pulled the pieces apart and adjusting the string to give me more room, making the piece wider, so that it could go over my rib cage. it took maybe 30 minutes to actually get into it after releasing the tie string. I had a problem with fastening the metal binders together, I couldn't look over my breasts at the buttons, and while trying to do it in the mirror I had to breath and lost my grip causing me to start over. Once I had it on and figured it out I put it on again and again until it took a few minutes instead on 30. Now I wear a size 22 and having the tie string undone all the way I was able to sueeze myself into it.
This is a before and after picture of this amazing piece: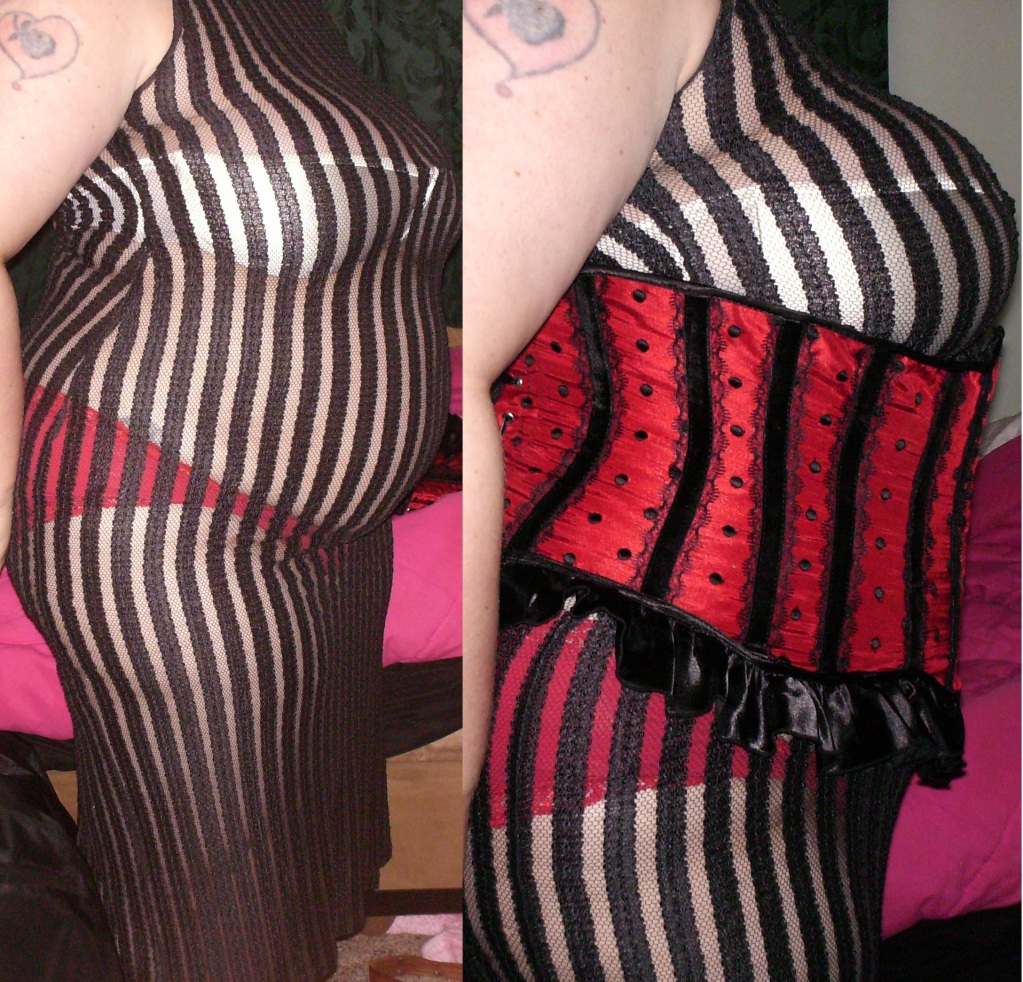 Experience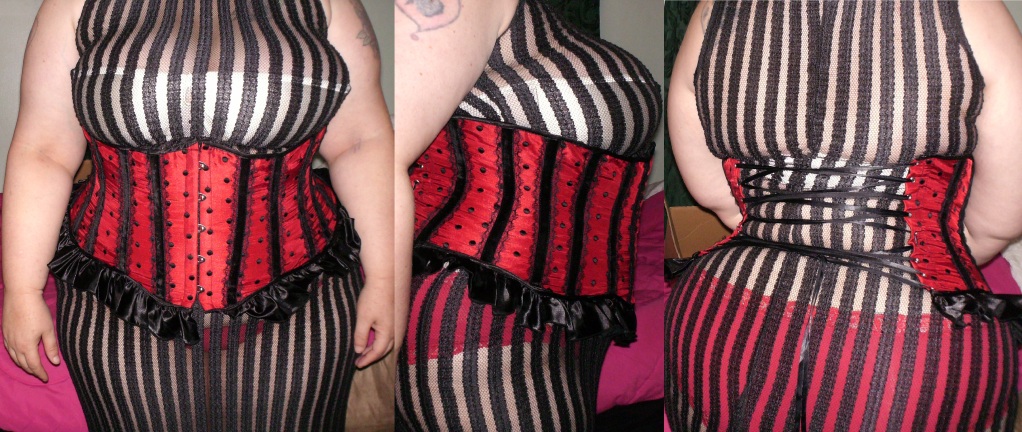 Follow-up commentary
1 month after original review
I love this piece more than ever!!! I loosened the straps up some more and the back pain has lessened by a lot, and I'm able to breathe and wear this almost all day while going out.
This product was provided at a discounted price in exchange for an unbiased review. This review is in compliance with the FTC guidelines.

Thank you for viewing
Dot satin waist cincher
review page!