It's Electricfyin'!
This Mesh Chemise can very well be a star in your collection. It can flatter a variety of body types and offers a design that's different from the norm. However, if you're very endowed, this might not be what you're looking for.
Published:
Pros
Blue!
Design
Stretches
Cons
Small bust Area
Ooo! Blue! Whatcha got there, Mwar?
Hi there! Here we have the Mesh Chemise by Coquette. It's a bit different from the average chemise in terms of style, I believe. While it does have some stretch to allow for multiple body types, it sadly only comes in sizes small, medium, and large (I think, if it had more room in the bust, it would look nice on bigger silhouettes as well). Despite this, the Mesh Chemise is a nice piece for those who prefer chemises but want something a little different. It also can cover more of the behind than the average, clinging chemise, which is a plus.
So, what does it look like?
The Mesh Chemise is made with care and thoughtfully. Starting at the top are two adjustable black straps, which are always a plus. The neckline is similar to a sweetheart shape. The bust has a light degree of padding that adds some support when coupled with the straps. The cups are covered in a blue, meshy lace. The blue lace flower and vine pattern on it with black fabric behind it.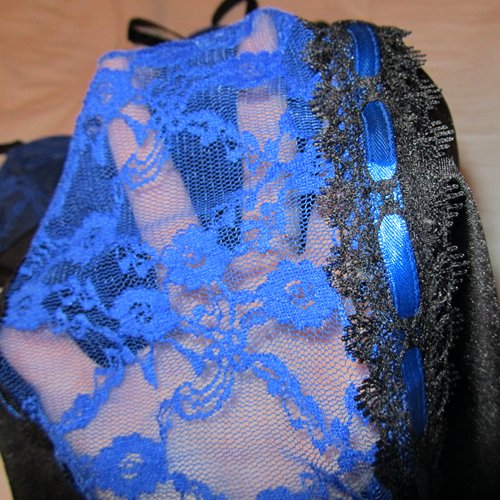 Moving down from the bust you have a front panel and the solid, black sides. The sleek black sides that go to the back are made of lycra, which is a flexible, smooth, and durable material. In the middle going down the front is more blue lace. This blue lace does not have a background, so it is see-through. Between the blue lace and place sides are black lace borders that swivel down the chemise. In the center of this black lace border is an electric blue ribbon. The ribbon threads through the lace in a pretty, pleasing way.
The back of the chemise also has some design. The black lycra from the sides continues until the center of the back. Then there is more electric blue ribbon that runs crisscross down the back. Beneath the ribbon is a see-through black mesh, so this area is sheer as well.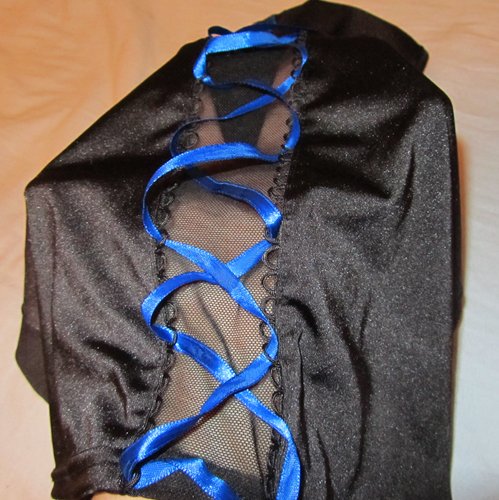 You can change how you lace up the back of the chemise since it has multiple loops, so that provides some creativity and variety. Overall, the chemise is made well. There are no visible loose threads or signs of neglectful craftsmanship. There are seams that run down the inside and center of each bra cup as an inch above the bottom of the chemise. They are not that noticeable and even those with sensitive skin should be okay wearing this. The lycra is especially smooth.
How did it fit?
I went with the size medium for this chemise. I fit the bust and waist measurements, with a 34 inch bust and 28 inch waist. My hips are slightly larger, but since the chemise had stretch, I figured it would be okay. If anything, my only trouble spot would be the cups. And... it fit well except for the cup area. It wasn't horrible, but I have to constantly adjust the cups so I'm in there somewhat securely. It's my fault since the sizing said it was only for a B cup and I'm a D. I still think Coquette could fix their sizing a little (according to it, I'm an XL on boobs alone).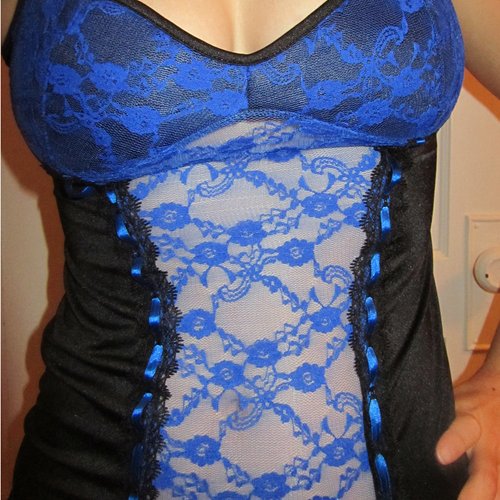 If you are more endowed and want a chemise with support, this probably won't do it for you. The cups will probably be to narrow for you and they'll sit in the middle of your boobs, which is not the most visually appealing. Other than that, it fit very well. The lycra clings to the body and accentuates the figure. Still, if you love how it looks and you think it'll fit in every other way, I still think it's a worthy purchase.
[Bold]Okay, how do I take care of it?]
The chemise is 20% Spandex and 80% nylon. The directions state to only hand wash it and hang it to try. I place the chemise in a pillowcase, tie the pillowcase, and put it into the wash on cold. It comes out just fine. Then I hang it to dry. It hasn't shown any signs of wear or tear yet. In terms of packaging, the chemise comes on a pillowy hanger and wrapped in plastic.
Experience
Anything else you'd like to share?

I've been looking for some blue lingerie for a while now. Anyone worth their Eden salt is aware that colors like blues and greens are small in comparison to blacks, pinks, and reds. So when I saw this little number on clearance, I had to give it a chance. I also was fortunate enough to snag the last medium (doesn't it make you feel good when you were able to get it, and it was the LAST one?).

When it arrived, I was excited to give it a try. Despite the minor fit issue, I still enjoy this chemise.
This content is the opinion of the submitting contributor and is not endorsed by EdenFantasys.com
Thank you for viewing
Mesh chemise
review page!