She's electric
This piece is sexy and fits me really well. I think women who have previously tried Coquette chemises, and found them to be too short, will find this pleasantly appropriate in length. Something about the way this was made makes it cling to my curves and stay down below my booty. I am more than pleased with this, and will be wearing it often.
Published:
Pros:
stretchy, comfortable, color, length, form-fitting, NO BOWS!
Cons:
people larger than C, needing support, won't find it.
Presentation

I was excited yet nervous for this piece. It looks beautiful on the model, but I was hesitant that it's length would flatter my height.
I was pleased when it arrived in a plastic bag, hung up on one of Coquette's nice plush hangers.

The piece itself is sexy and bright. It is a long black chemise, with an electric blue lace panel up the front, lace accents on the cups, and a sexy corset-style lace-up back.
That is all that comes with this purchase.

Materials, Comfort and Care

This chemise is 80% Nylon, 20% Spandex (exclusive of ribbon trim).
You should hand wash this item, hanging it up to dry.
Inquiring minds will find this is made in China.

As far as comfort, this is pretty darn good for a piece of lingerie. It is not itchy at all. It does form to your shape; if you are someone who likes loose fitting, flowy lingerie, you should probably pass this one up.

The craftsmanship is okay. It's not 100% flawless, but it is definitely a finished piece.
The ribbons going down the front, in and out of the lace, will sometimes bunch up if the dress is not spread/laid flat to its extent.
There is a noticeable thread loose on the top of one of my cups, but it should be easy enough to trim off myself.

There is no underwire to the cups, but they are defined from the rest of the chemise with a light/thin black padding. The straps are not able to be removed, but they are adjustable and stretchy.

I feel almost sinful about it, since there is a noticeably missing Coquette touch on this piece of lingerie.
No bows. That's right. The entire piece... WITHOUT A BOW (except the one you make yourself on the corset-like back.
Experience
Sizing
I bought a size Large.
Coquette says a size large should fit someone who wears size 12-14, has a C cup, 38-40" bust, 30-32" waist, 40-42" hips.
I myself have put on a little weight over the past few months, so I would say I am more of a full C-cup, 32" under-bust, 38.5" at fullest, my waist is more of a 31" (32" relaxed fit), my hips where I wear pants are more like 40", my butt has grown to a full 45".
By this, I should be at the tighter end of the size large. I tend to agree, though there is definitely room on both ends.
I think someone my size, and probably 2-3 inches less, would find this piece pretty well fitting. The fabric reminds me a lot of a loose swimsuit in material. I think someone maybe an inch or two bigger than me could fit into this as well, but it would be pretty tight and might not look as flattering. It also depends on your build. I am taller, so someone shorter than me with the same measurements might find this piece not suitable.
Measurements and Pictures
Width-
Bust: 30"
Waist: 31"
Hips: 35"
Bottom hem: 38"
Slit down the back: originally, 2"; when worn, it stretches more to accommodate
Length-
Cups: 6"
Armpit to Bottom Hem: 25.5"
This piece stretches so very nicely. It is one of the rare few chemises that I have bought that fits down to the appropriate length on me.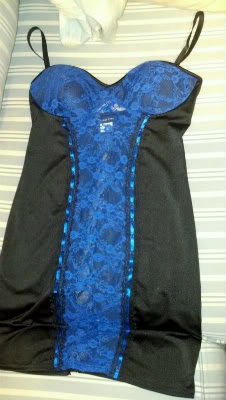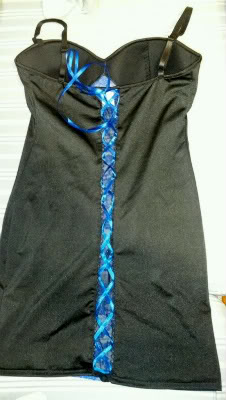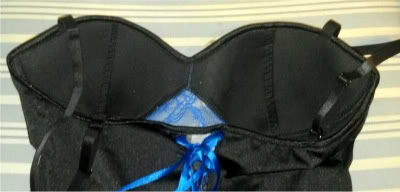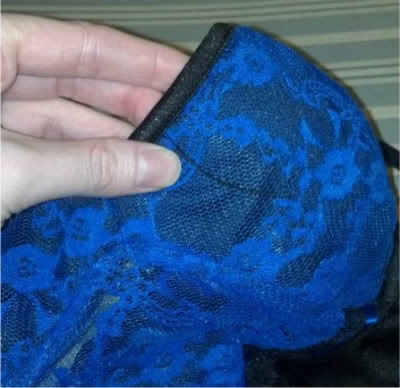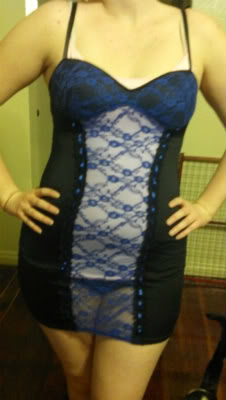 This product was provided free of charge to the reviewer. This review is in compliance with the FTC guidelines.

Thank you for viewing
Mesh chemise
review page!