-It Was Almost Perfect!- (OS/XL)
The Raspberry Fields babydoll and g-string in OS/XL is a striking piece of lingerie. It has everything you could ask for, such as lace, soft fabrics, a rhinestone and pearl slider, and a nice cut g-string. However, I'm going to say that if you are above a D cup, you are going to have lots of breast spillage. This would be perfect for those with average sized breasts. It's a stunning ensemble!
Published:
Pros:
-Lovely rhinestone & pearl detail on front.
-Cozy.
-Attractive.
Cons:
-Straps that aren't adjustable.
-No breast support.
-Won't fit over a DD or DDD in cup size.
-Introduction-
The Raspberry Fields babydoll and g-string in OS/XL arrived in a basic clear packaging that seals at one end. You can keep this for storage, or you can recycle it. I always keep mine, just in case I have to return it. There was no hanger included with this set.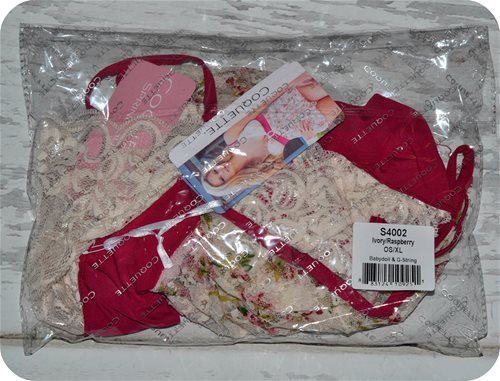 The babydoll has 2 tags on it. Check out the important pink tag below.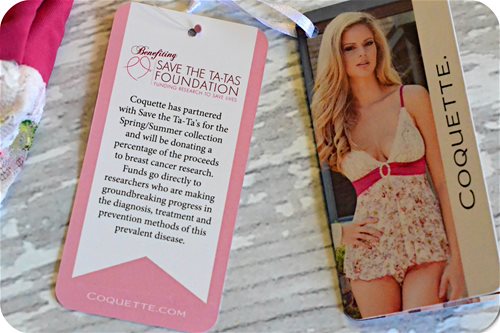 The piece is gorgeous, but it barely covered my nipples. There's also no underwires in this piece, or any support. I really wanted to love this lingerie, but there was no way that I could. A cup size of Large B to Large D would be seemingly perfect for this babydoll.
There are 3 types of fabrics on this babydoll. There is a solid ivory lace, ivory lace with colored flowers, and solid colored raspberry spandex.
The babydoll has triangle shaped breast cups that are made of the solid ivory lace. This lace is scalloped on the edges, just like on the back of my raspberry fields bustier. There is a seam that runs down the middle of each cup. The straps for this piece are the raspberry colored spandex material. They are a little over 3/8" wide. The straps are soft and stretchy.
The waist portion of the babydoll is the ivory lace that has colored flowers. It's very flowy. There is a raspberry colored band going around the full babydoll. On the front, it's sewn over the lace at the top, and can be lifted up. This portion is what holds the rhinestone slider.
Only the top portion of the band is sewn. The back portion of the raspberry band is sewn to the straps. Under the band there is ivory lace, which is very flowy and flattering. The lace around the full waist portion is sheer. The lace on the breast cups is also sheer.
One thing that I will mention, is that the top spandex in the back is very comfortable. Just think if they made a full babydoll of that, with underwires, and adjustable straps. I would be in Love.
The G-string is made of two fabrics. The ivory & floral lace, and the raspberry spandex. The whole G-string is trimmed in the same trim as the straps on the babydoll. The rest is the lace fabric. There is no cotton crotch lining included with the g-string. I would have liked to have one, due to hygienic reasons. It's a good thing that it's not a solid fabric; at least your lady bits will be able to breathe. I like the fit, other than the breast area; and the soft trim.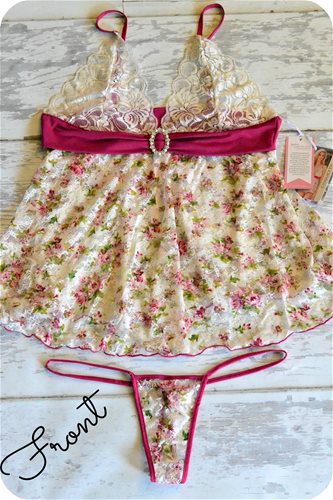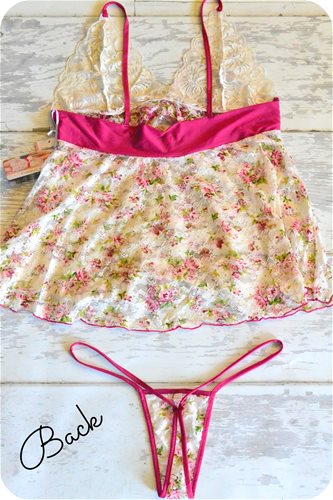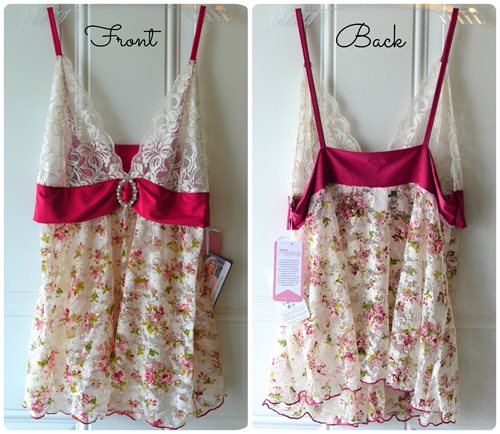 I've included measurements, and if you need more, please send me a message.
-Babydoll Measurements-
Total width across front of babydoll at waist: 17"
Full circumference at waist of babydoll: 34"
Total length of raspberry waist band, vertically: 1 3/4"
Length of babydoll from top of cup to bottom: 26" in front & 16 1/2" in back, from waist to bottom.
Front of waist measured across stretched: 21"
Breast cups area measured across: 14" in middle of cups.
Cup diameter: 9"
Length of shoulder straps: 15 1/2"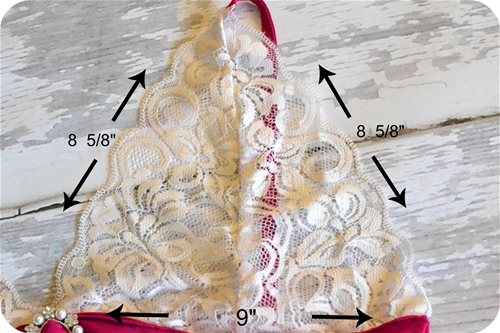 -G-string Measurements-
Waist measured across unstretched: 16"
Waist measured across stretched: 19"
Top front to top back where 'V' starts, unstretched: 14"
Top front to top back stretched: 16"
Length of total crotch area: 4-5"
Width of crotch panel: Ranging from 1/4" to 1 1/2"
- My Sizes-
Breast/Bra Size- 38 DDD or F
Waist- 36"
Hips- 41"
Height- 5'2"
Usual panty size- 7
Size L in Victoria's Secret panties
The g-string fits me perfectly. For other true plus sizes, it may run a bit small. I know that every g-string is not going to be the same size. It all depends on how it was sewn. These tend to run a little small, but that works out for me. The G-string really feels like an XL size.
There are no bows and no details on the G-string.
The g-string stretches both vertically and horizontally. The G-string has 2 materials used on it. The first material is the ivory & floral lace, like on the babydoll, and the same raspberry material. The g-string can be pulled up high on the hips, or it can be left down low on the hips. It doesn't dig into my hips, or leave any marks.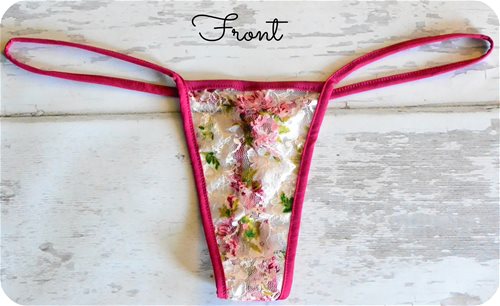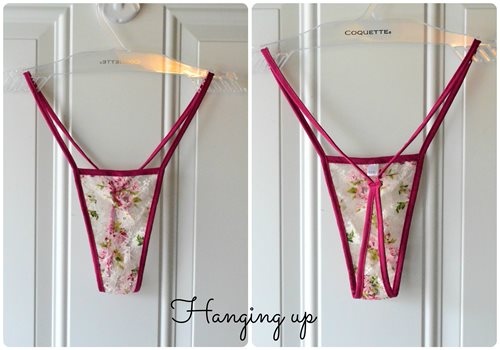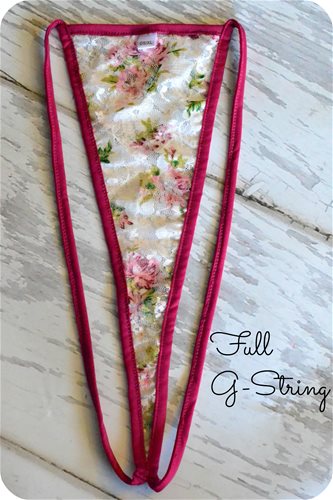 -Material-
The babydoll is made from 90% nylon, and 10% spandex, exclusive of trim. The lace is sheer, and it's an ivory colored lace. There is also a mixture of light pink and dark pink flowers, with green leaves, in the lace as well. The spandex used is a raspberry color. It contrasts nicely with the ivory color.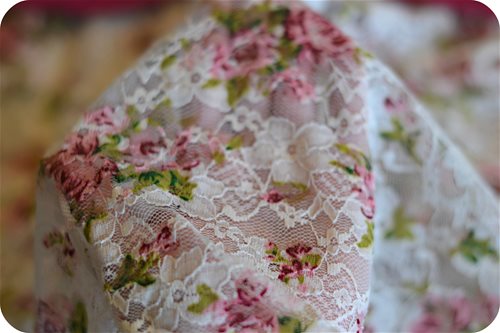 Experience
(Continued)
-Fit-
The babydoll hits 3 inches below my hips. It's also very comfortable. If the cups had been large enough for me and the straps would have been adjustable, this would be the ultimate lingerie set. Of course, not everyone is going to have this problem. It will fit most users perfectly. The back of the babydoll ends right at the bottom of my butt cheeks. It's a little longer on me, because of my height. It's going to be shorter in the back for those over 5'3"
The straps on the babydoll are not adjustable, so there is no way to adjust it to your size. The straps are stretchy, so that helps some, for taller people. The straps were longer than I would have liked.
Also, heavy breasts tend to pull up the back of the babydoll, during activity. The babydoll and g-string fit everything else well on my body, except the breast area.
The waist area was cute, and I loved the rhinestone slider. A rhinestone slider is a jeweled piece that can be used on clothing and hair accessories. It's often found on a narrow piece of material where it can slide back and forth a little bit. It slides about an inch each way on the middle of the babydoll. I like the oval shape. It definitely screams vintage. The slider is 2" long and 1" wide, and it's made of metal. It's not a cheaply made slider. It has a little weight to it. I remember my great grandmother having some jewelry that resembled this. There are 9 pearls on the slider, and 9 jeweled diamond look clusters. This is surely a focal point on the babydoll. It's not tacky, at all, in my opinion.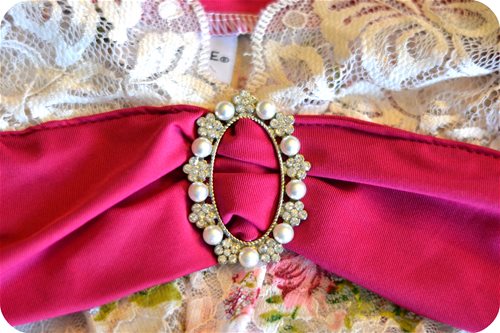 I won't be showing the fit of this because it shows way more than I could ever show on here. Even trying to cover it up probably wouldn't work.
The babydoll seems to fit like a normal XL, more so than a plus size. Below, I have added the Coquette sizing chart.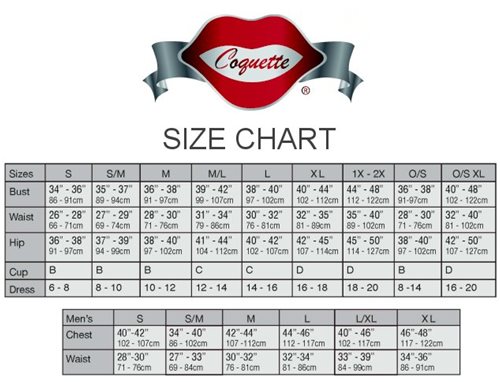 -Partners View/Rating-
My partner liked everything about the babydoll, except the small cups. He measured my breasts from the beginning on one side all the way around to my chest bone. The size is 14". I never knew they were
that
large.
He gave it a 5 on a scale of 1-10.
-Care/Washing-
The care tag inside the babydoll states to hand wash, and hang to dry. There are no care instructions inside the G-string. I would suggest washing it by by hand because of the lace material. The lace can rip easily or get damaged, if you're rough with it. I store it in my lingerie closet on one of my padded hangers from Coquette.
-Opinion of Quality/View-
I'm going to deduct a star for the non adjustable straps. This was a major feature that it was lacking. The quality of the babydoll and G-string is nice. It's sewn well with a Serger, which is a commercial sewing machine. There were no loose threads, or hanging threads.
Follow-up commentary
4 months after original review
This is a gorgeous set that is very classy and adds much appeal to my body. This is a very flattering piece.
This content is the opinion of the submitting contributor and is not endorsed by EdenFantasys.com

Thank you for viewing
Raspberry Fields babydoll and g-string
– babydoll and panty set review page!