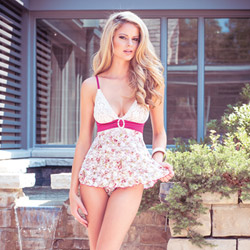 Raspberry Fields babydoll and g-string
Babydoll and panty set by Coquette
Raspberry Fields Forever?
Overall, this is a gorgeous, springy piece that makes use of a unique color palette. It's soft and comfortable, but it is suited to a very limited range of body types, especially due to its "One Size Fits Most" nature. The skirt is very flattering and forgiving, but the upper half of the babydoll does not afford these same luxuries. Check the listed measurements against your own carefully, because if you're lucky enough for this piece to fit, it will most definitely brighten up your wardrobe.
Published:
Pros:
Soft, stretchy lace,
Unique color palette,
Flattering, floral print skirt.
Cons:
One size does NOT fit most,
Nonadjustable straps,
Small, shallow cups.
The Raspberry Fields babydoll and g-string is available from Coquette in two sizes - one size fits most (OSFM) and a plus size (OSXL). I chose the OSFM - the measurements are as follows:
Strap length: 14in
Underbust circumference unstretched: 26in
Underbust circumference stretched: 32in
Skirt length: 11in
Breast panel width: 7in
Breast panel height: 7.5in
Total length: 24in
Thong circumference unstretched: 26in
Thong circumference stretched: 40in
Width of lace panel: 3in
Length of lace panel: 11.5in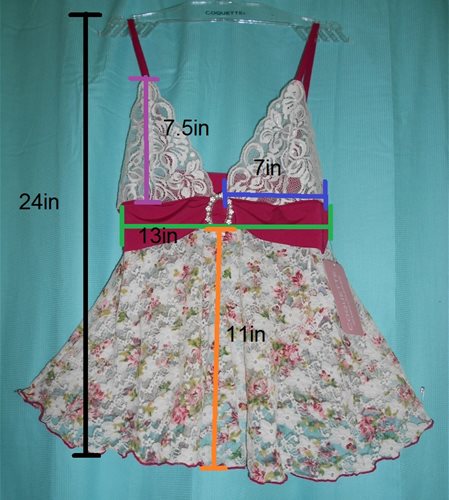 The bustier and thong arrived in clear cellophane packaging emblazoned with Coquette's name in metallic cursive. There was no hanger included, which was a bit disappointing - I imagine that they could have made a gorgeous hanger with this color scheme. The packaging was economical, however, and as the bag is resealable, it could easily be used for storage, especially as the babydoll doesn't wrinkle or crease when folded.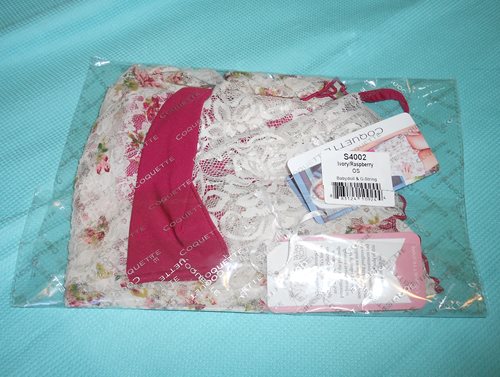 There was no odd smell on the packaging or the piece itself when it came out of the plastic. The fabric was not stiff or uncomfortable, and it felt the same after washing as it did when it arrived. It did not shrink or warp in any way after washing, and the colors stayed just as bright and springy. The straps and underbust band really are a gorgeous raspberry color. If you ever had a 60 pack of Crayola pencil crayons as a child, the Raspberry colored pencil crayon is a dead ringer for this deep pinky-red.
The lace skirt is a soft, dusty rose and green floral print on a creamy ivory backdrop. It's really quite striking, but the colors are not exact in the photo that I'll be including immediately below, because I've upped the contrast so that you can really see the pattern of the lace. The shading in the other photos is more exact.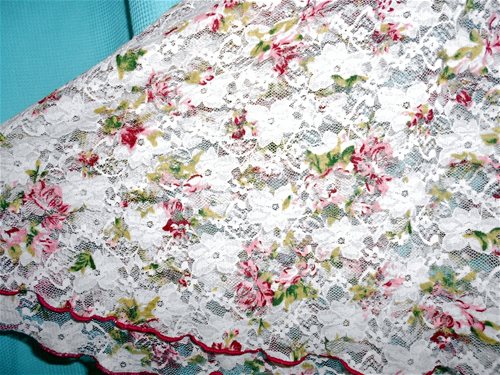 The lace of the cups is a pure ivory with no floral pattern. It did not flatter my pale skin tone much at all, but I imagine that it would look amazing on a dark-skinned girl or even just someone more tan than I. That being said, the delicate scalloping along the edges is extremely alluring - the lace is quite stretchy, which ensures that if it fits, you will not experience unsightly lines from it cutting into your skin. There is a seam down the middle of the cups that gives them a (very) small amount of depth. The straps are made of the raspberry microfiber fabric, and are soft as well, but unfortunately, they aren't adjustable at all. They are attached on the inside with a single line of stitching, however, so it should be simple to remove the thread and shorten the straps.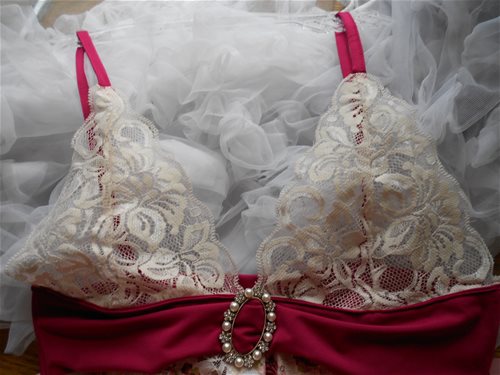 At the center of the underbust band, there is a provocative pearl and rhinestone clasp with a bit of a vintage feel to it. I worried at first that it might look tacky, but I actually find it to be quite complimentary to the piece. I am not yet convinced that it suits the spring theme of the line, but it does help to really pull the babydoll together.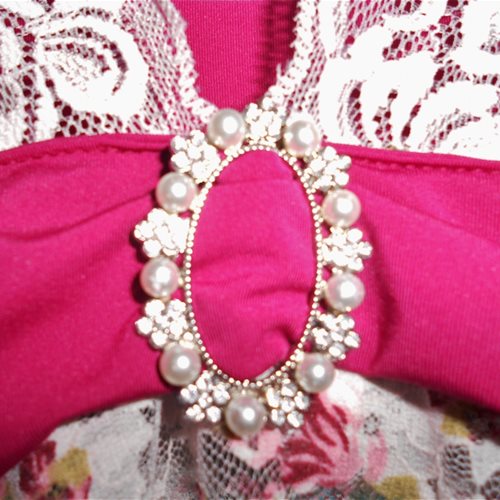 The thong is kind of your basic, easy-to-throw-together, little piece. The style alone makes it seem a little cheap. I feel like most thongs with string sides come off that way to me, however, so it might be more suited to your taste. There is no cotton modesty panel inside, which is something else that makes me less likely to wear this thong for more than a quick minute or two.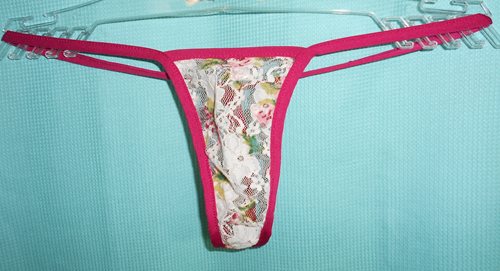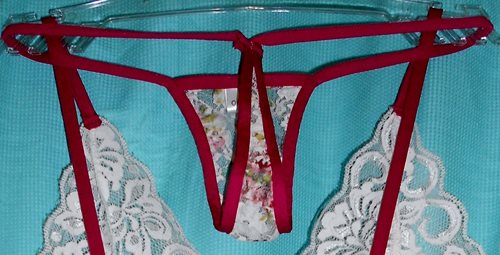 This set is made of 90% Nylon and 10% Spandex. The tag recommends that you hand wash it and hang it to dry. Even if you are not prone to hand washing your delicates, I do suggest that you forgo the dryer in favor of air drying it because of the fragility of the lace. Personally, I lay my garments flat to avoid stretching, and the babydoll kept its shape quite nicely after drying this way. As for storage, make sure that you do not store it anywhere with protruding nails or splinters, as you could easily create a pull in the fabric.
As an added bonus, Coquette included this wonderful tidbit of information on a secondary tag: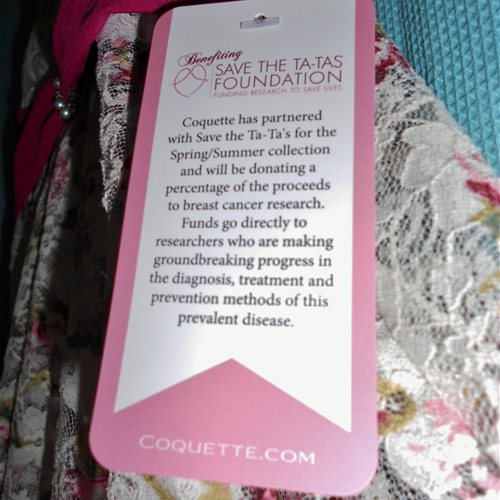 Save the Ta-tas is a "private, non-profit, organization that is dedicated to battling cancer at every stage by supporting break- through breast cancer research" (taken from their website). They were established in 2008 and as well as sponsoring five independent cancer researchers, they sponsor an annual scholarship and donate merchandise from their Ta-tas Brand of clothing to fundraising events. It's fantastic that Coquette has begun this initiative, and I hope that it becomes a trend that catches on quickly.
Experience
From a personal point of view, this babydoll was a huge disappointment. From the way that it looked on the model, I thought that it would likely be just a little bit small for my bust. The fact that it has no underwires supported that - when I've encountered pieces of this type in the past, I've always been able to make it work. Either Coquette's model is a lot smaller than she looks or the babydoll that she is wearing is cut differently than the one I received, because with a cup depth of 7 inches, this won't even come close to fitting anyone with a substantial bust. As I require a cup depth of closer to 12 inches, I will likely remove and replace both breast panels if I come across a suitable fabric. Because of it's ridiculously revealing nature, I took pictures wearing both a bra and a nude slip. I've clearly marked the outline of the top with black where necessary so that you can get an idea of the amount of coverage that it offers. I did not adjust the babydoll at all in between the front and side view pictures.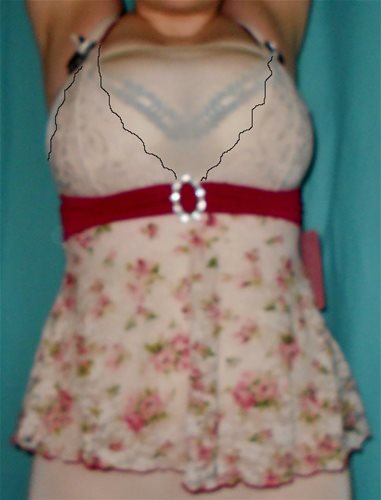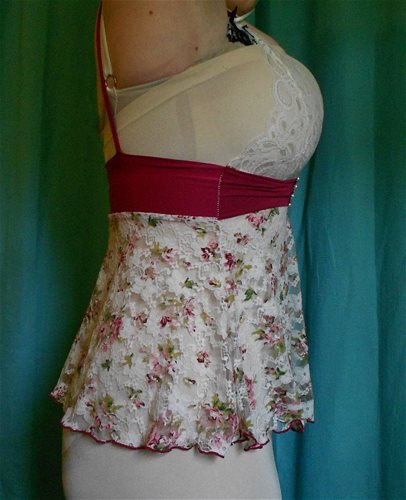 As you can see in the second picture, the stitching on the raspberry part of the babydoll has been done in cream/ivory thread as well, and thus may be visible if you do not pull the band down all the way to sit under your breasts, as I have failed to do, or if you have a ribcage that is closer to 32 inches. In addition, if you have a long torso, you may find this to be too short for your tastes - the bottom of the babydoll just brushes the top of my hips and at 5'4", I am far from Amazonian.
The view from behind is very pretty, though as you can likely tell by the fact that it's sitting almost at my natural waist for this picture, the straps are far too long for me.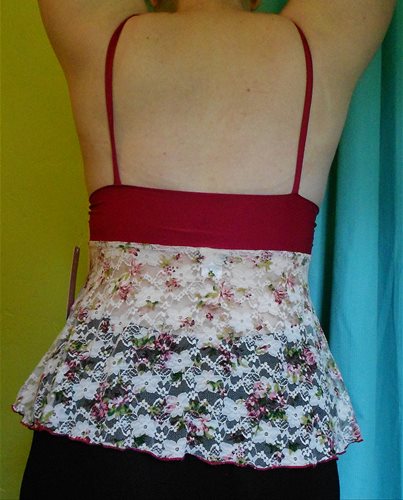 Pieces like this really make me wish that I did not have to choose an overall rating. In terms of looks, this babydoll and g-string definitely gets five stars. The lace is soft, bright, and very different from your basic blacks and bubblegum pinks. In terms of quality, I would rank it four stars. Though there are no loose threads or wonky stitching, the thong doesn't look like it will last through more than one or two brief wears, and the straps are attached with a single line of stitching, which isn't good for something that is meant to support weight. Fit-wise, I wouldn't give this half of a star, because fit caters to each individual woman, and this woman does not feel like she was meant to be included. Overall, I'm going to rank it four stars, because objectively, it's a great piece. For the right body type, it could really give your lingerie collection that little something extra that it's missing.
Follow-up commentary
2 months after original review
I have been fiddling around with this in an attempt to modify it to fit my bust, however I still haven't had any luck making it work. It's a damn shame, because it's so very pretty. I'm thinking that unless I can find a matching fabric in the next month or so (I haven't had any luck with where I've looked so far) and replace the cups completely, I may just return it to its original state and pass it on to a friend. There's simply no support to be had, and it looks dreadful when worn with a bra. If I successfully make any modifications, I'll be sure to come back and share them.
This product was provided free of charge to the reviewer. This review is in compliance with the FTC guidelines.

Thank you for viewing
Raspberry Fields babydoll and g-string
– babydoll and panty set review page!