Just Call Me Lori Darlin'.
Feel like a turn-of-the-century Saloon Girl in this authentic red and black polyester dress. The bouncy skirt with lace trimming, balanced by a lace-adorned off-the-shoulder top, makes the outfit flattering and fun to wear. Coquette helps you round out the look with fishnets, gloves, a feather, and a fan. Quality construction means you can wear it in the bedroom or beyond, and the ML fits true-to-size---so suit up and order a tall glass of buttermilk at your favorite saloon tonight!
Published:
Pros:
Authentic feel, bouncy skirt, quality construction, complete set.
Cons:
Obscures breasts, flaunts love handles. Hand wash only.
I must have watched Lonesome Dove at an impressionable age, because I've always daydreamed about being as pretty as Lorena waiting at her post in the Dry Bean. Gus McCrae, too, has always struck me as the
perfect cad
and the
perfect gentleman
(youtube links). As soon as I saw Coquette's "Seductive Saloon Girl," even though I'm not usually one for dressing up, I jumped at the chance to feel a little like Lorena for an evening.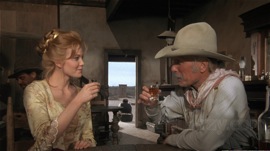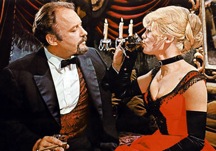 (Even if bright red wasn't Lori's signature color, and the dress actually reminds me more of my username namesake in this scene I'll never daydream of, it's a flattering style, and really caught my eye. It's rare that I'm drawn in by clothing!.
THE SET
Coquette rounds out the Saloon Girl look with four surprisingly high-quality accessories. I was especially grateful that the black and red dress comes with matching fishnet tights and lace wrist-gloves. An ostrich feather and a plastic-and-lace fan give you options for adorning your hair and keeping your hands occupied. I was impressed with how well everything in the set goes together---being something of a fashion dunce, I would never have been able to choose such perfect accompaniments.
SIZING
The ML Saloon Girl dress fits me exactly as the sizing chart promises. This size is recommended for women who wear dress size 10-12, with C cups, bust 36-40", waist 28-32", and hips 38-42". I'm 5'5" and 143-145# with a very curvy figure. I usually wear a dress size 8 in a style that doesn't hinge upon my larger hip circumference. I have a 36" bust with C cups, a 28" waist, and 42" hips. Coquette's sizing chart seems to be exactly in line with their dress, because the chest area was sized perfectly (tight enough to give support without wearing a bra) and is a flexible measurement because the lace obscures the area a bit. Your bust could be 34-42" with no problems. The waist was a smidge loose on me at the actual waist, and then as my hips grow, the dress tightens up. I would not recommend this for anyone whose hips are larger than 42"---the material will stretch for you, but it will highlight love handles.
THE FISHNETS
The quality of the stockings that came with the set impressed me. The gauge is tighter at the toe preventing the net from slipping between toes, and the material (spandex?) seems quite sturdy. I have thighs on the larger end of the ML size (23" around) and these fit me well, though they didn't quite hug my ankles or knees when flexed. The stretch means they should fit any leg size in the ML range, and smaller ones as well.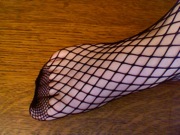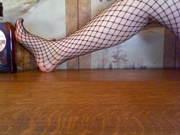 THE WRIST-GLOVES
I'm enamored with these gloves---I might even wear them out with other dresses. The lend stylish sophistication to the entire outfit. The floral lace and elastic are stitched together well, and the satin finger-loop holds them centered while the elastic upper and lower keeps them from falling---without making sausages out of your forearms.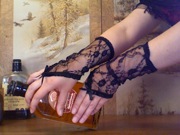 THE FEATHER AND FAN
A black ostrich-type feather with black sequins at the quill is supposed to adorn your hair, but it doesn't come with a clip. The feather was in perfect condition when I plucked it from the package. The accompanying fan is made of black plastic with gold paint filigree, and is held together with lace. These accessories are much higher quality than I expected---they weren't just afterthoughts tossed into the package, care was actually taken to choose items that completed the look. I assumed when I bought this that I'd toss these right away, but if I decide to wear this dress for Halloween, I'll definitely be using them.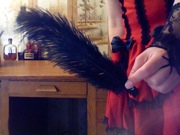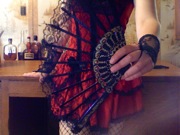 THE DRESS
Red polyester hugs the waist and forms the basis of this off-the-shoulder dress. The mini-length skirt has plenty of bounce in its two layers, each trimmed with black lace. The top layer is gathered in two places with satin bows, and velveteen stripes draw the eye from the hips to the breast. The lace actually serves to hide any cleavage you may have wanted to show off, so I'd recommend this dress for people who want to show off tiny waists and hips, rather than flaunt a lot of chest. If your hips start to widen above the beginnings of the skirt, as mine do, the tight polyester will hug them visibly. Above the bustline lace, the dress is "held up" by a satin hand-tied bow (this is more for looks as the polyester holds itself up). The sleeves are to be worn off the shoulder---I forgot about the sleeves once and it looks surprisingly good as a strapless dress as well. In that case, the satin bow is effectual.
Experience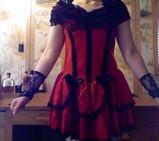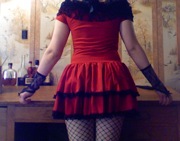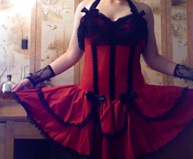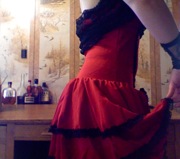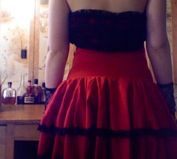 All in all, the dress is fantastically authentic and very fun to wear. The skirt bounces as you move, and the styling is perfect, apart from the breast minimizing and love handle maximizing. It really calls to mind a turn-of-the-century saloon girl. The construction is fabulous, all the stitching is tight and complete, and I suspect it will wear well for a long time. The polyester is actually hot enough to keep you warm on a chilly evening. I'd feel comfortable wearing this out for Halloween, or in the bedroom (take off the fishnets and you're fine for a 'poke'), or even in a play. It's a little old-fashioned to wear out dancing, but I wouldn't be surprised if I found myself doing it anyhow. This dress is so perfect!
CLEANING AND CARE
When I first pulled this out of the package, a saw a seam stitched together and was sad to see that this is made of the same polyester that our high school band gowns were made of---the major bummer about this is that even when you wash it you can never quite get scents out of it. In addition to that, the lace and satin trimmings mean that this dress should be hand-washed only, and hung to dry. In other words, if you're going to spill something on it, it had better be whiskey so the smell matches the outfit. The fishnets and wrist-gloves can be hand-washed in cold water as well, and dried flat.
The Saloon Girl set is shipped in a clear plastic bag with attached hanger, and can be kept there to keep the polyester from stretching out under the weight of the skirt on a hanger. The material will not hold wrinkles.
FINAL THOUGHTS
Apart from the focus on my love handles, I'm pleased as can be with the Saloon Girl outfit. I'll be wearing it, daydreaming of San Francisco, and waiting for a kind someone to show up with a deck of cards and a glass of buttermilk.
This content is the opinion of the submitting contributor and is not endorsed by EdenFantasys.com

Thank you for viewing
Saloon girl
– costume review page!