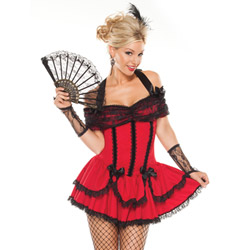 Saloon girl
Costume
by Coquette
Sexy Saloon Girl
The Saloon Girl costume from Coquette is a real show-stopper. This outfit would be perfect for Halloween, a costume party, or even just to surprise your partner with a new outfit. With sturdy construction and cute props, this costume is worth the extra money if you're looking to have all eyes on you.
Published:
Pros:
Sturdy material
Strong Stitching
Great Props
Cons:
Cheap Fishnets
Not ideal for small-chested or larger women
The Saloon Girl costume from Coquette is a real show-stopper. This outfit would be perfect for Halloween, a costume party, or even just to surprise your partner with a new outfit.

This costume comes complete with: the dress, lace gloves, large fishnet pantyhose, a fan, and a feather headpiece.

The Dress: The dress is a deep lipstick red color and is made out of 100% polyester and adorned with black lace. The polyester material which makes up most of the dress is soft and not as stretchy as I was expecting. It's thick and holds in little imperfections (such as a tummy) much better than I expected.

The skirt portion has 2 ruffled layers complete with lace hems. The skirt of longer than I would have imagined, and falls about 9 inches from the hip. The hemline of the top portion falls just above the hip on me and is adorned with 2 satin bows. The boning that runs along the sides is soft, black velveteen and lace. The "boning" is really just the material, and is more for show than it is for use.

The bust is made the polyester material and then covered in lace. It features a ruched hem both in the middle of the bust and at the arms, which makes for a snugger fit. This is better for the boobies and worse for your arms. The top of the bust features a elastic, picot trim as a final touch, drawing more attention to the twins and making sure to stay put nicely.

The final touch on the dress is the a satin ribbon which is covered by two bows at the top of this number. The ribbon does the trick holding the dress up once it's tied behind the neck, but it's just ribbon so be careful when untying and tying.

The Gloves: The gloves really add that extra oomph to the costume. They are made of black, patterned lace and have an elastic ring for your middle finger. The elastic runs alongside the back of the gloves and is also present at the base of the gloves (for your forearm) and around your hand for a more tailored fit. I love these! I have even used them with a few other outfits. Very nice touch!

The Fishnets: For the price of this costume I was expecting a decent set of fishnets but this is what I get for expecting...the pantyhose are less-than-decent. These are simply light, fragile fishnets. I had major issues with them stretching quickly and not staying up almost immediately. They are a larger fishnet pattern, but not nearly as large as fence nets. There is no solid portion for the toes, which is great if you are wearing open-toed shoes. However, if you plan on wearing this outfit to a party I would highly recommend purchasing a higher-quality pair of fishnets that will actually last through the evening.

The Fan: I think the fan is a really nice touch. It is a working fan that can be spread apart with ease. It is made of plastic and lace, featuring light gold swirly designs across the black plastic. Nice prop for this outfit!

The Feather: The feather is just that, a feather. It's nothing fancy. It's a black feather that features black sequins wrapped around the base for ease when placing in your hair. I must admit: the feather stayed well in my updo.

Washing? This dress can only be hand washed and hung to dry.

Overall: The dress is very sturdy and yet soft. The dress is also long enough to be worn outside of the bedroom without feeling exposed, although this could be a downside if you want to be scantily-clad for bedroom adventures in Saloonville.

My biggest issues with the dress were that I am 5'5", 130lbs, with 34B's. I originally ordered a S/M after much debate and I couldn't even pull the sucker over my shoulders; there is really no give with this fabric. So, I ordered a M/L and I could get it over my shoulders and it worked just fine but it still felt a little bit tighter than I would have imagined. (I had to double check the scale to make sure I hadn't gained 15lbs!) Not to mention, the bust basically swallowed my girls up and didn't allow for any cleavage, let alone even allowing anyone to notice I have boobs. All in all? This dress is not ideal for small-chested or larger women.

All in all, a decent buy. It's a little pricey but for the construction of this product and the excellent stitching which can be hard to find in costumes, I think it was well worth it!
This product was provided at a discounted price in exchange for an unbiased review. This review is in compliance with the FTC guidelines.
Thank you for viewing
Saloon girl
– costume review page!