Just my size "Mesh and lace babydoll"
The mesh babydoll with matching G-string is one of the most beautiful Items I own. I have to thank Coquette for creating something this beautiful. It is sexy, sleek, and perfect for us plus sized beauties. It hides most problems areas so that when we are wearing it, we can smile and look sexy. It is easy to care for and works with any body type. I'm just madly in love with this item.
Published:
Pros:
Extended size, Beautiful, Sexy, Easy to care for, Comfortable,
Cons:
G-String too large, Sizes run kind of big, I really wish it came in more colors.
It is hard to find the perfect lingerie, and it is even harder to find something that is sex and comfortable when you are plus sized. I normally do not buy anything sexy for myself, and my boyfriend never understood why. So, when I came across the Mesh and lace baby doll I thought wow this is beautiful. I was scared to give it a try, but I decided to not only for me but for my boyfriend. I must say, as my first piece of lingerie I'm extremely happy.

So, lets talk about the packaging. I was a little disappointed with the packaging, only because I've read reviews on other items from the same company and they come with hangers. This did not. The baby doll came in just a clear plastic big with no extras. When I first had it in my hands, I was not disappointed. It was not till I thought about it, and remembered. It is not an enormous problem it can all be overlooked.
When I pulled it out of the plastic bag it came in, I held it up in the air and looked at the babydoll. Is thought is this going to fit me? I ended up ordering the largest size they had, which is a 3x-4x. I was a little worried about the bust area being too small. I would recommend not going too large. I think I could have done good with a 1x-2x.
The baby doll is made up of two different materials. It is made up of lace and mesh. Okay, let's start from the top and work our way to the bottom. The baby doll does have straps to it, and they are made of satin. It is not listed on the product page, but when felt in the hands it feels as though it is satin. They are not exceedingly thick, and they are not heavy, so you do not notice it when you wearing them. They are soft and feel extremely silky.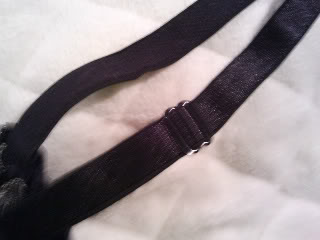 The top is made up of black lace. The lace is extraordinarily beautiful, and it covers up the most needed areas. You do not have to worry about your nipples showing, or the lace being easily ripped. It is see through but only up close. When, I place my hand behind it, you can see my hand, but wearing it, you can not see anything. I do not think skin complexion will change the visibility when wearing. The lace is pretty thick. It is not that cheap lace where getting your finger nail caught onto it will rip it, and ruin it. In the middle, of the bust is a pretty purple bow.

The lace top is obviously where your breast goes, and there is underwire. The underwire is not the best. It will not hold you up too much, especially if you have larger breast. I'm a large D, and they do not do any justice for my breast. If you are possibly smaller, you should be more than okay with the minimal underwire. I wish it had more underwire only because it makes my breast look as though they have dropped, which is not too much of a problem. You could not go jogging or anything. You will for sure pull a Janet Jackson.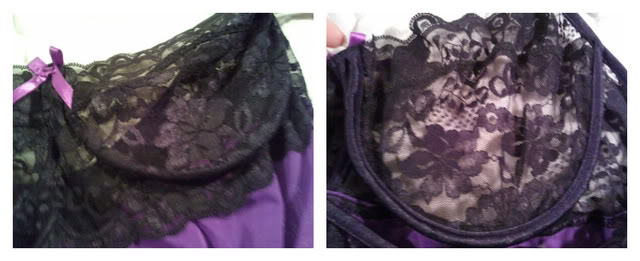 It does have a small hook and eye closure in the back. You can unhook it if you need a little wiggle room. I personally did not need to; I was able to pull it over my head.

Under the bust is where the purple mesh starts.The mesh in total is a little over 16 inches in length. When you have it on it, it is pretty long. It is not as short, as the women in the picture. It does pass the butt, so if you were worried about the baby doll on being too short and your whole butt will be showing, you do not have to worry about that with this. The mesh is see though, but it is not totally see through. You can see some of the stomach (on me you could not see any) or if you are wearing underwear that is entirely different color. The mesh on the lower half is thin, but not thin where you have to worry about it. The mesh is mostly see through when held to the light.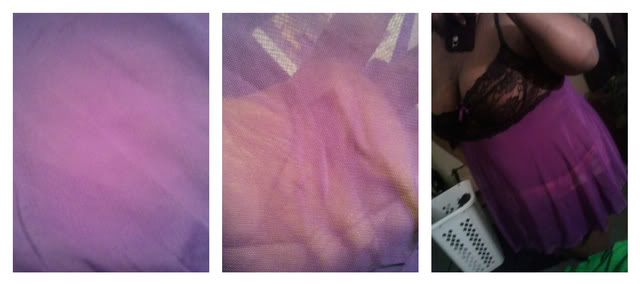 You can see my bright colored undies! When wearing something not so bright, you can't see the undies.
Experience
Continued...
The mesh baby doll also comes with a purple and black G-string that comes with it. The thong is made up of mesh, lace and the soft black satin material that I've mentioned before. The sizing for the thong was wayyyyy off! I do not wear G-strings, but even if I did not I could not wear this if I wanted too. It is too large! The straps that go around your hips were where it was too large. The G-string itself is very pretty, but the sizing makes it, so I can not wear it. When washing the babydoll mesh you should hand wash it and allow it to hang. When washing you should use a mild soap. Putting it into the washer and then into a dryer can cause the item to fray, or rip.

Experience
When I received the baby doll, I was so excited. When I tried it on for the first time, I realized it was a little too big. I ordered the largest size for two reasons. One was because I was worried about the bust area being too small, and me spilling out all over the place. The second reason I got the largest size was because I was unsure about the sizing. I figured it would be best to be too large than too small in my case.
Dress18 *Bust: 52D *Waist: 44*Hips: 60- My measurements
Dress 24-28*Bust: 52-56D*Waist: 44-48*Hips: 54-58- Baby doll Measurements 3x-4x
Although, I'm around the measurement listed the item was still too large. I have 60in hip measurements. I have a butt that is at the larger end, and this was too large. When measured, the width around the waist of the G-string was almost 67inches!!
When I tried it on and the boyfriends seen it, he loved it on first sight. I was surprised how much he loved it. It is his favorite thing I own. I've word it a few times already. I've extremely happy with this item. I think it is the perfect sexy mate for a plus sized beauty. I was worried about ordering one because I'm currently trying to lose weight, but I love it so much that I'm going to order another one when I reach my goal weight, but for now, this is perfect.
We did have sex with the baby doll on. It was funny. I had it on, and I was comfortable. When I was on my back, and he was on top. I had my boobs popping out and flying places. I did end up having to remove it. It was an annoyance, so I would recommend taking it off before you get to the nitty gritty. It so easy to remove. We did not try this, but because it is so easy to remove you can use it to put on a little strip show. You can match it up with some nice stockings.

I was kinda scared to post these pictures, but I figured we are all adults. Ha-Ha
Follow-up commentary
5 months after original review
I loved this for the longest. I only handwashed it to keep it lasting longer, but she soon came to an end because my boyfriend isn't the smartest cookie. A million times over I asked him to NOT grab and pull on it. He doesn't listen to me and yanked on it, and badly ripped the purple mesh. I was heartbroken, and he later felt bad about it. I hope to order another one to replace the one I've lost. Other then that, this mesh babydoll has been very good to me.
This content is the opinion of the submitting contributor and is not endorsed by EdenFantasys.com

Thank you for viewing
Mesh and lace babydoll with g-string
– babydoll and panty set review page!