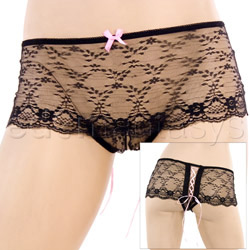 Black lace up crotchless panty
Crotchless panty by DreamGirl
Lace up crotchless panty
If you're into role play, and don't want to take your panties off and ruin your costume, you may consider these. Even if you just want a pair of cute panties, these would be great for you, even if they happen to be crotchless. They're comfortable, and not awkward to wear at all. It feels just like wearing any other lace panties, but you can have sex while still wearing these!
Published:
Pros:
Feels like normal panties, soft lace, very cute, comfortable to wear.
Cons:
Not machine washable.
I've never worn crotchless panties before. I really wanted to try them though, so I could wear them with stockings and garters, without having to wear my panties over the garter, which I have done before.

I figured they would be awkward to wear, and feel nothing like normal panties. That's not how it is at all, as these do feel like your average pair of lace panties. They're kind of like boyshorts, so they kind of ride up your butt, but not in a horribly unpleasant way. They do show your butt cheeks, so they're very sexy. They are also fairly see through, because they're lace.

The lace isn't the softest I've ever felt, but it's still comfortable enough. Some people may find it too scratchy, but I really don't think it is. It's pretty soft.

They kind of have a flowery, leaf like pattern. It's very cute. The front of them has a little pink bow, and the back is laced up with a pink ribbon, like a little corset. I like how they did the whole crotchless thing too. It's kind of like how normal underwear would be down there, but with a slit down the middle. So they look like normal panties, but you can just slip that apart, and you can have sex, or masturbate, or whatever floats your boat while still wearing them. I think this would be nice for maybe a role play scene where you'd want to stay in costume.

I got a 3/4x size. They fit me very well, and I generally wear a 18-20 size pants, so you can kind of judge what size you'd need to get. It does have an elastic waistband, so it stretches out if you need it to. The leg holes, however, are not elastic.

The tag is on the side seam of the panties, which I find nice. I hate it when they put the tag on the front, especially on see-through panties.

Care/Maintenance
According to the back of the package, you're supposed to hand wash separately in cold water. Do not bleach it, and line dry it. While that seems inconvenient, it'll keep them nice and clean, and you'll be able to use them for a lot longer.

I keep mine in a box with my other sex toys, lingerie, and sexy panties. You could also keep them in a dresser, or anywhere you really wanted to leave them, as long as you're not worried about other people finding them.

Packaging
The packaging is not discreet at all. It comes in a small cardboard slip, with the panties, wrapped in plastic, in the middle of the slip. On the front of the package is a woman wearing nothing but the panties, hiding her breasts with her arm, and showing her butt to the camera. Then it has "Dreamgirl" written up the side of it, and the size and color of the panties.

The back of the package is very similar. It shows the same woman, only this time she's facing the camera completely, still wearing nothing but the panties, and still using her arm to half cover her breasts. Then off to the side, it has a description of the panties, washing instructions, and bar code.
Follow-up commentary
2 months after original review
I still really enjoy these. I'd like to wear them more often, but I don't always have time for sexy panties. I'd suggest these to anyone who would like crotchless panties.
This product was provided at a discounted price in exchange for an unbiased review. This review is in compliance with the FTC guidelines.

Thank you for viewing
Black lace up crotchless panty
review page!