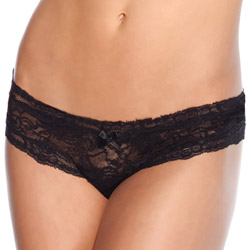 Crotchless panty
Crotchless panty by Coquette
Lacy crotch montser!
These panties by Coquette have some things going for them- they are unique, have good craftsmanship, & a bit of stretch. Some women may find the cut very cute. However, they run small (yet again with Coquette). The fabric isn't the most comfortable, and my boyfriend is afraid of them. Not a win in my book, but still good enough to break out of the underwear drawer every once in a while.
Published:
Pros:
stretch, well-made, unique
Cons:
undersized, abrasive fabric, elastic waistband that constricts more than it should
Presentation
I have been on a lingerie binge, and decided to venture into the panties section of new lingerie. These crotchless panties from Coquette stood out to me because they seemed unique, and came in a variety of colors and sizes.
They arrived to me packaged in a clear plastic bag, no frills attached. They had a clothes-pinned tag from Coquette dangling from the top of the panties, and were folded neatly (really, how do you fold lace panties so perfectly?!). Very simple packaging, which I enjoy for something like cheap panties.
Materials
These panties are supposedly made of 100% nylon, but there is a satiny bow in the front, and I felt an elastic-type band around the top of the panties when I put them on. The material is pretty stretchy and flexible, definitely very forgiving. However, the lace material just was not soft enough to me and felt a bit abrasive on my skin.
I also felt a cheaper, harsher elastic around the waistband of these panties. That was really off-putting, because the elastic was just a bit too constricting to me. Maybe I'm just too fond of the other Coquette panties that arrived in my order, but I think this was the main difference that I found between the panties I ordered.
My specific garment was pretty well-done in craftsmanship. There weren't any frayed ends or missed stitches. I find that this can be a sort of hit-or-miss thing when ordering lingerie online.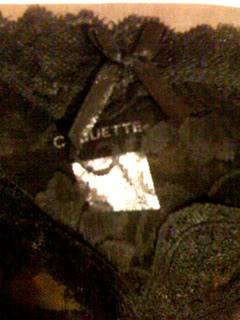 Sizing and Fit
Now, I am always [italics|very] cautious before purchasing any type of underwear or panties or anything that falls across my hips, thighs and bottom. I'm quite curvy around the booty, and this can make for major mistakes in purchases.
Around my hips, I measure just about 40"; around the widest part of my butt, I measure about 43.5".
EF's sizing chart for Coquette says that an XL will fit someone who has a hip measurement of 44"-46". To be on the safe side, I did order the XL instead of the L, because I figured my bottom would appreciate the room.
But, no, the size chart is inaccurate in my experience.. With my measurements, I found this fit but felt just a smidge too small for me. I suspect that the elastic band is what made it feel just a tad small.
The garment itself, unstretched and lying flat measures just shy of 15" across.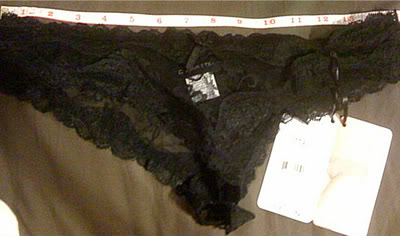 From the top of the panties to the "crotchless" part is about 5". This also may have made these feel a bit too small for me.
As for my personal re-done size chart, I think this might please someone with my measurements, with a full-ass measurement of 44" at most, hips around 40" at most.
These will fit women with bodacious asses, as long as they are okay with most of their butt cheek exposed.
Care and Maintenance
Because of the delicate-looking nylon and lace, I would suggest only washing these by hand in cold water and hanging them up to dry.
The washing machine will most likely ruin these, though if you have a lingerie garment bag you might feel comfortable enough to take the risk.
Experience
Well, when I first showed my boyfriend these underroos, he looked really confused. I explained how they were technically "crotchless." While standing up, it took some bending and awkward pointing to show him exactly what I meant.
He had never seen crotchless panties before, but he could tell these were... different.
He doesn't quite like the idea of them during sex, though.
These are designed with two pieces of fabric to sort of "go around" your outter labia during sex. You could try to wear them that way all the time, or simply let the fabric relax into a nestled "slit" look. It will look like a camel-toe, as reviewer Lauren suggested.
My boyfriend, however, felt intimidated by the look of the lace. He said he was afraid they would feel too abrasive up against him, and called it a "tight fit." He was worried he would shove the crotchless-portion into me and then be having sex, rubbing against annoying cloth.
Point taken!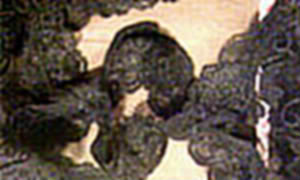 Overall, I'm not the biggest fan of these panties. My first time with a crotchless panty, and I feel that these are too snug-fitting and abrasive to have any real fun in. Perhaps I am just way to excited by Coquette's other new mesh panties, and the spotlight has been stolen from potentially good crotchless panties.
Follow-up commentary
3 months after original review
Well, I broke these out of the top drawer of my dresser just to try them on again. I haven't worn them since my review.
I think that speaks enough to my disappointment. I was wondering if I was being a little harsh, and so I pulled them out again to reevaluate.

Holding them up, I am found saying "Really? These are a size EXTRA large? Where is all the fabric?"

Putting them on again, they fit. But they fit more like a thong. A thong with maybe two more inches of fabric around the back. I would actually like this as a tighter fitting, slightly itchy thong.

However, the crotchless portion definitely ruins it for me. Worn as they fit properly, the tiny crotch-portion just goes right up my labia and makes a huge uncomfortable camel-toe.
If it weren't for this, the panties would be salvageable.

As it stands, they're too uncomfortable for me to wear more than a few minutes.
If I could, I would remake these panties with softer fabric and no crotchless-aspect.
Or I would just scrap them entirely, make them with MORE fabric so they fit as a size x-large panties should fit and re-design how they make crotchless. So they don't become awful camel-toes.
This product was provided at a discounted price in exchange for an unbiased review. This review is in compliance with the FTC guidelines.

Thank you for viewing
Crotchless panty
review page!