More Like Camel Toe Panty- But Me Likey!
These crotchless panties from Coquette aren't exactly crotchless, or functional in that way anyways. They were not what I was expecting, but they still look really sexy and are comfortable to wear. I can't wait to pick them up in another color
Published:
Pros:
Soft/unique lace, Sexy fit, Stretchy, Hip hugger
Cons:
Crotchless doesn't work so well, Extra fabric ends, Run a bit small, Creates camel toe
*Intro/Story
I have a confession. I have an obsession. I'm a panty hoarder, specifically thongs. Yup. That's me. I have WAY too much underwear. Let's just say I frequent the 7/$25 sales at Victoria's Secret WAY too many times a year. I take advantage of my Victoria's Secret Angel card perks and arrive at the sales an hour early. This summer, I put myself on an underwear buying hiatus. So when the opportunity to spend Eden points on underwear from my favorite lingerie designer came up, I couldn't conjure a reason not to do just that. It was just too tempting to pass up. I relapsed, and I'm damn proud of it!
These panties are supposed to be crotchless, and while they aren't the best at being so, they look really sexy, fit me like they were made for me, and are very comfortable. After a really bad experience with a Coquette panty, I got a larger size. It ended up working perfectly for me, but it means these run a bit small. I suggest ordering up.
*Contents/overview: One piece panty
These panties are made by Coquette. They are lace, crotchless, low-cut bikini front, and cheeky back style.
They are available in sizes S, M, L, and XL. And are available in three other colors: fushia (pink), red, and white. They run a little small.
*Material: Excellent
The tag on the panties says they are made of 100% nylon, exclusive of the trim which is the bow in the front. They are pretty stretchy and from my experience, I am positive these also contain spandex. The lace material is very soft. It's thin, but well made and durable.
The lace is unique and incredibly ornate. The main parts of the lace have vague little flowers, but the majority of the design looks like vines and leaves. There are also some swirls as well. The swirls and larger leaves are raised and have an even softer, micro velvet feel. I don't know if it is intentional, but there are also rows of what look like little hearts. The parts of the lace that don't have a design resemble mesh.
*Design/craftsmanship: Great panties & Fail at crotchless
The basic style of these panties is a lower rider hip hugger. This means that the front dips low on the abdomen, much lower than the back. The back is cheeky, meaning it reveals the lower third of the butt. The construction is kind of interesting. Where the top piece of lace is attached to the main part of the panty, there is a wavy design for the seam. This reveals some poor construction elements though. There is a rough cutting of the overlapped fabric that should have been cleanly sewn together and trimmed to be invisible. It's no big issue when worn though. It does make certain parts of the lace less detailed. the photo below shows the leftover fabric.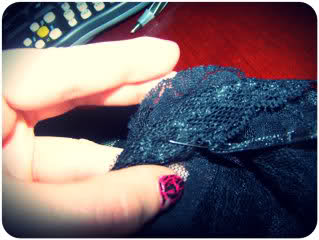 Moving on...the front has a small black bow in the front on the top lace band. The weird part is the design for the crotchless area. There are two, elongated triangle strips that overlap each other between the legs. If laid down flat or even put on, someone who didn't know these were crotchless from the get go might not figure it out for a while. First, here is a picture to show what it looks like folded over each other as it lays naturally. Second, is me pulling them apart.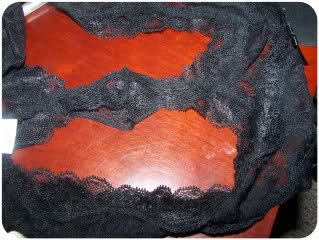 The folded over strips are so thin as a crotch liner that they easily go up the labia turning this into a camel toe maker. Literally. So in that sense, the design fails to be crotchless. The rest of the design does a wonderful job hugging and accentuating curves.
There is a larger white tag in the back that can be cut out. The smaller, black fabric tag should stay.
*Cleaning/care/storage: hand wash
The tag says to hand wash only and hang dry. I would wash in cold water. If you put them through the washer and dryer make sure it is in a lingerie bag and on the shortest delicate cycles. It comes in a clear plastic resealable bag. It works great for storing if you like to keep your dainties free from snagging. The panties also come with a matte cardboard bi-fold pinned to them and attached by a ribbon. i love that coquette does this. The bi-fold has a picture of a model wearing the item in it. I save them all and give them to my boyfriend. He goes through them like a deck of cards and chooses what he would like to see on me that night. So fun!
Experience
*Sizing: Run small, but ordering up a size is rewarding

Like I said before, I had a bad experience with Coquette undies. Their one size fits most fit barely anyone, so I decided to go up a size in these to avoid the same disappointment. I'm glad I did.

The large is what I got. I probably could have gotten by with the medium, but the large is not too big. The sizing chart says a large should fit a dress size 12-14 and 40-42" hip. I weigh about 142 pounds and am a size 8, curvy but fit. My hips are about 38". They fit me REALLY well. They were not tight anywhere and not loose either. Any smaller than me these will be too big. If you are a bit larger, these will probably still work well for you.

The weird part is that these cause camel toe. It's fucking hot though. It's a really interesting look and I now prefer to wear them this way. If I wear them with the straps laying on my labia, they seriously look like normal panties. The back shows the perfect amount of ass and really rounds your assets.

*Re-done Sizing:

Dress size: 8-10 (maybe 12 depending on hip size)
Hip size: 37"-40"

*Performance:

It is pretty impossible to have sex in these without the penis making a lot of contact with the panties which can get annoying after a while. You can easily separate the two strips, but it's easier for a finger to get through than a penis. Might as well just move the panties to the side. They are much better as an interestingly revealing panty. They are very comfortable to wear, even when up your cooter.

*Conclusion:

I'm giving these 4 stars instead of 5 for running a bit small, and not working well as a crotchless panty. They don't even look crotchless when they are on. But they do look sexy and fit well around curves. I am already planning on getting these in two other colors!
Follow-up commentary
2 months after original review
These panties are not my favorite crotchless panties, but I still do really like them. I have found that they feel strange worn with certain pairs of jeans, but I have been able to wear them out. They have held up well to being thrown in the washer and dryer in a lingerie bag.
This content is the opinion of the submitting contributor and is not endorsed by EdenFantasys.com

Thank you for viewing
Crotchless panty
review page!