Lady in Red
I'd classify this chemise as classy, fun and flirty. It's sexy without being trashy, gives you a little coverage without being frumpy and has a really cute, unique cut. It wasn't a perfect match for my body type, but I still think it's a fun piece to have.
Published:
Pros:
Stretchy, flirty design, removeable bow and garters, super soft mesh.
Cons:
Bust area runs small, red fabric wrinkles easily
Okay, Coquette. It's cool. We're friends again. We went through a rough patch in our relationship with
that last chemise
, but this one has put you back on my good list.
Although this isn't my *favorite* Coquette chemise, it's pretty flippin' cute. There's a sort of ladybug/Minnie Mouse thing going on with the red and polka dots, while the black mesh sides are SUPER soft and the back has an unusual, sexy cutout design. This seems to match the
Dot Satin Waist Cincher
, also by Coquette, and although they aren't made to be worn together, you probably could if you really wanted to. It wouldn't be a Coquette item without a giant bow between the boobs, so of course a 5" wide black bow decorates your declottage, but Coquette is awesome enough to know that not everyone is as bow-crazy as their designers, so this one is removable.
The front of the chemise is mostly made of the red and black polka-dot fabric, which is really pretty with a sort of silky appearance and raised velvety dots, but not my favorite in terms of how it feels to the touch. It reminds me a little of curtains or decorative throw pillows. It's still pretty comfy, but the soft mesh that makes up the sides of the chemise is SO much more awesome. It's super lightweight mesh, nice and stretchy (the red part doesn't stretch) and super soft against your skin.
The bust area of the chemise has built-in underwire support and no padding, but a nice thick-ish lining that's very soft against the skin. The lining is soft, so it isn't going to shape your breasts, but it does help a bit in terms of making them non-droopy. The ruffle that decorates the top of the cups is made of the same super soft mesh that makes up the sides of the garment. The seam inside the bust that connects the red fabric to the ruffle was a little irritating against my skin, I wish they'd found a smoother way to sew that part. The chemise straps are adjustable and stretchy, just like bra straps. Unlike the straps on many Coquette items, these are NOT removable.
The back of this chemise is a bit hard to describe. The upper part is similar to the back of a bra, but a bit thicker, measuring about 4" tall. It has 2 rows of 5 hook-and-eye closures (again, like what your bra fastens with), which offers about half an inch of adjustment in the fit. Both the top and bottom of this bra band like area are elasticized, with quite a bit of stretch.
The lower half of the back looks almost like a tiny skirt, with a polka dot fabric panel that covers most of your butt. The top of the panel also has an elastic band, as well as a cute keyhole cut out with a button. This doesn't really seem to serve a purpose, but it's cute! The button does function (ie you can button/unbutton it) but it's not sewn on all that well, so I wouldn't be surprised if it pops off eventually. It also isn't super comfortable if you happen to sit on it.
The chemise comes with a set of fairly plain black removeable garters that are attached via safety pin in a little plastic resealable bag. The loops that the garters attach to are at the edges of the polka dot area of the fabric, and are really well concealed, it took me a minute to find them!
I went with an XL on this chemise, but I probably could have done the large, since it's fairly loose throughout the body. It's still a little small on my bust, but pretty much everything is. Although the size chart recommends the XL for a D cup, this would probably work better on C's.
Experience
The Technical Stuff
The chemise is around 21" long from the center of the bust down to the hem, or about 28" from the top of the shoulder straps down. The bra cups are a bit wider than most I've seen, with a diameter of about 8" at their widest point when laid flat. They're still pretty shallow at 5" tall along the center seam, or 6" if you count the ruffle on top.
Laid flat, the chemise measures about 15" across at the waist, but it's got quite a bit of stretch to it, so I'd estimate the XL could fit up to around a 36-38" waist. Mine is 32" and I've got plenty of extra room.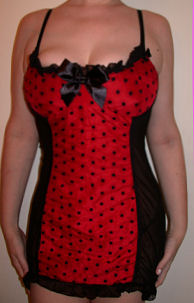 The fit of this is kind of awkward on me. The bust area is a cup size too small, and totally flattens my boobs. The underwires don't really reach underneath my breasts to cup them like they should, they just kinda hang out about an inch from the bottom. (I'm holding the hem down a bit in the photo, if I let it go it pops up about an inch or so shorter.)
For comparison, the size chart says this should fit size 14-16, D cup, 42-44 bust, 34-36" waist, 44-46" hips. I'm size 11/12, 36/38 D, 32" waist, 39" hips. Since this is a bit large everywhere but the bust, I'd say the size chart is fairly accurate, except for the D cup part.
I like that the fit through the body isn't skintight like most of my Coquette chemises, but since I can pull the "skirt" area in the back out about a foot from my body due to the stretchyness, it looks a little baggy and not so sexy in that area. This doesn't even come close to covering my butt (and I don't even have one) but I'm quite tall (5'11") so that's not a big surprise.
I like that there's no boning in this piece, it makes it much more comfy. If you don't mind underwires, you could totally sleep in this. The red fabric does wrinkle really easily, though.
The care tag is sewn in next to the hook and eye section in the back. It's white so it shows through the mesh, but could probably be removed without damaging the fabric, as long as you're super careful. It suggests hand washing and hanging to dry, and says this is 82% nylon, 12% spandex, made in China.
I love that this came with one of the pretty black padded Coquette hangers! I wish all lingerie came with such a nice way to store it! The packaging is just a plain plastic bag.
Overall, I'm giving this 4 stars. I love the design, the mesh fabric and that it's pretty comfortable. It's not quite comfy enough to just hang out in, but still not bad compared to most lingerie. I don't like the too small bust area (as well as the general fit there), the irritating seam at the top of the bust or how wrinkly the red fabric looks. I'm glad I bought this one, and will definitely use it, but it won't be in my top favorites.
This product was provided at a discounted price in exchange for an unbiased review. This review is in compliance with the FTC guidelines.

Thank you for viewing
Dot satin chemise
review page!