Alas, We Meet Again, Powernet!
File this one under "big letdown". It looks beautiful on the model, but this chemise was a major flop for me- a combination of unappealing fabric and unflattering fit.
Published:
Pros:
The black lace is delicate and soft, the hanger is pretty. That's about the best I can do here.
Cons:
Scratchy, stiff fabric, garters aren't removable, really awkward fit, fabric bunches at the sides.
I was so excited for this chemise because a) it's cute and b) I've had awesome luck with Coquette's chemises in the past, but I was seriously let down.
The Basics
*The chemise comes wrapped in a plastic bag on one of the snazzy black padded Coquette hangers.
*There are no accessories, matching thong, etc included, all you get here is the chemise itself, but Coquette makes a
Bra and G-String Set
that will match this perfectly.
*The care tag is sewn into the back states that this is 82% nylon, 18% spandex and should be hand washed and hung to dry.
What I Love
Um, It's pretty? If only the whole thing was made of the stretchy nude material and black lace, this would be a winner. Sadly, it's not.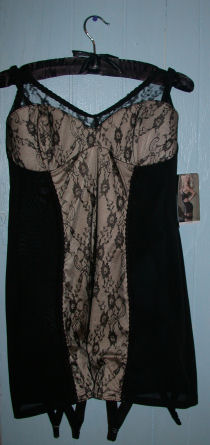 It looks so innocent, just hanging there.
What I Didn't Love
Get comfy, y'all.
*The black mesh sides are the same "powernet" material as the
Coquette Powernet Bustier and G-String
that I reviewed a couple of months ago. If I'd known that, I never would have ordered this because I can't stand that fabric! Instead of the soft, comfy, stretchy mesh you usually find in lingerie, this stuff is coarse, stiff, not stretchy and really rough, almost like canvas. I can't even figure out how to further describe it, except to add that if you rub the powernet against itself, it makes a crunchy noise.
I've read other reviews of the powernet bustier set that loved it, so it's entirely possible you might not find this fabric to be a problem. Personally though, I can't stand it.
*Due to the lack of stretch (only the nude-colored panel in the front has any stretch, and it doesn't stretch much) this is a struggle to get on and off. You know that little dance you end up doing in the dressing room when you try on a dress that's a little too tight, and you have to shimmy and squirm and shake to get it back off? That was me.
*It was somehow both too large and too small at the same time. My boobs were smooshed flat and I felt pretty restricted, yet there was excess fabric in some places, especially the sides.
*This is SO not flattering. Because the material on the sides is so stiff, it bunches and pokes out at odd angles on me.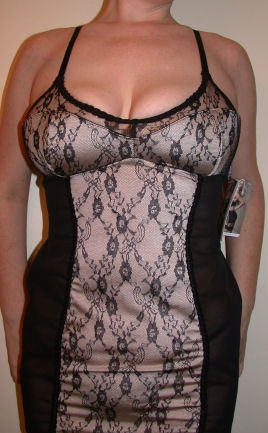 Those weird lumps and bumps on the sides about halfway down? Those aren't my hips. That's the fabric sticking out about half an inch from my body in weird places. (And no, I'm not rocking 70s disco pubes, btw, I was wearing a black thong, which is that lovely dark blob you see.)
*The garters can't be removed. I rarely wear stockings with my lingerie, so they look kind of silly just hanging there.
*There isn't really any bust support. This was tight enough below my bust to hold them up a bit, but there's no underwire/padding/etc to offer any shape or lift. Thankfully, the inside of the bust area is lined with softer material, so you don't have the powernet ripping your nipples off.
The Technical Stuff
I ordered the XL, which should fit size 14-16 with D cup, 42-44" bust, 34-36" waist, 44-46" hips according to the size chart. I'm size 11/12, 5'11", 36/38D, 33" waist, 39" hips. I have a couple of other Coquette chemises in Large, and they fit great but they're quite clingy, so I wanted to try out an XL for a slightly more relaxed fit. It's a good thing I went with XL, or I wouldn't have even been able to get this on! This probably isn't going to fit anyone larger than a 12.
It was super short on me- it barely covers my crotch in the front, and there's some major buttcheek hanging out the back. Of course, I'm quite tall, so this probably won't be a problem on most people.
The chemise measures 22" long from the dip at the center of the bust down to the hem. If you lay it flat, it measures 16" across just below the bust area and about 19" at the waist (well, about halfway down the garment). Huh, no wonder it fit so oddly! Keep in mind that you can only get about 1/2" of stretch from the front panel, so there's not much wiggle room to fit larger measurements.
Experience
I was totally expecting to love this, so I'm pretty darn sad about how it turned out. This is possibly my least favorite Coquette item ever. I had another photo to go with the review (of the back) that didn't turn out well, and I couldn't even bring myself to put this thing back on to rephotograph it.
I'm not even sure who I would recommend this to. I can't believe I'm rating a Coquette chemise so low, but I just can't find many redeeming qualities-- I can usually at least say "Well, this didn't work for me, but I'm sure it would be great on blah blah blah". I'd be really fascinated to read a review by someone who loves it, though.
If you want a sexy, soft, awesome chemise from Coquette, go with
this one
instead. You'll thank me.
This product was provided at a discounted price in exchange for an unbiased review. This review is in compliance with the FTC guidelines.

Thank you for viewing
Lace back chemise
review page!