Lace It Up, Before I Bust Out!!
Quick, tie me up before I bust out!! The Lace Back Chemise is a classy and sexy chemise, perfect for lounging around, teasing your partner and during sex. The boobs are already trying to come out, so let them loose, pull the skirt up and have a naughty little fling wherever your partner corners you...
Published:
Pros:
Beautiful and sexy.
Appropriate for lounging and seduction.
Quality workmanship, sturdy seams.
Cons:
Non-removable garters.
Breast area is awkward.
Needed re-laced for perfect fit.
Coquette's Lace Back Chemise is packaged on a fancy, black satin, padded hanger and is sealed into a clear plastic bag for shipping. I definitely use the hanger for storing the chemise and I also place it back in the bag to prevent cobwebs and dust from adhering to the material between uses. Yes, we seem to grow spiders under our house and no matter what we do, they keep coming back with a vengeance.

The material is very classy and simple. The sides are a stiff nylon netting, this goes from the nude and lace material in the front to a soft and stretchy nylon/spandex mesh panel beneath the lacing. If the chemise is just too difficult to get on, or becomes just a bit too tight, cut out the soft mesh semi-privacy panel. This will give you added inches to work with in dressing or fit. The lacing is 3/8" black satin ribbon that looks very pretty and matches the chemise very well.

The front of the dress is made up of a nylon/spandex nude colored panel with a pretty and delicate looking black lace covering the entire area. The lace does extend over the padded cups in the breast area. The seams are very well sewn and the quality of work is wonderful.

Neither the shoulder straps, which are adjustable, or the garter straps are removable. If you really did not want the garter straps on the dress, you could cut them right beside the seam and remove them. Do not use a seam ripper and remove them that way, the dress hem and the garter seam are one and the same.

The breast cups....wow, the only part of the dress that just does not seem to work for anyone! The cups are lightly padded and make up a large portion of the small bodice area of the chemise. The padding makes the cups too stiff to form around the breast and add support. I modified the cups and it worked amazingly better!! Please see the last picture at the bottom of the page. I carefully cut the inner triangles of padding at the seam and left the outer for support. My wayward boobs no longer want to escape and they sit nicely in place.

Caring for the chemise is fairly easy, hand wash the chemise in cool water with mild detergent and line dry. Do NOT iron this chemise!! The heat will melt the material. If it has a couple of wrinkles, just use a spray bottle with water to lightly dampen the material, and hold it in front of you lowered oven door. Set your temperature as high as it will go. This will only take a minute, so please keep a close eye on your chemise!!
Experience
SIZING:
My Measurements
43D Breast - 30" Waist - 42" Hips - 28" Inseam - 22" Thighs - 5"2" Tall & 150 Lbs.
Corset Dress Size:
L
Coquette
(Copied from Sizing Chart.)
Cup Bust (in) Waist (in) Hip (in)
Small 4 - 6 B 34 - 36 26 - 28 36 - 38
Sm/Med 6 - 10 B 34 - 38 26 - 30 36 - 40
Medium 8 - 10 B 36 - 38 26 - 30 38 - 40
Med/Lg 10 - 12 C 36 - 40 28 - 32 38 - 42
Large 14 - 12 C 38 - 40 30 - 32 40 - 42
X Large 14 - 16 D 42 - 44 34 - 36 44 - 46
One Size4 - 14 B 34 - 40 26 - 32 36 - 42
1X/2X 18 - 22 D 46 - 50 38 - 42 46 - 52
3X/4X 24 - 28 D 52 - 56 44 - 48 54 - 58
Oueen/
One Size18 - 26 D 46 - 54 38 - 46 48 - 56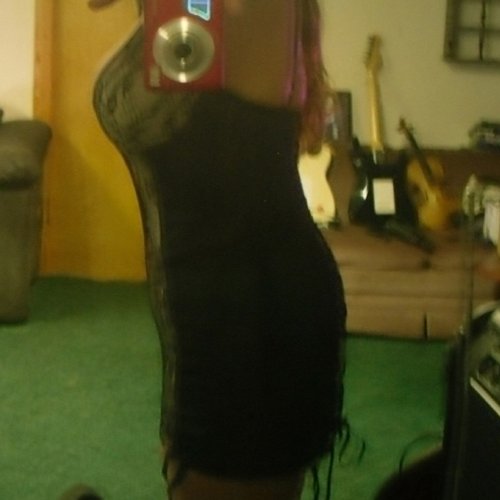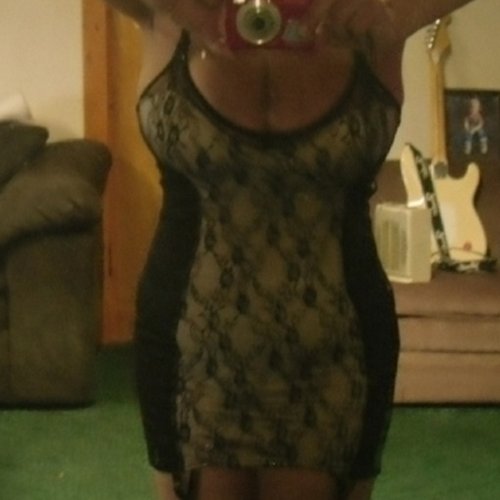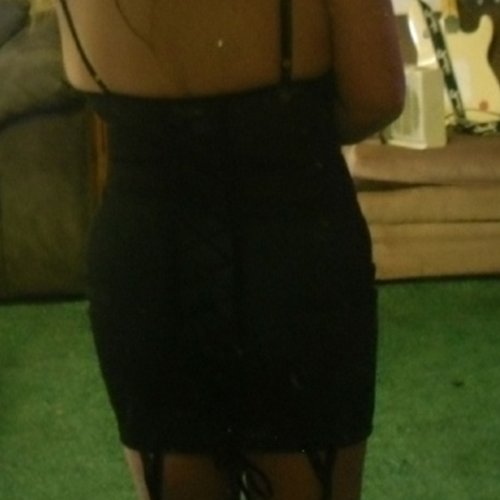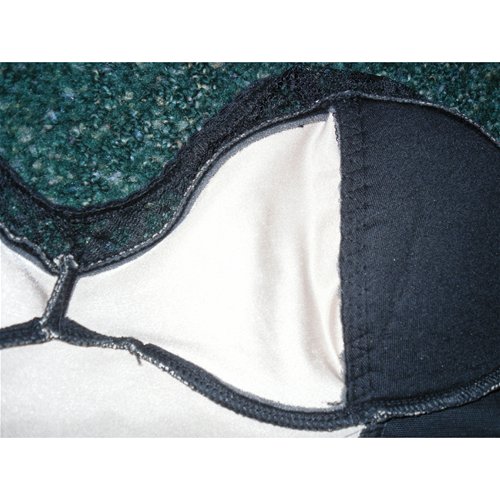 Follow-up commentary
1 month after original review
I have since lost about 10 pounds, somehow and this corset dress fits me so well now!! I have added a touch of lace under the fake cups in the front and am able to wear this as a shirt.

The length is a bit long for a shirt, but when paired with some leggings and a gold chain belt---ooohh, beautiful!! I have worn this with jeans a couple of times and once the chemise is pulled up to my waist and is able to naturally wrinkle down it actually is pretty slimming. I have received many compliments while wearing it this way.
This product was provided at a discounted price in exchange for an unbiased review. This review is in compliance with the FTC guidelines.

Thank you for viewing
Lace back chemise
review page!