May cause an increase in blood pressure
For the price of one costume, you get a cute dress to wear to a party or a club, plus naughty lingerie to wear underneath and reveal with a pull of the zipper. Your patient will be sure to appreciate the expert care you offer while wearing this sexy outfit!
Published:
Pros:
Flattering, comfortable, well-made
Cons:
Might as well forget the hat, bra fabric not as good as the rest of it
This outfit has so much going for it that I could overlook its few flaws. I'll start with the good things:
The quality and comfort impressed me. So many costumes are ill-fitting or cheap, but this one seems well-made and actually fits like a cute dress. The fabric is heavy enough that the dress could be worn to a non-kinky Halloween party, and then unzipped at home for some fun. Apart from a small flaw on the panties, the stitching seems sturdy enough to last through several wearings and still look like new.
A plus for me was that the dress has pockets. It is so rare that I can go to a fetish party and actually have pockets, I almost didn't know what to do. For once I could carry things without sticking them into the tops of my stockings!
The fit worked well for me, and I think this would flatter a wide range of body types. The fabric is heavy enough that it should work on any figure, and since it laces up the back it can be adjusted for smaller waists or more curvy hips and breasts.
I am 6' tall and 36"-28"-38". This is how the S/M size fit on me: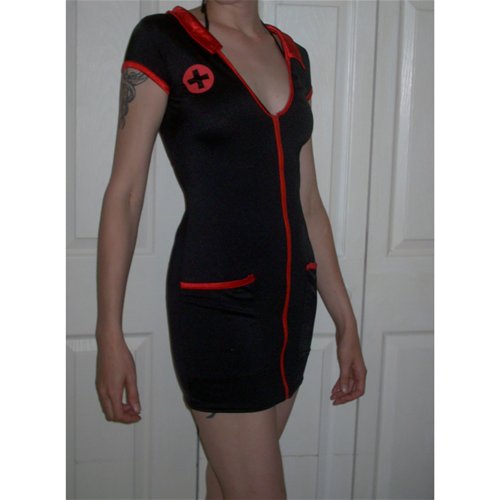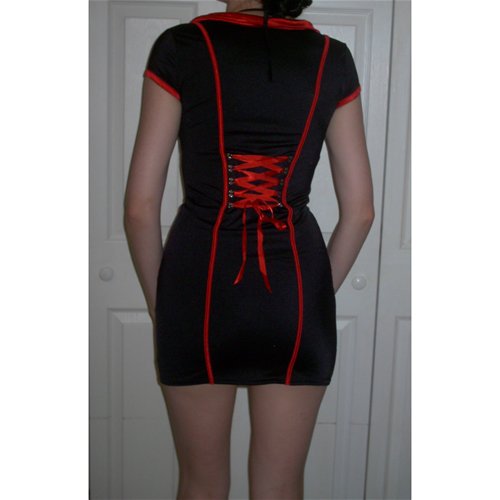 So, once you're ready for a little more sexiness you can just unzip the dress and you have a cute lingerie outfit underneath. The open-crotch panties are very nice, despite the fact that mine had a tiny loose edge on the waistband trim. They're the same fabric as the dress, with just a thin red strip down either side of the crotch, allowing access front and back.
I love the design of the top, but the red fabric that makes the crosses over each breast just didn't match the quality of the rest of the ensemble. I had to tape mine down with double-sided garment tape to keep it in place, and when I took it off the tape left little snags all over the fabric. Still, it's a sexy look and since it ties at the neck and back and is stretchy it should fit most women. Don't count on it staying in place on its own, though!
I'm very small-breasted, and this is what it looks like on me: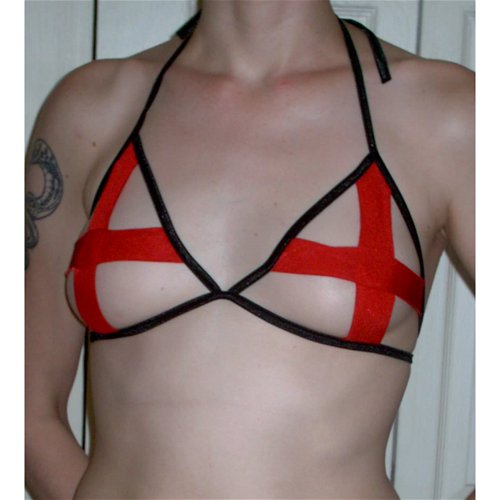 Finally we have the headband. I did not use it at all, since the hat part just flops all over the place and looks silly. If you're crafty, you could probably make it stand up by sewing or gluing something stiffer to the back, but I just didn't bother.
This outfit is made of 80% nylon and 20% spandex. The tag recommends hand washing and hanging it up to dry.
Experience
My one issue with wearing this out was minor. Once I started actually dancing in it, the dress rode right up. I don't mean it rode up slightly since it's a super-short skirt on me - I mean, it came right up over my hips. That was fine, since a) I had an extra thong under the panties for modesty and b) I was in a venue where as long as you're not actually showing nipples/genitals you're cool. If you want to wear this for Halloween and don't want to show everyone your panties while dancing, be warned.
Otherwise, I love this outfit and will keep it around for role play or for wearing out to costumed events.
This product was provided at a discounted price in exchange for an unbiased review. This review is in compliance with the FTC guidelines.

Thank you for viewing
Night nurse
– costume review page!