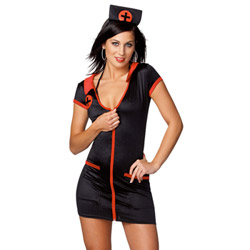 Night nurse
Costume
by Coquette
The Naughty Night Nurse
Wear the nurse costume out and then unzip for a sexy piece of lingerie. Whether you are using this for Halloween, a theme party, or bedroom play, it is very flattering on curves and very comfortable. For once, the sizing chart is spot on also, but be prepared to not use the included headband.
Published:
Pros:
Sizing is almost spot on, stretches nicely, like getting a costume & lingerie piece
Cons:
Headband doesn't stand up right, a TAD short, bra is a bit hard to keep on right
I love having options and since I love Halloween, and it's on a Sunday this year, that means at least two parties to attend. This is my second of three costumes that I'm choosing to possibly wear this year. My boyfriend recently told me about a nurse fetish he has and even though, I was a
Darque Nurse
last year, I wanted to play up the fetish this year now that I know. The great thing about this outfit is that underneath the costume is sexy lingerie too. So...go out, play the part, and then come home and reveal a whole new sexy outfit. It's like two for one! This was another reason I decided to get this. If it didn't work as a costume, it would work in the bedroom. It is a bit short and the plunging neck line is a problem. Fortunately, it might just be worn this Halloween since I found ways to modify the problems.
*Contents/overview:
The Night Nurse costume comes with four pieces.
* String bikini bra
* Crotchless panties
* Headband
* Mini-dress
You'll need heels and possibly stockings to complete this outfit. Also, the bra isn't the best for going out in, so you'll need that or a tube top like I used and will explain later.
*Material:
All the pieces are made of 80% Nylon and 20% Spandex. It is thick enough to not completely freeze your ass off in October weather but is still breathable and very stretchy! The red medical symbols are printed on the fabric with a type of vinyl patch which is then sewed on to secure them. The headband is plastic and not coated or covered with any fabric to make it more comfortable.
*Design/craftsmanship:
overall very nice
Starting with the bottom layer, the bra is a string bikini with triangle style cups. It ties as a halter around the neck and behind the back. The ties are long and stretchy making them comfortable for a range of sizes. the cups are open and have a red cross design in them to cover the nipples...if you can keep them wrangled in. It takes some positioning.
The panties are a bikini brief style that are cut a bit cheeky in the back. They are crotchless and work as such. They are also made well and are very comfortable. The black with red trim looks very sexy and shows just the right amount of crotch. The back is also half open showing a lot of butt cheek. You might want to wear a different pair of panties with this costume if you are concerned that the dress is too short. The front of the panties has the medical cross on them. It is a little crooked but that's a small flaw.
The mini-dress is really cute! It zips up the entire front. The top of it is kind of like a polo. It has cap sleeves and collar, although not a great one. The wings of the collar are floppy and fold over easily. The neck line is a plunging V. The body is like a tube dress and it hugs every curve. The dress stops on my upper thigh and right below my butt making it a tad short for a costume. If I bend over slightly my butt could be seen slightly. Good news is that the front has too low and deep pockets. By putting my hands in the pockets, I can keep it from riding up. The back of is my favorite part! It has a section of corset style lacing that can be kept lose just for a sexy look or actually tightening to pull the fabric in and accentuate the waist a bit.
Frankly, the headband sucks. The black part with the medical symbol is too flimsy and flops over no matter which way you wear it. It is also uncomfortable. It needs to have a piece of cardboard put into it to keep it rigid.
CARE/WASHING:
Normally, I'd wash this in the washer and dryer because I have not had a problem with my last Coquette costume also off the same materials. But, this one has those vinyl pieces and I'm afraid they might get damaged. You can put this is in the washer on a low cycle with cold water, but don't put it in the dryer unless you had a cool temp fluff setting. Hand washing is also recommended. The costume comes in a bag with a picture displaying the contents. It is great for keeping all the pieces together.
Experience
*Sizing:

I chose the M/L. It should fit 10-12 dress, C cup, 36-40" bust, 28-32" waist, and 38-42" hips. This is very accurate! The panties are a little smaller than this chart suggests but that's pretty much it. I'd only change this chart slightly.

The body of the dress hugged me very nicely and played up my curves. The neck line is a bit low for larger breasts and so I am choosing to wear a tight tube top underneath that actually comes down to the bottom of the dress. The bra that comes with the outfit offers no support and is really just for show, so I suggest choosing a different one for going out in. I didn't like it much for bedroom use either since my nipples never stayed under the red crosses for long. my boyfriend loved them though!

Re-done sizing chart:
Dress: 10-12
Cup: C-D
Band: 36-40"
Waist: 28-32"
Hips: 38-40"

Keep in mind that boob size and height will change the length of this dress. I'm 5'6" and have D's. So...if you have a smaller chest or are shorter, it will be longer on you.

*Experience/Conclusion:

I am giving this 4 stars. For the most part it rocks. But with the outfit being a bit too short and the head band being complete crap I didn't feel it deserved the 5 star rating. I do love it though and the correct sizing deserves merit.
Follow-up commentary
3 months after original review
I love this costume! It has held up nicely in the wash which is a plus.

I did discover through a friend on here and a bit of backwards problem solving, that the dress transfers BLUE ink. The black is heavily dyed with a deep blue that rubs off onto other things or things it is washed with. If you can, wash it before wearing the first time.
This product was provided at a discounted price in exchange for an unbiased review. This review is in compliance with the FTC guidelines.

Thank you for viewing
Night nurse
– costume review page!