Maybe not "Sexy in the Desert" but Definitely Sexy!
"Sexy in the Desert" is definitely the most versatile piece I own from EF. It can be worn as a costume, sexy club outfit, or a really nice tunic. It also has a very flattering slimming effect which, as a thick chick, I also appreciate. Even though the fabric is relatively thin I feel like this piece is worth every penny based on its versatility alone.
Published:
Pros:
Beautiful, detailed trim
Figure flattering
Adjustable hemline
Versatile
Cons:
Cheap looking head scarf and face veil
Thin material
I want to start off by saying that I understand some find this costume offensive. I think the reasoning is because the Islamic culture is all about modesty when it comes to women and they dress a certain way to uphold that sense of modesty and purity. This costume, however, somewhat makes light or degrades the choices that these women have made due to religious or cultural beliefs. I want to make it clear that I somewhat understand this, but I'd compare it to the "sexy nun" costumes in that way. It could be seen as a slap to the face of women who choose this as their lifestyle. So, even though I don't agree, I do see how people find this offensive and I assure you that I do not intend to offend anyone with this review or the pictures I include in this review.
Now, this costume is made of microfiber with a very similar feel of your run-of-the-mill Halloween costumes, just slightly thicker, but still quite thin. For $50.00, I was expecting this to be a thicker material. You cannot see clothing (i.e. bra/panties) through this outfit, but you can see right through it when light is able to pass completely through. With that being said, the stitching seems to be of good quality and the material seems to be quite durable.
This set includes:
Head scarf and face veil: These are two separate pieces that both tie around the back of the head. The headscarf, like the hemline of the dress, is adorned with silver coins. I personally hate these pieces… they are slightly darker than the dress itself and they look cheap after tying them. I understand why they were not made one piece (because then you lose the option to wear just the head scarf) but this simply was not good execution in my opinion because it just makes the set look cheap in the back. The face veil is also quite long and tends to cover up the really nice neckline. Needless to say, I promptly took these off so I could fully appreciate the main piece.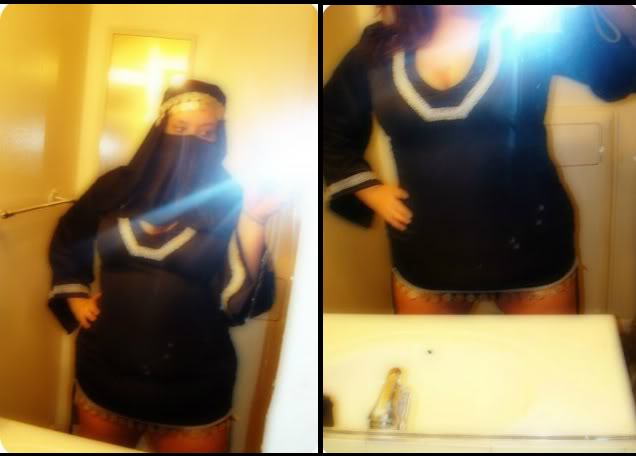 Dress: I actually prefer to wear this dress as a tunic with jeans. It can be long enough to be a dress (measuring 35" from shoulder to hemline) but with one pull of the side shirring the hemline can be raised making it the length of a tunic (measuring 27" from shoulder to hemline). How cool is that?
The dress has this really beautiful ribbon trim around the neckline and sleeves.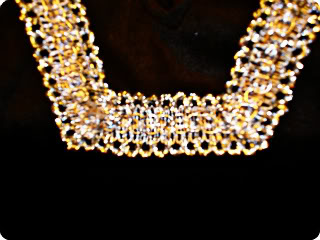 I love, love, love this trim! This trim is not only beautiful, but it seems very sturdy. It doesn't seem as if it would come apart from the dress, fray, or unravel in any way.
In addition to this trim, there are also silver coins lining the hemline. These coins are attached to the ribbon lining by a metal circle, similar to what you see in jewelry. I have tried to purposefully pull the coins off with no success, they are very secure. They are also loud and jingle, but I don't mind this because they're little coins, what do you expect?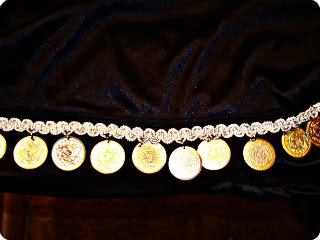 Sizing:
DreamGirl fails to provide an XL sizing suggestion despite the fact they offer this costume in XL. This piece is very form fitting on me, so hopefully my measurements will help set the higher end of sizing suggestion: Bust: 41" Waist: 38 1/2" Hip: 48" I wouldn't feel comfortable recommending this to anyone whose measurements are larger than my own because like I said before, this is very form fitting on me.
Washing:
Because this is a microfiber material, I would recommend hand washing this in lukewarm water with a mild detergent and hang to dry.
This product was provided free of charge to the reviewer. This review is in compliance with the FTC guidelines.

Thank you for viewing
Sexy in the Desert
– sexy costume review page!