Mesh.. Shirt.
While this chemise is probably wonderful on shorter to average height women, it is just made of fail for me. I would have loved to wear this as intended, but it is more of a shirt than anything. As it stands, as a lingerie shirt, it would be too loose and baggy and awkward looking (not to mention I wouldn't be able to utilize the garters at all). Pretty disappointed, but I know shorter women would love this.
Published:
Pros:
great color, stretches, sheer waist, adjustable, can remove bows, comes w/ garters
Cons:
made for someone shorter than I am, rides up on my body instantly
Presentation

I got this chemise mainly because my boyfriend looked at the list of things I really want to buy and said he'd like to see me in it. I knew it would be on the short side, but I think we were both drawn to it because of the lovely colors. The hot pink and white is very different from my usual black lingerie. The warmer color definitely compliments many different skin tones.

This arrived wrapped in plastic, hung up on a clear plastic hanger. Attached to it was a tag, with the model posing in the chemise, along with another small bag containing the removable garters.

Materials and Craftsmanship

This chemise is made of 82% Nylon, 18% Spandex. Exclusive of the excessive amounts of satin-bow trim. (In case you're worried you don't have enough bows, there are FIVE on this alone. Whew, I think we're safe.)
The material is actually pretty soft and comfortable. It does have some stretch to it, too, allowing for a better fit.

On my chemise, everything is pretty flawless in terms of craftsmanship. I didn't have any frayed fabric, loose threads, exposed wires, etc.

Design
The chemise is easily put on by slipping it over your head. There are four removable garters, and five removable bows to boot. The bows go over the garters (on the chemise itself) and one in the center of the breast. The straps on the chemise are also adjustable.

There is a wire to add support under the bust area of the chemise, which does help a little bit but won't do very much for those who need a lot of support. I think the straps would be too stretchy to allow for heavy-duty lift.

The center part of the chemise is more sheer than the rest of the chemise, allowing for a sexy peak at the belly button (and any tattoos you may have). The top and bottom part of the chemise are incredible soft and layered (I suppose they are supposed to be "ruffles" but they don't seem as puffy and childlike as I think the word "ruffles" sounds..). The striped areas are still sheer, but will hide skin pigment pretty well. There is no padding to the bust portion of the chemise.

Care and Maintenance

You should wash this by hand in cold water, let it drip to dry. You could probably get away with putting it into the washer, in a lingerie bag, with other delicate items on cold. You shouldn't iron it or use bleach on it though.
Given the quality and sturdiness of my chemise, I do believe it will last quite a while if taken care of properly.
Experience
Sizing and Fit
I purchased this in a Large, which Coquette claims will fit:
Sizes 12-14, Cup-Size C, Bust 38-40", Waist 30-32", Hips 40-42".
I am usually sizes 10-12, I wear a 36C (though I am ~32" at the under-bust and ~38.5" at the bust), my waist is 30", and my hips are 39".
The "chemise" is about 28" around the under-bust line. The cups are about 7" at their longest and should fit C-cups just fine, with D's beginning to fall out over top or under the wire.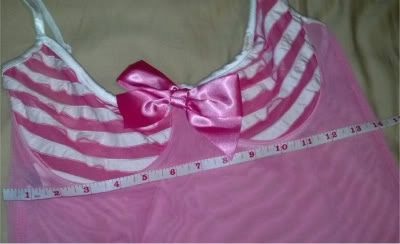 The waist measures 30" around (not stretched).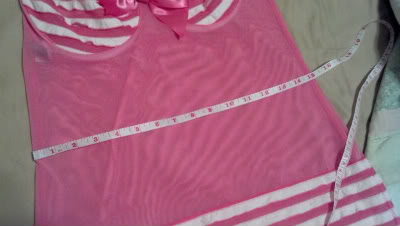 The hips measure about 34" around at the top.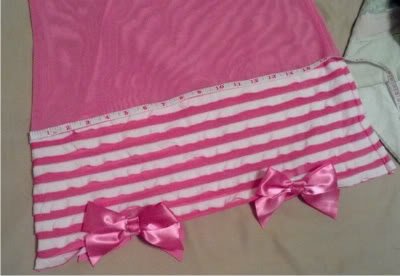 The garment itself measures 18.5" from center of the breast to the bottom.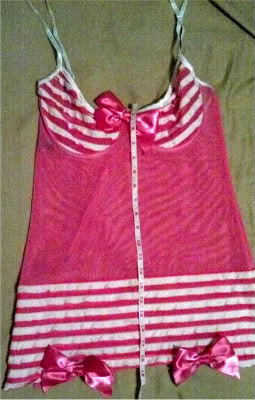 Did I mention yet that I am just about 5'10"?
Well, only after I had sent in my order did I see a reviewer's measurements for length in the size small version. I was crossing my fingers and hoping that the large would add a couple inches to my purchase.
Yeah, I was wrong. This is a total shirt on me. I can pull it down to just below my butt and crotch, but once I let go it quickly sidles on up my hips and parks itself up in shirtsville.
I would be okay with that if it had actually looked and fit nicely as a shirt. But my waist is too small for that, which causes the sheer pink fabric to gather and loosely hang there.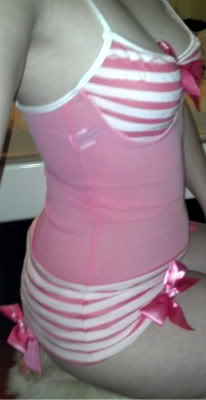 In this shot, the "chemise" is resting somewhere between fully pulled down and fully up where it resides as a shirt. The saggy waist is just beginning.
My boyfriend doesn't seem to care too much, as he liked how it looks on me and thinks the color is great for my skintone.
I am on the fence on whether this one has the potential to grow on me as a lingerie-shirt, paired with some booty shorts. I am still debating returning it since it is kind of ridiculous how off it is for my body. Instead of just plus size, I wish lingerie came in "long" and "short" sizing sometimes!
Follow-up commentary
2 months after original review
I cannot say that I wear this often. It is mostly uncomfortable for me, because I don't enjoy pulling my clothing down constantly. It doesn't make me feel sexy when I constantly have to readjust to keep myself covered in a flattering way.

I would suggest this for women who are shorter, though. I think it would work really well for average height women.
This product was provided at a discounted price in exchange for an unbiased review. This review is in compliance with the FTC guidelines.

Thank you for viewing
Mesh chemise with ruffle
review page!