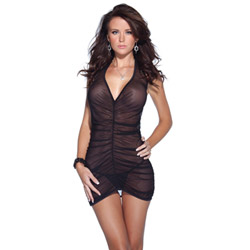 Sexy halter top chemise
Chemise
by Coquette
Morticia Meets Sin City
Another hit from the Coquette line of lingerie! I would love to see this design in other colors like blue, fuschia or purple and white would look fantastic as well. But, I'm pretty darn happy with the black and I can't wait to wear it again! It was definitely a hit with my man, that's for damn sure!
Published:
Pros
Great, Flattering Design, Cost
Cons
Nothing
Deliciously sexy. And if I could get away with a two word review on a product, those would be the only two I'd need. Just damn! I thought I had it made with the sixteen other pieces of lingerie I've picked up from Eden in the last couple of months, but I love this little chemise so much that someone is going to have to pry it out of my cold, dead hands. I never want to take it off.

I have visions of pairing it with a pair of sexy jeans and fuck-me boots and a set of barely-there pasties and then strolling into the nearest crowded bar to see whose heads I turn faster---the men, or the women. This will probably remain merely fantasy but I'd try my hardest to get away with it.

Wearing a bra underneath really isn't the best way to class it up because the back of the chemise sits just above my last two ribs; bra bands tend to sit a lot higher. I think wearing anything else underneath it would completely defeat the purpose of the outfit and take away from the beautiful ruching and gathers.

Whenever I see garments like this, I am reminded of the clothing styles in Bram Stoker's Dracula and of vampires in general. It just seems dark, seductive...powerful. Designs like this bring out a different side of my personality, one that is more collected and in control but extremely open-minded to whatever comes my way. I can't guarantee that will be your experience with this daring chemise, but it is mine. I can honestly say it was the catalyst for some of the best sex we've had in recent memory.

It is very, very well made. From what I've been able to figure out after having done a few different lingerie reviews is that there are two different qualities in mesh. There's the hard itchy kind that reminds you of that stuff they stick on cheap veils and ladies' Sunday hats and then there is the kind that is soft and silky. This chemise is of the soft and silky variety. The gathers balance delicately to hide trouble spots like the tummy and the center seam is perfect---not too thick, not too thin to securely hold the mesh in place.

This is a one-size fits most garment, it is 82% Nylon and 18% Spandex. This should be hand washed in cool water with a gentle detergent and a little bit of liquid fabric softener if you wish; hang to dry. High heat would probably not be the best of ideas but if you need to use the dryer in a pinch, toss in a couple of dry cotton towels and run for ten minutes and then turn it off to finish drying. You want to use dry towels because moisture travels to the points of least concentration and the residual heat will help pull that moisture out faster.
Experience
The chemise measures 21 inches long and 10 inches wide. That might seem a little small, but there is a ton and I mean a ton of give to this garment. The model in the picture shows the chemise just below her groin and that is the natural position of the dress, but you can stretch it to your thigh or even your knees. Well, I can at least.

The very first time I wore it, I was in the middle of an episode of PMS-bloat. I would have given anything to be able to hide my stomach and this was just the outfit to do it! I didn't feel self-conscious at all because the gathers and ruching hid it so well.

The top of the halter cupped my breasts perfectly, and though there isn't any support in the garment I didn't feel like my breasts were sagging or looked like they were sagging. I felt cradled, as it were.

The overall fit is very comfortable and if weren't for me occasionally having to go to the bathroom or glancing down at my legs, I almost forgot I was wearing it. It just looks so amazing and I'm definitely pleased with this purchase. Ecstatic, even.

I wear a size 0/2/4 dress depending on the designer, usually a 0 or 2. My measurements are 32B, 26, 29. I stand 5 feet 1 inch tall and weigh just under 100 pounds. I think this garment could fit someone up to a solid D cup and up to 120 pounds. For those that don't fit into that range, there is an XL available.

I didn't wear any accessories with this, but something bright and fun would look great or you can go the understated route and pair it with stud earrings and a simple necklace. Any heel your little heart desires would be perfect for this. Everything goes with black!
Follow-up commentary
4 months after original review
I still love this and it has held up very, very well after several months of washing it in the machine. I have gone back to hand washing it as of late though.
This product was provided at a discounted price in exchange for an unbiased review. This review is in compliance with the FTC guidelines.
Thank you for viewing
Sexy halter top chemise
review page!