Sweet And Sexy
Coquette's halter top chemise is the perfect bedroom answer to the little black dress. The bunching of the material creates a slimming effect to the waist and hips as does the black color. The material itself is comfortable to wear for extended periods. It has a lot of stretch and should fit a good range of sizes. My husband wasn't over the moon for this because it's more modest than my other lingerie, but I think it's a knockout number.
Published:
Pros:
Has "little black dress" feel
Comfortable material
Stretchy to accommodate range of sizes
Cons:
No breast support
When I saw
Stormy's review
of this piece, I quickly added it to my cart. It was slinky and black and see through. What more could you ask for? Maybe a little breast support, but I won't split hairs.
This outfit is one piece with just the chemise. It comes packaged in a very large white box with a picture of the model wearing the outfit. The front shows the front and the back shows the back.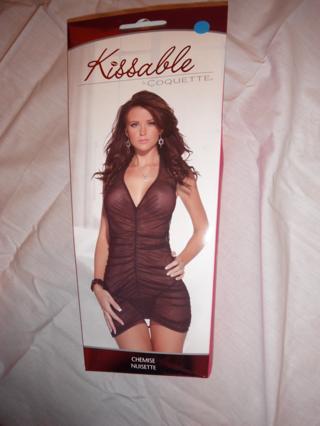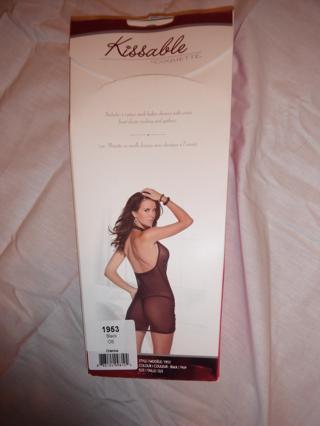 This is a one size fits most piece. According to Coquette's size chart, this should fit sizes 4-14. I'm a size 4/6/8 (90% of my clothes are size 6), 28 wasit, 39 hip, and 34DD/36D breast. This fit me perfectly but it does have stretch to it so it will fit larger sizes. However, the farther up you go in the size chart, the more it will begin to cling. You'll see in the pictures that this already starts to cling a little at my hips, where I carry my weight.
From the top of the halter down is 30 inches, unstretched. Near the bust is 9 inches wide. Near the hips is 12 inches wide. This is a halter top chemise. The halter is 20 inches long all the way around. This dress is longer than a mini dress on me. If I don't pull it up, it comes about mid-thigh on me. This will be a benefit to taller girls looking for a chemise. I tend to like shorter outfits, but I could runch this up and get it to a length I liked with no issues. There is no underwire in this piece, nor is there any type of under bust seam for added support. I'm used to this in lingerie and deal okay with it, but if your bigger busted and need the support, you may want to pass on this.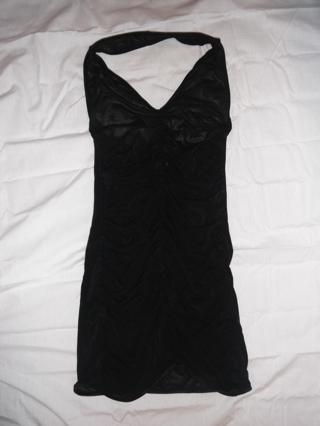 The material is 82% nylon and 18% spandex. It is a see through material, similar to a mesh but much more comfortable than some mesh materials. I could easily sleep in this and be comfy through the night. There is a good amount of stretch to the material, allowing this to fit a range of sizes. The entire outfit stretches, not just the seams.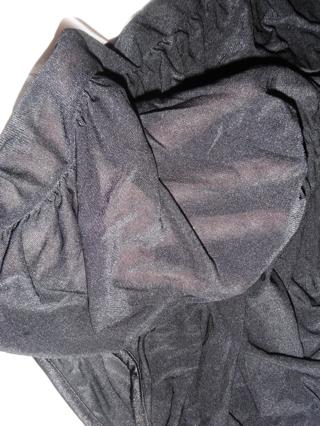 I really liked this material both from a level of how sexy it looked on and how enjoyable it was to wear. I hate when lingerie is itchy or irritating to wear, and this one I was able to wear for extended periods with no problem at all. The bottom did ride up a little, but only during sex and not when I was walking around or sitting.
The seaming and stitching is perfect all the way around. I couldn't find a fray or misplaced stitch on the piece. I did find one thread that was coming out near the bottom, but I'm still calling this a high quality piece.
This chemise should be hand washed only and line dried. You should not iron it.
What I like best about this outfit is that the front has runched up detailing. There is a seam that goes down the middle vertically from the breasts to the bottom of the piece. The material then bunches up around this seam. I find that bunched material can either be have a slimming effect or not so much, and this piece managed to do the first one. The bunched material detracts attention from any flaws in the stomach or hip area, bringing it instead to the detailing of the chemise.
The only thing I didn't like about this outfit was that the plunge top didn't plunge low enough for me. It came a few inches above where my cleavage is and I always think that looks a little awkward, like it doesn't fit properly. If you're more modest with your breasts, this may well be a plus. I like to show off my cleavage, so I prefer plunging necklines that come down a good bit.
Experience
I love this piece. I think it slims me down and looks very sexy. I'm very happy that I got it. Add in the comfort level, and this is a major Coquette win. Now, my husband says he thinks this looks "sweet." I'm not sure how he came to that conclusion because this chemise just screams "sexy black dress" to me. I think he tends to like fishnets and things with lots of cut outs and lots of breast exposure. Since this was a little more modest, save the see through material, I guess he decided that makes it "sweet" lingerie instead of "sexy" lingerie. He says he does still like it, it's just not his favorite. It is, however, one of my new favorites. We can agree to disagree, right?
I wore a bra in these pictures, even though I don't with the dress. It was too see through for pictures otherwise.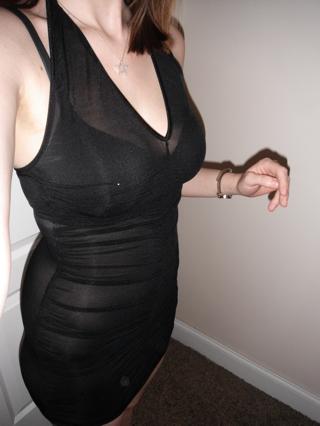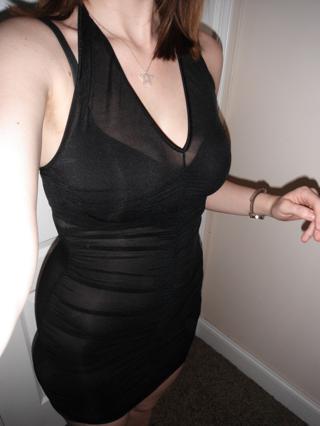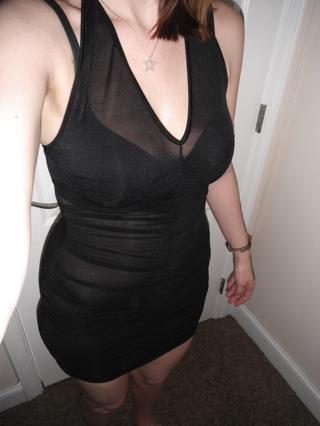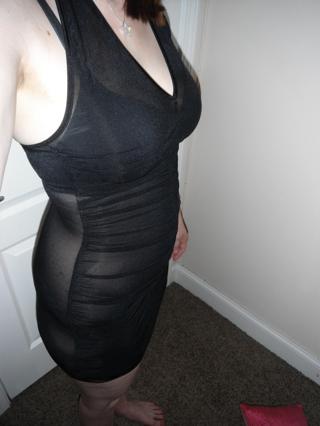 The only thing I would have liked it a little more breast support, even if it was only one of those little seams that goes under the breasts to lift them up a little. With my breast size, any little bit helps.
This content is the opinion of the submitting contributor and is not endorsed by EdenFantasys.com

Thank you for viewing
Sexy halter top chemise
review page!