My Beautiful Blue Panties (OS/XL)
The lace and lycra panty is really a show stopper panty. The color is gorgeous and very bold. The panties fit comfortably and have enough coverage on the back so they don't ride up. The detailing on the front of the panty really stands out. The product photos don't do these justice. I would love to see them in hot pink and black.
Published:
Pros:
-Vibrant blue color
-Stretchy
-Comfortable
Cons:
-One side runs smaller
The lace and lycra panty in OS/XL by Coquette is a panty that can be comfortably worn by male and females alike. They are super sexy and they have one of my favorite colors on the front, which is Blue. I love the royal blue coloring. The color just pops. The blue stands out great against the bold black lace. When I wear these, my partner is instantly turned on.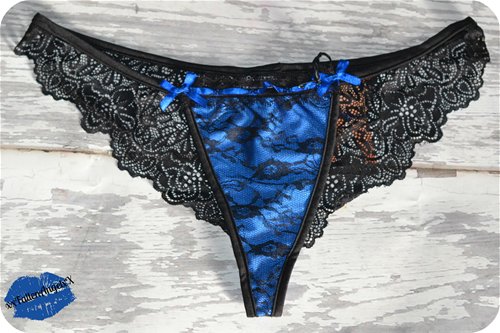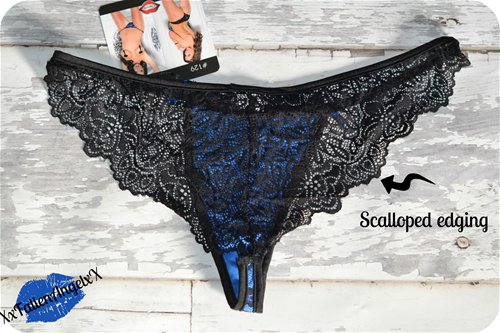 I wouldn't say that these were a true plus size. They do run smaller than what the sizing chart shows, which actually helps out in my sizing situation. These would fit someone who wears a size 7-9 panty or a Large-Extra Large the best. They may possibly fit larger sizes as well, since they are very stretchy. I'm petite, but have a larger behind and these panties do accentuate my curvy behind. They tend to sit up higher in the back on me and lower in the front. They also do not dig into my crotch area or itch me. The lace didn't bother me.
Panty Details
The lace and lycra panty is a full back panty with the front that looks like it would be a g-string or thong. The blue on the front is accentuated by the lace layer that's on top. The lace is very thin so it shows the blue well. The satin bows pop, because of the vivid color. The lace on the back gives attention to the cheeks. There is seam going down the middle of the lace.
Measurements
Waist measured across unstretched: 17- 1/2"
Waist measured across stretched: 21"
Top front to top back unstretched: 20"
Top front to top back stretched: 23 1/2""
Length of total crotch area: 4"
Width of crotch panel: 1"
Satin Bow Size: Bow was made using 1/8" ribbon and are 1.5" wide
Leg opening unstretched: 30" in circumference
Leg opening stretched: 34" in circumference
These panties stretch both vertically and horizontally.
My sizes:
Breast/Bra Size- 38 DDD or F
Waist- 36.5"
Hips- 42"
Height- 5'2"
Usual panty size- 7
Material
The material of the lace and lycra panties are [bold|80% Nylon and 20% spandex. There are a few different types of fabric on these panties, such as the blue spandex front layer. There is a thin layer of lace over the front of the blue layer that is a little itchy. You won't be able to feel it because it's on top of the blue layer. The blue spandex layer is not itchy. It's very smooth and it's also shiny in appearance.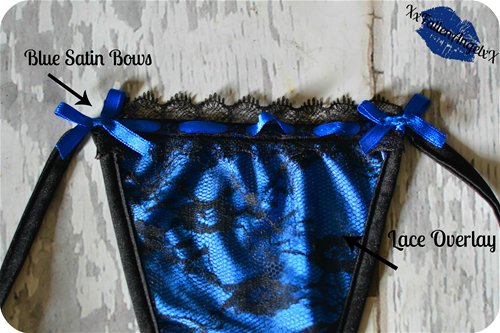 On the front top of the panty, there is a layer of black lace trim that extends across the top. There is a blue satin ribbon threaded through the lace. The area in which the lace extends is 6". The ribbon goes through about 5 inches of the lace and there are two small satin bows on each side that are a little darker than the blue spandex on the panties. This ribbon is 3/8" ribbon. The ends of the ribbons do tend to become frayed after hand washing. You can take a lighter or candle and run lightly and quickly across the ends to give them a good seal, so they won't fray. if they ever do get frayed while wearing, just do this again.
The back of the panty is just one layer of lace. This lace is different than the lace on the front. It was a little itchy before hand washing. After the first wash, the lace softened up.
The back of the panty meets the front of the panty by one seam. The seam is about 3/4". It seems to be sewn very well, but the lace seems very thin and narrow in that area.
The entire waist of the panty seems to be a nylon spandex mix which is solid black and measures about 3/8 of an inch. There is no cotton crotch lining in these panties. Since there is no cotton lining in these panties, the seam actually was a bit annoying at times when I was doing a lot of activity. I would have liked to see a cotton lining in order to cover that seam.
There are 3 tags located in the upper back of the panty.
The bottom tag is white and measures almost 1 1/2" long. This tag has the materials listed, instructions on washing and where the panty was made. This information is also in 2 different languages.
The middle tag is white and has the sizing information which is OS/XL. This tag is 1/2" long. The top tag is black and is the Coquette brand tag, This tag is 1/2" long. These do show through the panty. I'm going to cute mine off after my review.
Experience
Fit
I like how these fit. They look like I would be wearing a thong or g-string from the front, so it gives that illusion and I don't have to worry about getting wedgies because the back is fuller. You can see through the lace.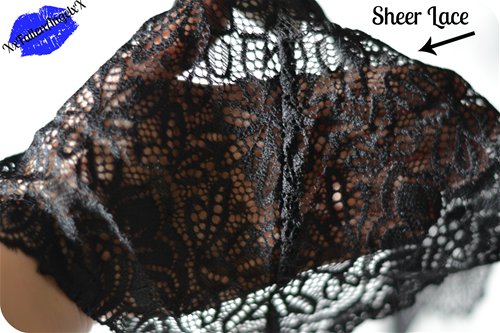 They are sexy on my body and the waist band never cut into my skin or dug into my hips. My only complaint is that I like panties with cotton crotches and these didn't have one.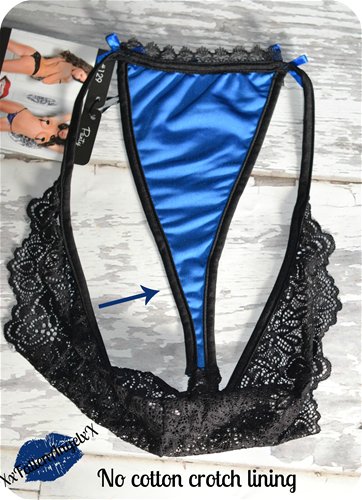 I can wear these under regular clothing. I've worn them under things like jeans, skirts, shorts and lingerie and they fit like a normal panty. I don't have problems with them sagging or riding up on me. They fit well, right at my hips , in the front. They seem to be sewn well, all around the panty. I didn't find any loose threads anywhere. I try to inspect all new panties as soon as I take them out of the packaging and after I wash them. I always wash my panties before the first use. You never really know where these panties have been placed, or what chemicals were used on the fabric.
Packaging
The pair of panties arrived in a transparent plastic packaging that Coquette always sends their panties in.
There is a tag attached to the panties by a small black safety pin and a very thin, black satin ribbon. I like this because some companies just put plastic tags that can snag delicate panties and cause rips. This tag is very easy to remove because of the safety pin.
Coquette's sizing chart:
You can find Coquette's sizing chart
here.
Care/Washing
When I first opened these and took them out of the package, I always take photos. Shortly after taking photos, I wash them by hand. I use dreft, woolite, or my favorite wash from
here.
I wash these in a stainless steel kitchen sink. With my lingerie items that have lace, I try to wash as gently as possible as lace can snag or sometimes rip easily. I take off my rings before washing because I don't want to snag my delicate lingerie pieces.
To wash, I fill up my sink about 1/4 of the way full with cool water and then I pour in about a cap full of the wash. I swish it around with my hand and when it becomes a little sudsy, I put the panties in and let them soak for a few minutes. Once they've soaked, I use my hands to wash them and squeeze them to get out any chemicals. I rinse in cool water and hang on a plastic hanger to dry in my bathroom. I wouldn't put these in a dryer because some lace fabrics can be ruined. I try to remember to keep these out of my normal laundry pile. Do all these steps and the panty should last a while.
Follow-up commentary
19 days after original review
These are some of the sexiest panties that I own. With blue being one of my favorite colors, These are something that make me feel my sexiest. My partner also loves blue, so that is a plus about owning these. I think I may buy another pair, just in case something happens to these. These are just plain gorgeous!
This content is the opinion of the submitting contributor and is not endorsed by EdenFantasys.com

Thank you for viewing
Lace and lycra panty
– sexy panties review page!