My legs are sexy and they know it
Coquette makes great quality lingerie pieces, and these stocking are no exception! They're extremely stretchy and soft, and the bright red lace trim is very sexy. While they are listed as "One Size", this plus-size gal was able to slip these on... though that caused the elastic top to be a bit tight. Anyone smaller than me should have no problems wearing these sturdy stockings.
Published:
Pros:
Soft, sturdy, VERY stretchy and sexy
Cons:
Small imperfections in hose
Coquette's Sheer Thigh High Stockings with Lace Top start out looking like your basic sheer black hosiery, but slowly bring your gaze up to the top and your eyes are rewarded with a pop of sexy, bright red lace! These are listed as "one size fits most" which, according to Coquette's size chart, should fit anyone between the sizes of 4 to 14. Being a plus-size lady (at about 20-22), I really didn't think these would fit me at all. I'm in the process of losing weight, so I figured that I'd put these aside and hope to be able to wear them in a few months. Imagine my surprise when I was actually able to slip these babies on!
These are simple nylon stockings with an almost 3 1/2 inch wide lace top/trim. They should be hand-washed and allowed to drip dry. They come in a clear cellophane bag and wrapped around a thin piece of cardboard inside another folder-like sheet of cardboard. There is a picture of a model wearing the stockings on the front and back with the name of the product on both sides as well. The back also lists Coquette's website address, the style number and size, and care symbols for the product. Basically, this is just your average hosiery packaging.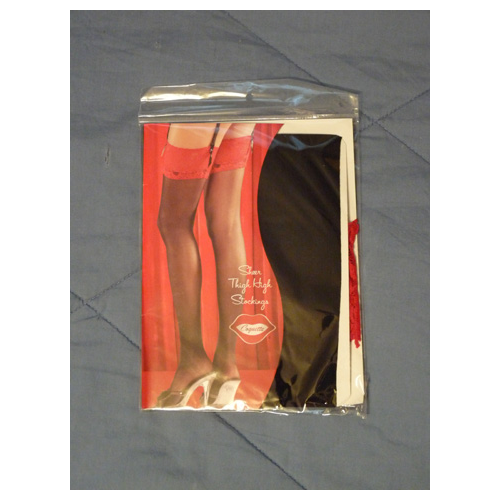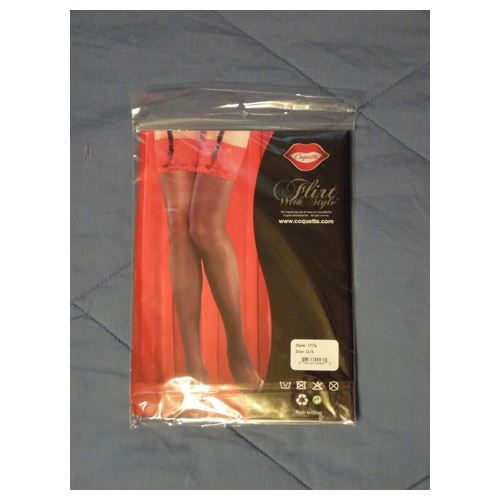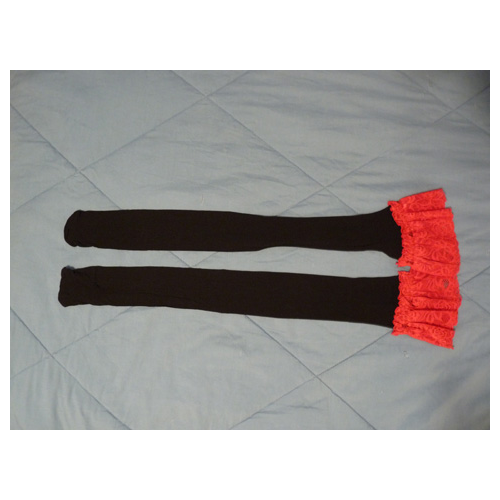 In the picture above, you can see the stockings right out of the package. They do not have a reinforced heel, they're just basic tubes of hosiery with a toe seam. But they are extremely stretchy. Because of that stretchiness, I didn't feel the need to actually measure their length. I figured telling how they fit me would be better.
As I said above, I'm a plus-size lady, wearing about a size 20-22. Frankly, I should be way out of the size range for these. But surprisingly, I was able to slip these on and up. I was able to pull them up right past my knees to mid-thigh (where the model pictured on the packaging is wearing them). The elastic on the top (at the bottom of the lace) stretched enough to accompany my legs, though this did cause some muffin-topping and the lace to roll down.
As for length, I measured these at 28 inches up my legs with still quite a bit of stocking to stretch even higher for taller, longer-legged people (though don't forget that these also stretched horizontally for my larger legs). Do remember as well that the more you stretch these, the sheerer they become. Mid-thigh, the measurement was 26 inches that I was able to stretch the elastic out to. So I would say that anyone less than that (especially 22-23 inches and less) could wear these comfortably with less muffin-topping and without the lace rolling over.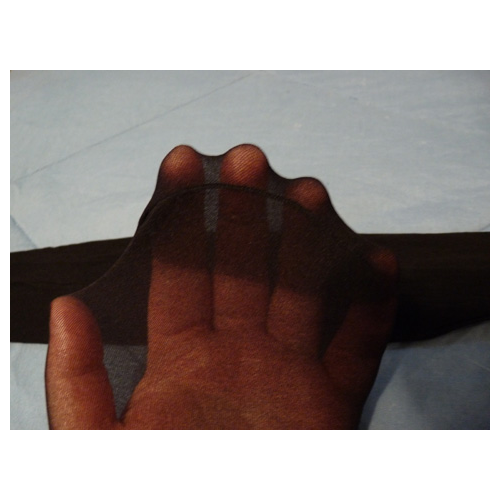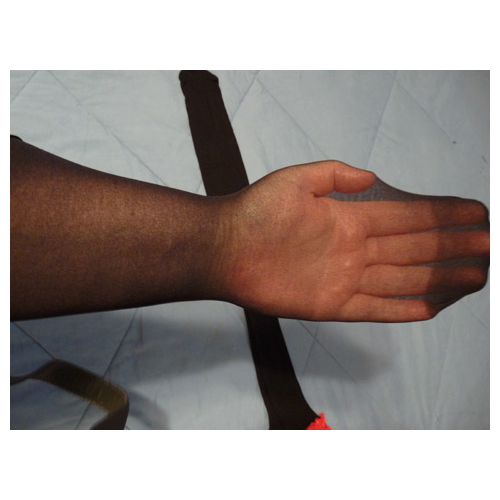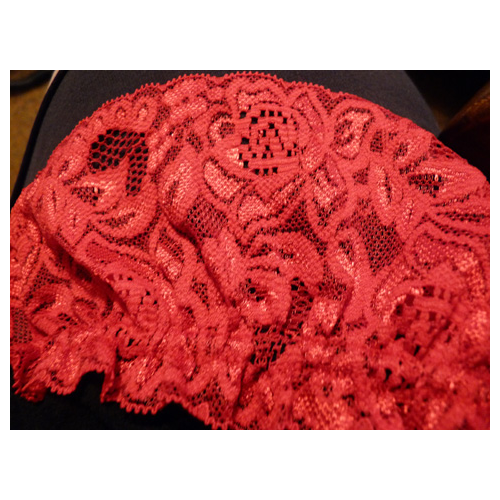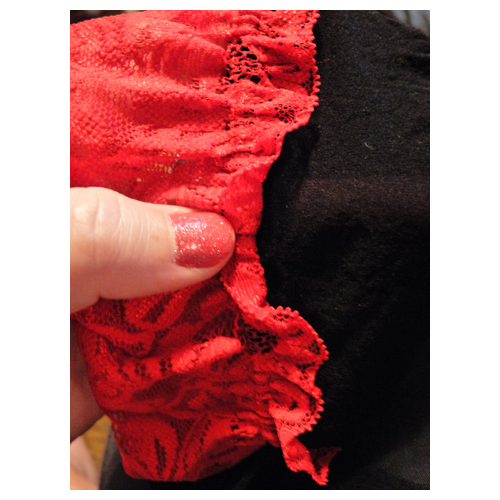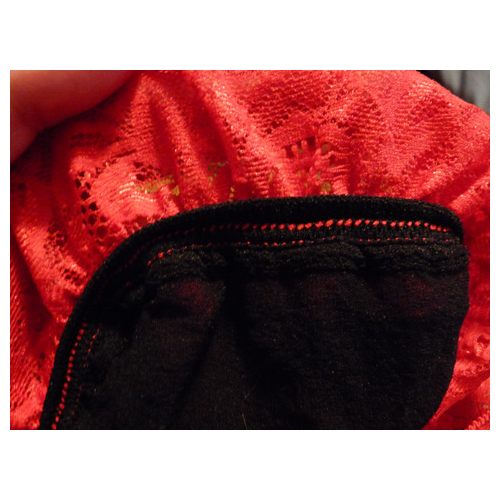 In the photos above, you can see the simple toe seam, how sheer they can become with stretching, the lace pattern, the small little ruffle of lace over where it is sewn into the elastic inside, and the elastic portion which helps keep these up.
You can most certainly wear these with a garter belt if you wish. Because these were a bit tight around my thigh, I pulled them down to about knee-high height to test falling/rolling. Wandering around with them in that position, they stayed up and the lace didn't roll or fall. The lace has some give and elastic stretch to it, so that helps it stay up. I can't comment on how well or long they will stay up mid-thigh for long periods of time, but you can try them for yourself to test them out or, as I said above, wear them with a garter belt.
The only problem I had with these is that a few places had some minor horizontal imperfections, as you can see in the photo below.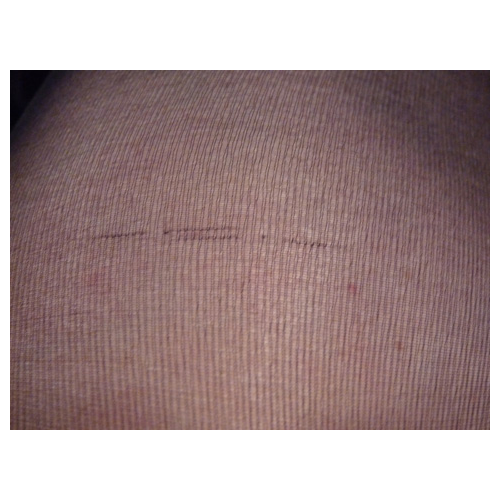 They're not really all that noticeable and don't seem to be causing any problems or runs. As for the stockings' sturdiness - I haven't noticed any runs or snags. I wasn't entirely gentle when putting them on, nor was I all that rough. They appear to be of very nice quality and very soft (the same with the lace trim).
Overall, these are a nice, affordable pair of stockings that you can wear all day under clothes or during playtime. Even with the slight imperfections, I still give these 5 stars.
Follow-up commentary
8 months after original review
These haven't gotten a lot of use because I couldn't get over the imperfections in the hose. They're sitting in my closet, and I'm fine with that. I've come to realize that I'm not really a stocking kind of girl, I prefer bare legs.
This product was provided free of charge to the reviewer. This review is in compliance with the FTC guidelines.

Thank you for viewing
Sheer thigh high stockings with lace top
– thigh highs review page!