Not As Cute As The Picture
If you are looking for a fun and flirty petticoat, this item is really adorable but it does not give a wow factor that will leave your man or woman drooling. The material and fit are great for the price but if you are expecting top quality, you will be disappointed.
Published:
Pros:
Inexpensive, fun and flirty, good quality for the cost
Cons:
Does not give adequate WOW factor for the bedroom, doesn't lay flat around the tummy
Coquette's holiday petticoat is best used for the bedroom and not in the open air. It is too short to cover your bottom and it is majorly see-through, which the picture doesn't adequately convey. Of disappointment, there is nothing 'holidayish' about Coquette's HOLIDAY petticoat other than its red color. I would expect some sparkle or glitter; perhaps bells or white trim, but this petticoat only gives you bright red, tulle and feathers. If you enjoy wearing cute underclothes under your skirts you could give a miniskirt a bit of flair, but in looking over other reviews, I have noticed that it does not poof out skirts. It just adds a flash of color underneath.
Material:
The majority of the skirt is made up of lyrca and tulle with a feather trim. The top waist band is 3.5 inches wide and opaque, stretchy and with a cheap polyester texture that is not as soft as I would prefer but isn't all together rough either. The see-through tulle is 4 inches wide and somewhat scratchy, but the tulle does not lay tautly against the skin so it isn't as noticeable once you put it on. The feather trim is 4 inches wide. They are soft and tickle lightly against the skin, but not irritatingly so. They are very well attached with a red ribbon. In the course of a bit of rough housing, only one small feather has fallen off. Underneath the decorative feathers are three layers of tulle. Overall, the quality of the workmanship is good and the stitching was intact and without loose strings. I feel the petticoat could stand the a reasonable amount of wear.
The cleaning instructions state: "Hand Wash Only, Hang to Dry." Although, I haven't cleaned it myself, I am concerned that I would ruin the feathers if I needed to wash it. Because of this, I don't think the petticoat could handle a large stain without some damage.
Fit:
The holiday petticoat one size fits all, fit my 27.5 inch waist and 37.5 inch hips nicely. According to the sizing chart this skirt should fit those who wear a:
Size: 4 - 14
Cup: B
Bust: 34 - 40 inches
Waist: 26 - 32 inches
Hips: 36 - 42 inches
The elastic band has alot of give so I'm sure that it could fit the above measurements. The waist band, does not lay down flat and has ripply wrinkles horizontally down your stomach. Although you cannot see it under clothing, it makes the petticoat appear less attractive on its own. Of note, you can see every part of your body through tulle portion of the skirt. This means, that could not wear this skirt without expecting everyone to be able to see your underwear or lack there of. Sadly, it doesn't poof out in the fun way you would hope a petticoat would flair. I would have hoped to have had more layers of tulle to fill the skirt out, but it mostly lays flat against my body. It wouldn't even flair out while twirling. Because of the lack of layers, the petticoat doesn't add any body to a miniskirt that you may place over it. It will only add a pop of color. If you're looking for sex appeal, the bottom portion just barely covers my bottom which peeps out when I bend over. It's the only part about the skirt that felt naughty and sexy.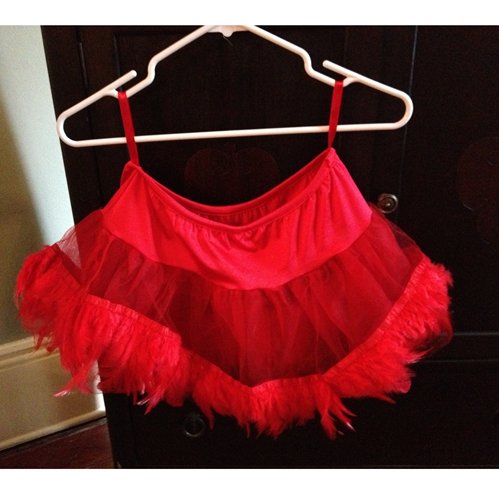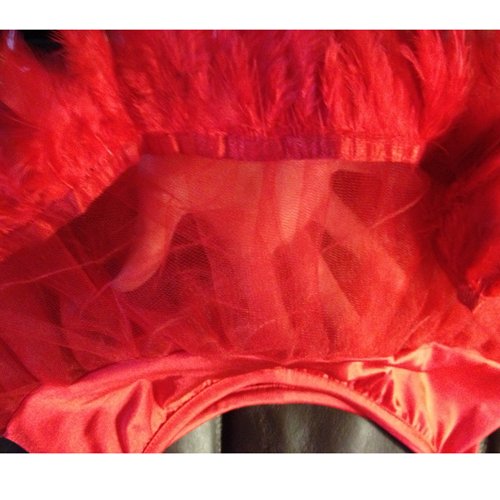 Packaging:
Unfortunately, I may not be the best person to describe the packaging because my mailman did not leave the package on my porch. Instead, he left it in the alley beside my apartment. It stayed there for days and was rained on until I figured out what had happened. The cardboard around the petticoat was soaked but because coquette has a nice plastic hanger and cover, the petticoat was amazingly dry! I was very impressed.
The bedroom test:
This outfit did not particularly entice my husband. I wore it with a red bra, thong and 4 inch sparkly red shoes. We ended up salsa dancing instead, which was fun but not the intended result. I felt more cute than sexy.
Follow-up commentary
7 months after original review
I haven't worn my petticoat since I got it. I think it's pretty useless and unsexy. Maybe I would have liked it if my expectations had been a little lower.
This product was provided free of charge to the reviewer. This review is in compliance with the FTC guidelines.

Thank you for viewing
Holiday petticoat
review page!