Not Everyone Has Large Breasts
When buying a bra set, the most important piece to fit is the bra, the rest you can easily tailor especially G-strings unless it's too small. This bra is around 34C-36C, so unless you fit that measurement, skip this. The rest of it is pretty OSFM of the size but if the bra doesn't fit right it really will ruin the look.
Published:
Pros:
Garter Belt fits a wide range of people
Cons:
Bra more of a medium, not small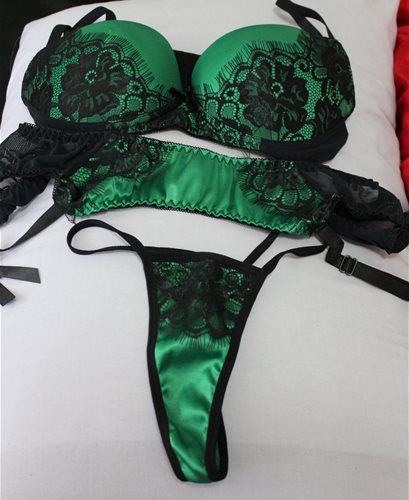 I really feel uncomfortable buying a bra set in which the size is a s, m, l, instead of 34C, 36D or what not; this set reinforces it. Small I would assume is something like an A, or B cup, this bra is a 34-36C; I'm a 34B so it isn't THAT bad, but for someone who's an A cup this would just have been a giant waste of money since it usually is the bra that costs the most. When I saw this I actually thought it was larger like a D; even the picture makes this look that big, but thank god it isn't. Coquette usually does well with size small being small, but unfortunately for this piece that isn't the case. Small should mean small, petite, in every way. Not everyone, actually most people aren't fortunate enough to be petite and have large breasts.
The underwear is more of a V-string, than a G-string since the back it goes up instead of to the sides. I'm not a big fan of thin string underwear, but for one it is comfortable. This does fit small, or a Victoria's Secret extra small, which is fine for me, but since the bra was so big, those who fit the bra might not fit the underwear if they have hips that match the top. The garter belt ranges from 24"-28" +/- 6" circumference, so 24"-34" which is still fairly for smaller people. Though if you fit the largest size waistwise, then the underwear won't fit you.
Comfortability wise, the bra isn't very comfortable; it isn't because it's a tad too big, but it's because the sides dig in and the cups don't form fit so it sticks out but squeezes. The padding is fine, I don't mind that and it isn't too much where it's all padding. The under wire is a bit stiff and that juts in as well which isn't too fun. Bra's shouldn't be this stiff unless you're trying to strap them in, but if you like stiffer bras, then this is good. The garter belt is pretty comfortable itself nothing makes me itch, nor does it cut into my skin when when I pull it so it feels too tight.
Like most Coquette pieces, this is well made in terms of durability. Unlike most Coquette pieces, this wasn't as aesthetically appealing as it looks. The lace fringes and it looks really old ladyish to me since I've associated that with older people, compared to lace with no single string fringe for a young sexy look. I'm just not a fan of frayed looking stuff I guess, but on the bright size, the frayed style can be taken as 70's vintage? The rest of the lace is actually gorgeous, so I can probably just carefully cut off the fringe.
Like most lingerie, this is handwash only, and hang dry/drip dry. No ironing, nor dryers. Also a word of caution, don't somehow bend the underwire because it'll be impossible to morph it back to shape.
This product was provided at a discounted price in exchange for an unbiased review. This review is in compliance with the FTC guidelines.

Thank you for viewing
Bra, garter belt and g-string
– bra and panty set review page!