Super Sexy Emerald Set
This set is sexy, comfortable, and affordable. If this set catches your eye, I suggest it is worth a try.
Published:
Pros:
Comfortable, well-made, great cleavage, adjustable
Cons:
Oddly fitting panties
This set was a "I have to have it the moment I saw it" kind of deal. I am thrilled I got to make it mine for free thanks to the review program. As I'm sure is true with most women buying lingerie via the internet, it is tough for me to choose the right size. Especially when it is a simple "S/M/L", as opposed to exact measurements and cup sizes. I tend to refrain from purchasing lingerie that has yet to have a review from someone similar to my body type, as it is just a pain in the ass to risk something you love so dearly not fitting well. With this being a free assignment, I took the risk and am so pleased with the fit. I must have went back and forth in my head 20 times between a small and medium before I went with a size small.
I am a B, sometimes C cup (depending on those damn hormones and different types of bras). As far as panties go, I stick with size 6 or medium for thongs. My initial thought is usually that the panties in a set will be too small and the bra too large, so I figured, if anything, at least the bra and garter will likely fit and I can wear different panties with them. I am picky about my panties anyway, so this seemed like the best of ideas.
The bra is super flattering on my tatas and I could not be happier with it. At first, I was worried the cups were too close together, but it is actually very comfortable and cleavage-tastic! It has underwires that I found to be quite sturdy, yet not uncomfortable or poking into me. The padding is moderate, nothing too extreme, but it does add some oomph. The shape of this bra is great. I prefer a nice rounded shaped bra, as opposed to a demi cup bra or a more triangle shaped bra. If you are an average B cup and looking for a good cleavage bra, I would recommend ordering a size small in this. A medium would likely fit a C cup and large a D cup, I would imagine.
The panties are a less than perfect fit, but definitely still wearable. They are the same cheap kind of thong you would expect to see in most lingerie sets, not very strong elastic around the inner thigh area, and I found them to have a bit of a "pouch" in the front. I am, however, quite fond of the back side of this thong. I'm not usually a big fan of "floss" thongs, I tend to like a thicker banded thong. This one, however, has an awesome V kind of shape that looks pretty hot with the garter resting just above it. The garter belt is about 2 inches adjustable, so it can likely be adjusted to fit anyone. Stockings are not included in this set, so I attached my own black nylon thigh highs to the garters.
The material of this whole set is super comfortable and something I have worn under my daily clothes a few times already. It does not itch or irritate me in any way (and I am easy to irritate, let me tell you!). The color is gorgeous green and the lace pattern is subtle and feminine. I love that it is so feminine and lacey, but still crazy comfy- that is hard to come by. The only thing I am not really a big fan of with this set is the little "frills" that seem more like hairs on the edge of the lace on the bra, garter and panties. Maybe some will find them sexy, but to me, they look like little pubes or something.
Bra close up: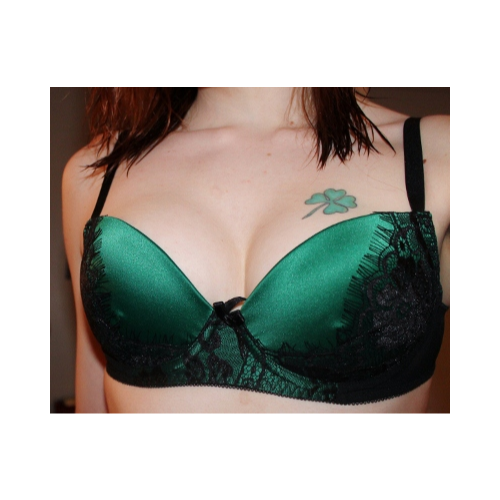 Full front view: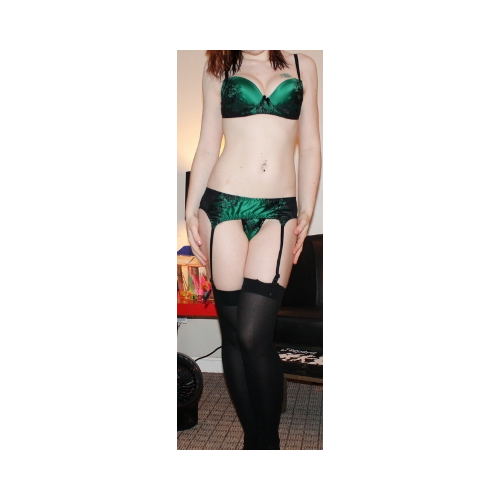 Front garter/panty view: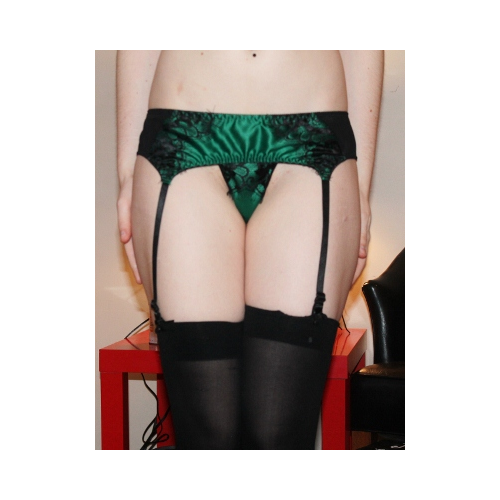 Back view: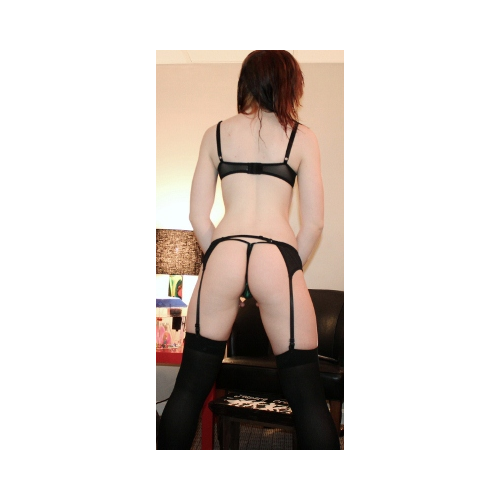 Close up of the frilly hairs I am talking about: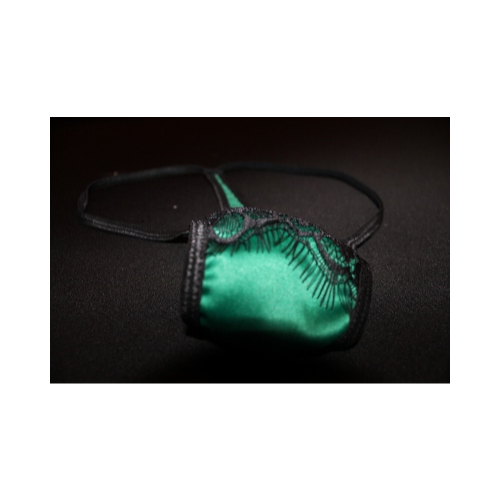 Feel free to throw any questions my way about this set I may have failed to answer.
This product was provided free of charge to the reviewer. This review is in compliance with the FTC guidelines.

Thank you for viewing
Bra, garter belt and g-string
– bra and panty set review page!