Not flawless, but not a bad buy.
This isn't the most amazing set in the history of time, but for $20 I got some really comfy shorts that I've been wearing around the house quite a bit, and a cami I may pull out from time to time.
Published:
Pros:
Comfy shorts! Inexpensive. Can mix and match with other STM pieces.
Cons:
Not so great fabric, cami doesn't work well with large bust.
Can I start off by telling you guys how much I love these shorts? If you want something that gives you a little bit more coverage than just underwear, but is a little sexier than wearing boxer shorts or athletic shorts, the shorts from this set are perfect! I've totally lost track of how much I've worn them since I received this set.
With my Ode to Shorts out of the way, we can talk a little more in-depth about this set now! The set is made by Seven 'Til Midnight (henceforth refered to as STM, 'cause I'm lazy) and can easily be mixed and matched with quite a few other STM items. I've had really mixed luck with STM thus far; there have been items I love and items I wasn't so crazy about. Sometimes sizing is awesome, sometimes you think whoever designed the lingerie was very drunk. For me, ordering a STM product is a little like playing the lottery, but I guess the results have been favorable enough overall that I keep doing it.
This set is made up of a camisole and a small pair of shorts, and comes in either red or black. The cami is almost *exactly* like the
Flawless Chemise
, it's just a lot shorter.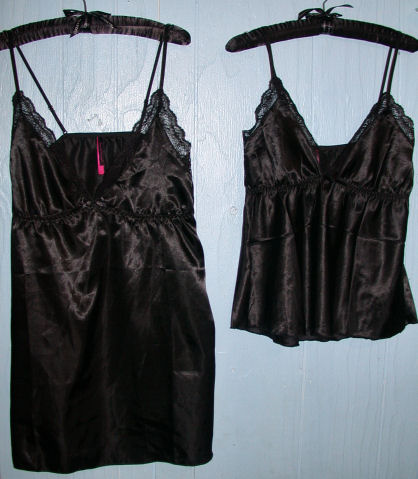 Chemise on the left, Cami on the right. These are different sizes XL and L, respectively), but it should give you some idea of the difference in length.
The set is 100% polyester, and can be machine washed (cold) and line dried. I have to admit that the fabric itself isn't great. It's lightweight and fairly soft, but obviously not very good quality fabric. If you have any of the DreamGirl robe and babydoll sets, it's very similar to the fabric from which those are made. The fabric doesn't breathe very well, so it can get a little sweaty in a warm environment. Still, for a $20 set, it's decent enough quality, and I found the garment to be pretty well-sewn. The lace the decorates the top of the cami isn't great, but it isn't awful and scratchy, either.
The camisole has an elastic seam that runs along the top of the back half to help it hug your body, and another that runs below the breasts to help keep them in place. The breast area (not really "cups") on the size large is a bit too small for my full D breasts, but a B or C should be pretty comfortable. (Judging by the fit of my matching camisole, I think my breasts would have fit the XL much better.) The support offered by the elastic band isn't great, but in combination with the stretchy, adjustable straps, you do get a little bit of lift. I do wish the straps were a little thicker, though, since I found that they cut in to my shoulders just slightly.
The large size camisole is 15" across below the bust, and will stretch to 20". I wear a 38 bra band, and it fits me comfortably, but I wouldn't mid it being a little looser, so I doubt it would be very comfortable on someone who wears a 40. From the seam below the bust down to the hem is 12" long, so if you measure that distance down from the bottom of your bra, you should get a good idea of how long this will be on you. The bottom hem is 25" across when laid flat, and does not stretch. The triangles for the bust are 6" high and again, do not stretch.
In my opinion, the shorts make up for the less than stellar cami. I hate wearing pants around the house, but can't always get away with just underwear, and these are a great compromise. They don't provide THAT much more coverage than panties, since they narrow down to only about an inch wide at the crotch, but they're pretty voluminous, so the puffyness at least makes it look like you're wearing a little more. What I'm really in love with is how comfortable they are. The waistband is very stretchy elastic, and I tend to forget I'm even wearing them. The waistband is 16" across unstretched, and will stretch to about 25" comfortably, so these will fit a really wide range of hips. My hips are 39" and the shorts are just tight enough to stay on.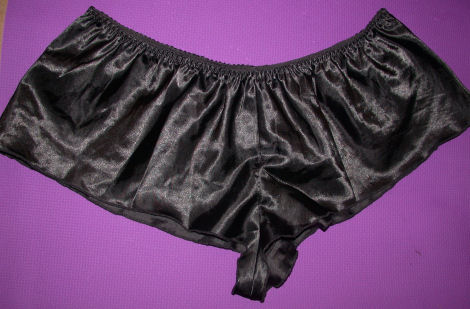 I will admit these aren't the best *looking* shorts on me, in terms of being flattering, but since I'm just using them for lounging around the house I don't really care.
Experience
I would give the shorts 4 stars and the cami 2 stars, so I'm balancing my rating out at 3. I'm excited to have a little pair of shorts that I can lounge around in this summer, since some of my older ones are literally falling apart. I doubt the cami will get much use, but I may order a second set in red just for the shorts.
This product was provided at a discounted price in exchange for an unbiased review. This review is in compliance with the FTC guidelines.

Thank you for viewing
Flawless cami and short
– sexy camisole review page!