Not quite flawless, but pretty comfy
The Flawless cami and short set isn't flawless, but it's pretty good for $17. I wasn't expecting the world with this because of other reviews and the price, but I wanted a comfortable sleep set and that's what I got.
Published:
Pros:
price, comfortable, can be worn around others, can be slept in, not itchy, soft and silky fabric
Cons:
cami very wide at the bottom, lace not high quality
The Flawless cami and short set by Seven Til Midnight is an inexpensive sleep and lounge set. I was skeptical about this piece because I had read all of the reviews and although they weren't scathing, they also weren't good. However, I decided to give it a try because it's inexpensive and I want more things I can sleep in that aren't shorts and a t-shirt. I am glad that I bought it and I think I will get plenty of use out of it even if it's not the sexiest item. I didn't buy it to seduce anyone, so I am not disappointed. The only problem I have with this set is that the cami makes me look wider from the side.
The set I bought is black, though it also comes in red and white. It's 97% polyester and 3% spandex. I think the spandex part is just the elastic parts, because the satin material is not stretchy at all. It has no give. However, this could fit a lot of sizes since there's extra fabric and it runs large in my opinion. I'm a size small in all cases, as a 26" waist, size 2, 32C, but this I could wear even if I got pregnant. It fits but it just has a lot of growing room, especially on the cami, but I will get to that later.
Care for this is supposed to be hand wash cold only, but I think this could survive a gentle cycle on the washing machine. I washed it in a hand-cranked washing machine I use for most of my clothes, but especially gentle things, and it came out fine. The lace along the bust is still fine and no elastic got twisted. It is not to be bleached, dried, or ironed. It does get really wrinkled though, as displayed in the pictures. After I washed it, I thought the wrinkles would get out, but they did not. I then wore it to bed once it had dried, and then when I woke up, it was actually less wrinkled than it is in the pictures or than it was when I went to bed.
It came to me like this: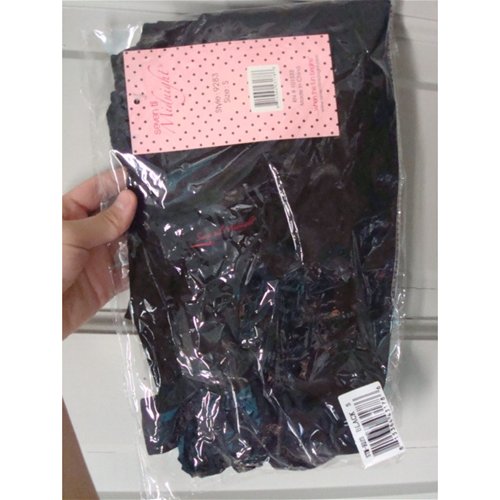 In order to best organize this, I will now describe the cami and shorts separately.
Cami:
The cami is very stretchy at the bust and the straps, but the rest of the material, satin, doesn't have much give. It has the typical Seven Til Midnight tag, black and pink, in the middle of the back. It has two elastic bands, one below the bust, and one on the top of the back so that it hugs your back. The elastic provides a little bit of lift but I'm not sure how much support a larger chested woman would have. I personally did not care about this anyway because I bought it to sleep in. The top is triangle tops with a black bow in the center and black lace trim along the cups.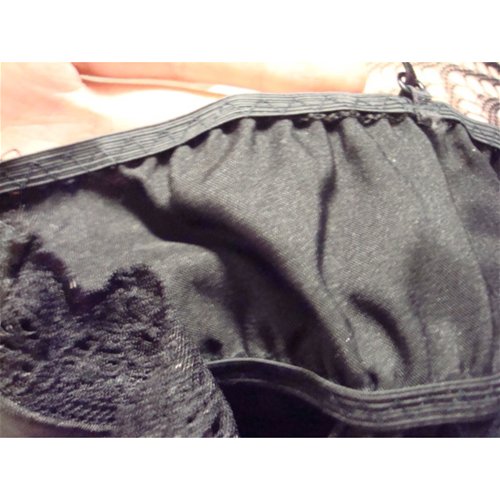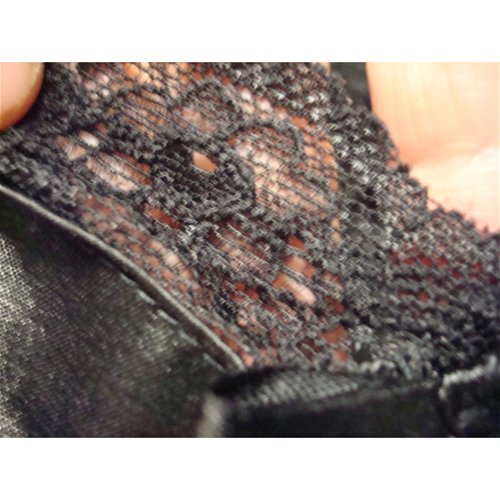 The straps are adjustable and can be adjusted like a bra strap to many lengths for people of all heights and torso lengths.
Measurements:
Lace trim - 1.5"
Triangle tops - 7.5" long from top to center, 7" across, 6" from top to side
Width under bust - 13.5" unstretched, 19.5" stretched
Length from underneath bust to bottom in the front - 9.5"
Length from underneath bust to bottom in the back - 11"
Width of the bottom of the cami - 23"
As you will see in pictures in the experience section, the bottom of the cami is huge--twice the size of my waist, almost! It's no wonder it widens so much at the bottom and makes it look like I'm wider.
Shorts:
I think I will use the shorts more often since they could be paired with other tank tops and they also fit me better, though I am perfectly happy wearing a less than perfect cami to bed. The shorts are made of the same satin material and also feature the Seven Til Midnight tag in the back. They have a thin elastic waist the same size as the elastic on the cami. The waist is 14.75" across, so they fit me pretty loosely, but they sit comfortable on my hips and aren't tight.
Again, the waist is the only part that is stretchy, but these are pretty big so they don't need to stretch to fit all people in the size small size chart.
Measurements:
Waist - 14.75" across unstretched, 22.5" stretched
Side lengths - 6.2"
Width of crotch - 3"
Leg holes - 12"
If there are any measurements for the cami or shorts that you want, just ask.
Experience
This set is really comfortable, even though my boobs pop out of it while sleeping or even sitting. I didn't buy it to wear out or anything so I really don't care very much. It is comfortable to sleep in and is very soft and silky feeling. I am definitely going to get plenty of use out of this set, though primarily the shorts. I know I'll wear them around with other camis to do work around the house, sleep, or just be lazy. They are very short in the back, but my butt doesn't hang out, so I would be okay with walking around with roommates or even out to get the mail or something.
I understand why they wouldn't add a liner to the shorts, but personally I never wear underwear when I sleep, so I like wearing cotton shorts for that reason. I don't think these will cause issues, but it would be a nice perk if they had a liner. I am not sure how this could have been orchestrated, however, without looking weird on the outside, so I'm not going to knock a star for that.
The pieces fit me though I think the cami would be better if it didn't have the elastic under the bust and the cami was not so wide at the bottom. The gathering makes it poof out and the width is just ridiculous for a size small. No one ordering a size small needs the bottom of a cami to be 47" around! It makes me look wider from the side. This is not a huge deal especially for the price of this set, but something to keep in mind. Due to the price, I am going to give it 4 stars. It is a cheap set and I don't think Seven Til Midnight should have called it Flawless, but it's obvious that for $16.99 you aren't getting perfect lingerie. The lace is also kinda iffy with some loose strings but again, for the cost, I don't think this deserves 1-3 stars. It is expected that it will not be high quality when you buy something for less than $20 and that is its regular price.
More pics: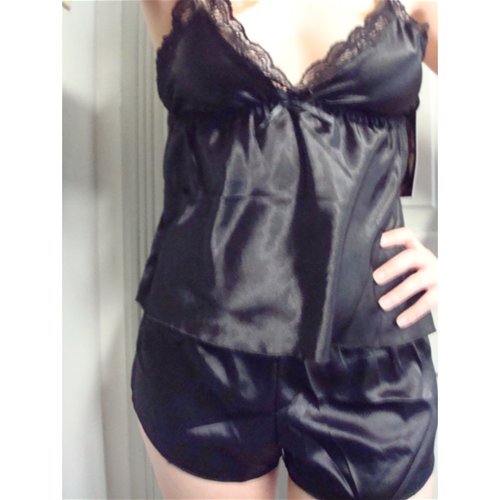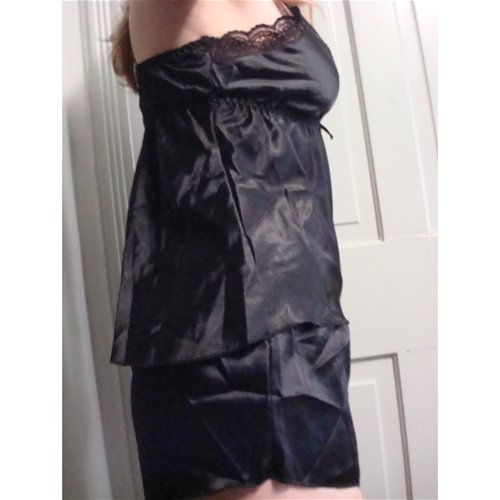 This product was provided at a discounted price in exchange for an unbiased review. This review is in compliance with the FTC guidelines.

Thank you for viewing
Flawless cami and short
– camisole set review page!