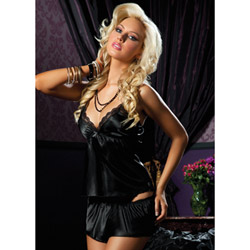 Flawless cami and short
Camisole set
by Seven 'til Midnight
Stupidly Combortable, Stupid Everything Else
This set looks like a good deal but what you get is an unflattering, poor quality set that's probably not worth the hassle. Is it the most comfortable thing I've worn to bed in years? Absolutely. Can I recommend it even know that? Absolutely not.
Published:
Pros
Cool satin, adjustable straps, lace details, amazingly comfortable
Cons
Everything's too short/wide, quality, stiff satin, not discreet for loungewear, unflattering
I cannot even begin to describe my love-hate relationship with this cami and short set.. but I'll try.

Let me start by explain that I bought this to wear for sleep and, hopefully around the house. I often go for cami and shorts sets, because pants make me too hot as I sleep. I enjoy satin, especially during the summer months. I wanted to be comfortable enough to wear this around the house in front of my roommate.

When it arrived, it was only packaged in plastic. I hate big boxes for lingerie and such, so this is a plus. The black satin was thin and a bit more stiff than other satin, like my bed sheets, for instance. I ordered the XL but, in hindsight, maybe should have gone with the large.

The top has en elastic empire waist, right below the triangular cups, and elastic across the top of the back. This is quite loose around my 38" ribs, but not so loose that it's a problem. If you wanted support, however, you might think otherwise. Of course, as this is meant for sleeping, that might not matter to you.

I actually really like the way the top of the cami fits on my boobs. It's ideal. This seemed to round out my breasts pretty well, which was a surprisingly plus. I enjoyed it while lying down. With that said, you're not going to fit into this if you're any more well-endowed. At some points, I was even spilling over.

Speaking of lying down. I love that this isn't so stretchy that is twists up or the cups fall to the side as I sleep. With some stretchy camis, I have to untangle my boobs in the morning and I wake up bare to the world. This hasn't happened one with this set, which i DO like.

The straps are adjustable, super thing pieces of elastic. It seems more fragile than an actual bra strap; however, I have yet to have any problems. With adjusting the straps, I got a perfect fit. On the other hand, the lace around the cups has proven surprisingly tough, and it does add a feminine touch. However, the neckline plunges so much that I really would feel uncomfortable wearing this in front of anyone who I wasn't having sex with, so as a lounge piece, this is out.

However, the bottom of this piece was a not-so-perfect fit. It flares outward. You can clearly see it on the model. It's not just that she's thin. At the bottom hem, this piece is much wider than the rest of the cami, and I have no idea why. It's not flattering on me, and I'm curvy. It's not that flattering on the model, either. Other reviewers have mentioned this, too.

This top is shorter than I'd like, and you'll feel the same if you any tummy. It only measures 12" long. Even on my petite frame, this is too short. This maybe wouldn't be a problem if I could pull up the shorts, but I can't. They're cut so they're higher in the back and on the sides, to show some booty. If I had realized this, I would have avoided the set, I think. If I try to cover my cheeks, my belly shows. If I put it up, you can see my underwear or ass. It look ridiculous with anything other than a thong or G-string ,as you might have guesses.

What makes this even more odd is how baggy the shorts are. The top is simply thin elastic, that's comfortable enough. However, the XL is much too large for me 40"-ish hips. With certain panties, it slides right down! The legs are super baggy, which doesn't fit with the shortness of them, IMO.

However, the shorts are comfortable and also don't become twisted as I sleep. In fact, the whole thing is stupidly comfortable. If I never had to look at it, I would love it.

Before I leave you, I'd like to point out that this had some very long threads I had to cut off when I received it. Those areas aren't affect, but after wearing this for just one night, the satin on one of the sides gave out and the seam broke. I did a quicker-fixxer up sewing job, but it's obvious that this isn't going to last and more of the satin will continue to unravel. So, quality is also dubious.
Follow-up commentary
24 days after original review
The one selling point of this piece, for me, was its comfort. However, subsequent wearings have proven it to be less and less comfortable. I can't seem to find the right length for adjusting the straps, and it's driving me crazy. The shorts are still cut odd and far too large.

This set really is a gamble.
This product was provided at a discounted price in exchange for an unbiased review. This review is in compliance with the FTC guidelines.
Thank you for viewing
Flawless cami and short
– camisole set review page!