Very flawed cami and shorts
This two piece set fell short of all of my expectations; it looked cheap and fit horribly. But this might work for you if you are thin and flat as a rail and don't mind the stiff material it has. This falls under the you get what you pay for category of should have found something a little more costly.
Published:
Pros:
They come as a set?
Cons:
Everything, cheap material, stiff, fits horribly
I was really looking forward to some cute satin looking semi-sexy pjs to wear to bed, and this set didn't deliver by a long shot. With a weird fit and cheap looking material I'd say this is a pass.
This is a two piece set; a cami and a pair of shorts--- both come in black or red. I choose the black, since red doesn't really go well with my skin tone. They are made of 100% Polyester and should be machine washed in cold water but hung to dry. The material looks cheap---I must admit I wasn't expecting much from the price but this is much worse than I could have imagined. It looks stiff, kind of like those princess play dresses you get as a child. It looks itchy, it kind of is a little itchy tbh.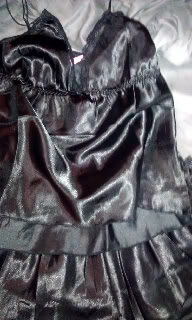 My measurements are as follows for reference: hip size is 36", my waist is 28", and my bust 36 to 38 c or d; depending on the make. So I chose a large like I usually do going by my general rule of always ordering a size up.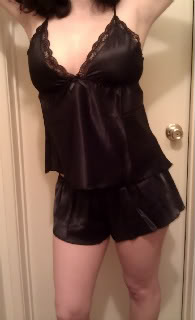 The company Seven 'til Midnight lists their Large at the following: 10 - 14 C - D 36 - 38 28 - 30 38 – 40. And that is cup, bust, waist, hips in that order. So other than my hips being a little smaller than the listing it should have fit me otherwise. That wasn't the case, I could have benefited form a smaller pair of shorts---I kind of knew that going in, that's fine. But, HOLY HELL the top---the top wouldn't have fit me if I taped down my bust and then some. It completely cut my boobs into 4 and flattened them into a really incredibly unflattering shape. I felt beyond unsexy in it!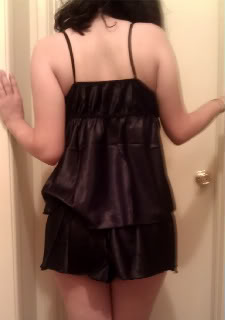 The cami is done in an empire waist style, so it is supposed to cup under the bust than flare out more towards the bottom. From the point under the waist seam to seam each side is 14 ½" wide, this part has elastic so you are like at 29" to 31" ish a round total. The bottom, again side to side is 28 ½". This part was fine, not a size issue in the slightest. Here lies the problem, the cup of the cami wants to stop mid-boob instead of under the boob. There is an inch of lace at the top of the cups, this detail is really pretty in person---you see just the slightest bit of skin through it. The thin spaghetti straps which are about 15" in length can be adjusted either way, it won't help this situation. I think perhaps it might work out better on a very flat chested person, but not anyone with even the tiniest bit of boob.
The shorts which are supposed to be longer on the sides but show a little booty, fell really drippy and not in a cute way. From waist to crotch they are 10" in length down the middle. Where hits from waist to thigh is 7" in length. They are also really really wide and look more like a skirt than shorts, not to be confused with skorts.
Experience
I really wanted this set to work, but it seems I will still be on the quest for a cute cami/short pj set in the future. I think if there was an option to buy separates you can order down a size in bottoms and up a few sizes in top and it might fit someone who is flat chested. But that doesn't really account for the rest of the issues with this set.
This product was provided free of charge to the reviewer. This review is in compliance with the FTC guidelines.

Thank you for viewing
Flawless cami and short
– camisole set review page!