Not so red hot...
Overall, I'd say this product was "so-so" at best. I know you get what you pay for, but I also think you could get a much higher quality bra/panty set for the price of this. It's not practical, it's not nearly as cute/sexy as it looks on the model, and it's rather uncomfortable and probably unflattering. The panties are cute, yes, but I would still say that it's not worth it to buy this set.
Published:
Pros:
Very cute, nice lace detail, comfy panties
Cons:
Non-supportive bra, hard to wash, cheap & flimsy material
When I saw this bra and panty set online, I thought it looked like the perfect Valentine's Day lingerie. It was on sale for a little under $20 so I got it (I'm glad now that it was on sale, because I wouldn't want to pay the current price for it). It arrived wrapped in a plastic bag, with the bra and panties on individual hangers labeled "Coquette" (the brand of the company making them.)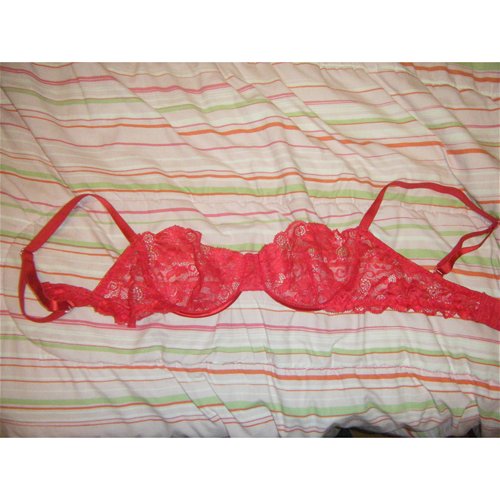 The bra (off the hanger, sorry).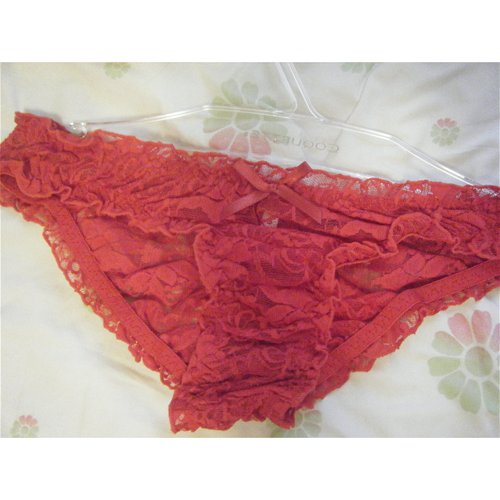 The panties.
The bra also had a small red ribbon with a white bear holding a red heart in the center. Like most people viewing this product, as evidenced by the disapproving comments, I didn't really like this. I mean, it's cute, but not sexy and kind of out of place on this bra. Fortunately, it was attached to a safety pin and easily removable.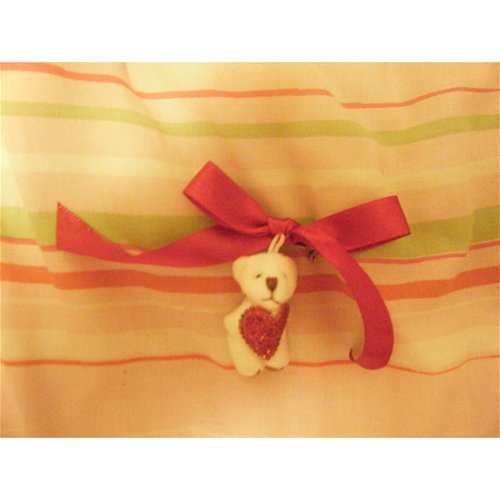 The bear.
Now, I ordered a size small for this set because I wear a 36B bra and around size 6 pants. I'd consider my boobs to be decently sized - somewhat small, yet not too small to fill out a bra nicely. However, this bra was super unflattering on me. It made me feel like I had saggy "banana boobs" lol.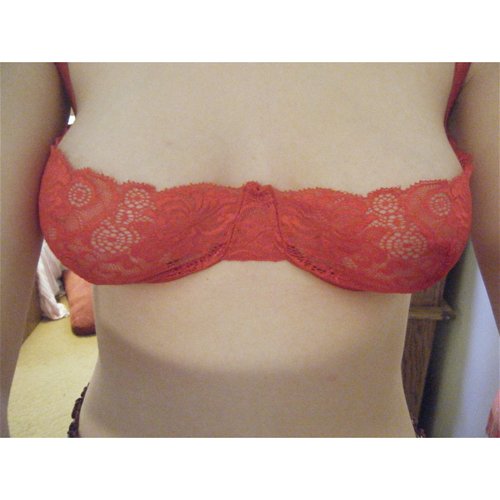 This is what I mean.
Basically, it was too wide-set, gave me no cleavage and had the opposite of a "push up" effect. Despite the underwire, it didn't have much of a supporting effect. Maybe ladies with fuller, perkier breasts would have a better experience with this, but for those with B-cups and under, I don't think you'll look super great in this. I understand that this bra isn't meant to be practical, but it doesn't seem like it would be good for its intended sexy-time purpose either, considering it makes me feel uncomfortable and unattractive.
Not to mention, the fabric - it's made of polyester - feels very thin, flimsy, cheaply made, and a bit scratchy. My nipples feel like they were about to poke out. So I definitely wouldn't recommend wearing this out in public under your clothes. I did like the lace floral detail by itself, but unfortunately it just didn't look good on me.
Fortunately, I had a much better time with the panties. They were stretchy, yet snug-fitting, and quite comfortable. I really liked the ruffled, lacy effect, and I felt like I looked good in them. The liner, however, was awkwardly placed - it felt like it was too far back, but it also wasn't uncomfortably so. The material of this one is thin and a bit flimsy as well, but it wasn't that bad. It's also rather see through - which can be a good or bad thing, depending on your preference.
The annoying thing with the fabric was that it started to have little threads poke out after washing - but then I washed it in a regular washing machine, so you might have better luck with handwashing. I personally don't have the time or desire to wash my sexy lingerie separate from everything else, so I much prefer stuff that doesn't get ruined in the washing machine.
Follow-up commentary
2 months after original review
My opinion is still the same from when I wrote this review. This bra and panty set was overall not worth getting. After a few washes, the panties (which were cute and the only saving grace of my purchase) were basically unwearable, and they continued to feel very cheap. I ended up getting rid of them. I still have the bra, but it sits at the very back of my drawer, and I haven't worn it at all. It's basically pointless for wear - it's not at all practical or supportive, it makes my boobs look saggy (thereby taking away the point of sexy lingerie), it makes my nipples feel weird and uncomfortable, and it looks even worse without the matching panties.

I'd say save your money and go get a higher quality, better fitting lingerie set.
This content is the opinion of the submitting contributor and is not endorsed by EdenFantasys.com

Thank you for viewing
Red lace underwire bra set
– bra and panty set review page!