Oh Jesse, Jesse. How you flatter me!
I LOVE THIS CORSET! It is so pretty and it is a handful of cash less then I have spent before on corsets that I haven't even liked as much as this one. I would definitely recommend this sexy piece of lingerie to anyone who is looking to rock their significant others world.
Published:
Pros:
Great design. Good quality. Amazing style.
Cons:
A little itchy(have I said that before?)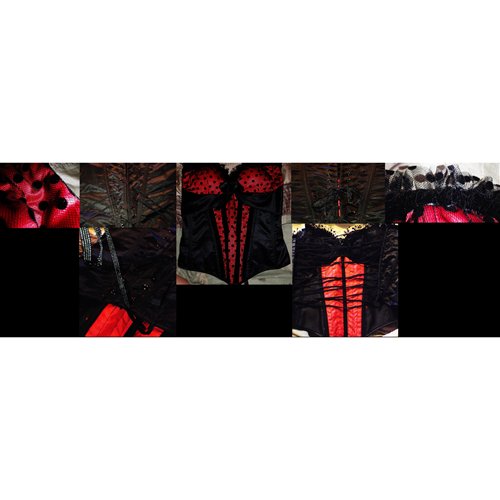 While the Jesse Corset has been known to have some flaws, such as not giving the breasts much support and possibly even make some people looks smaller chested then they are. I for one am still completely in love with this little thing and can find good things to say about it without having to think twice!
One of my favorite things about this corset is how different it is then all the other ones out there. The black and deep red together certainly are a sexy pair, especially when you combine them with the gorgeous ruffle polka dot lace that runs across the whole top of the corset(including the back) My oh my! I think I'm in love.
This corset is short, that I admit. But I personally think that, that was intentional. Because the fact that it is short makes the hips stand out more. As you can see from the picture below, a little more of my skin shows then the models does in the product picture.
Me...............................................Model.................................................Me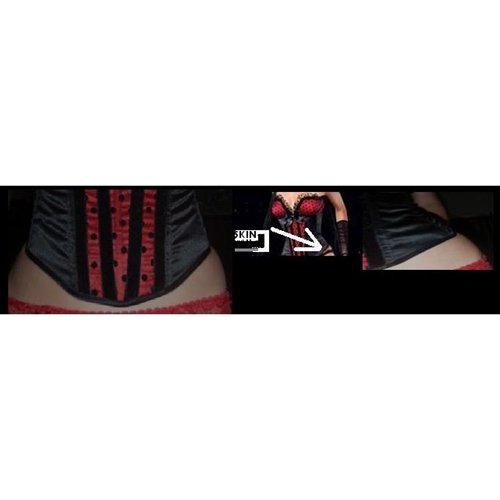 This is probably because my torso is longer then hers (I don't know how long hers is) but I know I am about 7 inches long from under my bust to my hips. So if your torso is 8 Inches or smaller, the size small should fall at a good place to accentuate your hips.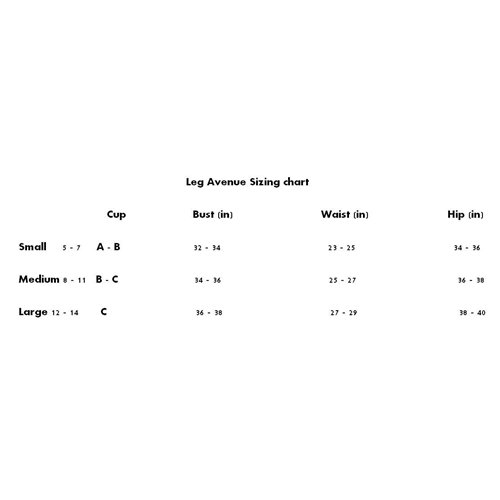 Below I have my measurements highlighted in blue. I had to add a 36 to the sizing chart since I am usually a 36 B. So don't be afraid if you are a little larger in the bust area then what the sizing chart says it can handle. It works splendidly for me(and I for one) think my breasts look good in this corset(not to sound conceited) I know I'm not perfect.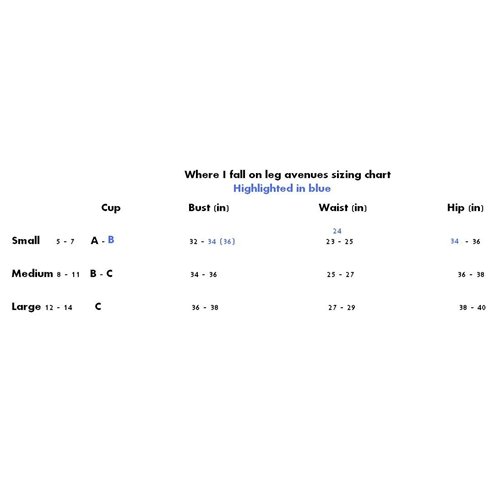 The #1 GREATEST thing about this corset: It hugs your curves in all the right places, thanks to the lace up back.
The #1 WORSTE thing about this corset: The lace is a little itchy in the bust area.
Now most people think "Itchy lace? No way! I don't want it now!"
But personally I think a LITTLE discomfort is well worth it for how sexy this corset looks when its on.
The lace up back is definitely a good thing to have, that way you don't have to worry to much about how big your stomach is(TRUST ME) there is a lot of lace that make it very easy to adjust to just the right size.
Another nice thing about the lace up back is that the edges are rounded, so you can't loose the lace while your working on tightening yourself up!
Note: This is an especially nice feature when you are putting the corset on yourself.
One bad thing I do have to say is that this corset does not come with any matching panties or thigh highs.
This is indeed a sad fact. But sadly it can't be helped. But at least neither of those things are to expensive. And most women do tend to have a pair of black panties laying around somewhere, right?
In short here are the thing you need to know before you get this corset.
Your size(follow the sizing chart ladies)
Your willingness to deal with a little itchiness.
What the corset is made out of (Nylon/Spandex/Satin)
How to cinch yourself up(the lace up back is nice, but its sometimes difficult to do on your own)
and last but not least
How much you want to turn your man on!
Feel free to ask any questions bellow in the comment section and I will get back to you as soon as possible(DON'T WORRY) I will right back to you on your page so you don't have to keep checking back.
Experience
My experience with this corset has been great. I love the cute lace at the top that runs all around it. Its a little itchy yes. But SUCH A CUTE TOUCH.


I would say that this corset was WELL worth the money for me, I really do love it and I think you will too!


I honestly don't know if I can wait until my honeymoon to show this one off (Skype time my love?)
We shall see how strong I can stay strong and resist his begging ;)
*shakes*
But then again…..… he's so cute.
No. Stay strong, stay strong.
This content is the opinion of the submitting contributor and is not endorsed by EdenFantasys.com

Thank you for viewing
Jesse corset
review page!