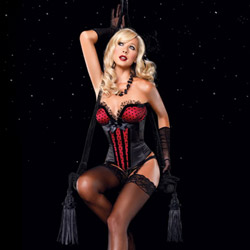 Jesse corset
Corset by Leg Avenue
Screams SEXY
Jesse stole my heart when it came to cinching in my waist along with its flattering design. It just broke my heart when it came to very poor breast support. Despite that it doesn't give me cleavage and hardly held up my chest, this piece still makes my mans jaw drop.
Published:
Pros:
Sexy design, cinches waist, custom fit
Cons:
No breast support at all
I was excited upon receiving this strapless, stunning and eye-catching corset. The whole thing just looks like it works; colors, pattern, everything. Being the one wearing it is a different story. Everything is fabulous about this corset BUT the cups for your breast. I feel as if my chest and plop out at any given moment. On the other hang I love how it gives me that hour glass appearance.

This sexy Jesse Corset is made by Leg Avenue. This piece is described as a satin silhouette corset with flocked micro-dot tulling. It has a deep-v bustline and it is a lace up cinch backing. This corset does have plastic boning to help shape you. This has no underwire but does have a little it of breast padding. Not enough padding for any kind of support though. It comes in small, medium, and large. The colors are a eye catching red and black. Also note that this only comes with the corset; no panties, garters or places to attach them, gloves or tights. It seem to bring everything together on the model in the photo though.

The Jesse is made out of 80% Nylon and 20% spandex. It has satin, velvet, along with mesh on this corset. Jesse also does have a thin and flexible plastic boning encased in a satin material. The tie in the back that helps give you that hour glass shape is a black nylon cord. Along the top of the corset is a mesh trim with velvet polka dots and a stretchy velvet trim, which can be itchy.

The vast majority of this corset is made of a black satin material. Even the solid black detail under the bust line along with the bow accent are satin. The middle panel and cups are made of red satin and covered in the black velvet polka dot mesh. The middle panel has four flattering velvet black lines coming down it. By the way these four velvet lines are not the plastic boning.

The Jesse Corset is boned with eleven plastic bondings. One is located in the center of each breast cup, One is located in the center of the red satin, and the rest are spread out evenly along the rest on the corset, some half bonding and whole. This helps me get that silhouette shape I'd kill for. The back is quite neat. It laces up starting from the center, not top or bottom. One part of the string controls the bottom half and the other controls the top half. This gives you more control on how tight/loose you want the upper/bottom part of this corset to be. Note this this os all one string. When I'm wearing this there is feet of string left hanging there, I sure if you wanted you can alter this. I also suggest no rough play with this. Besides the floppiness of the cups the mesh on this will easily tare. SO handle with care.

Taking care of Jesse is pretty easy. Hand wash only, putting this in a machine will more than likely ruin it. Do not bleach. Do not iron. Use warm water and soap to spot clean or wash the whole thing by hand. Let it drip dry or lie it flat. I wouldn't recommend laying in the sun, scarred it would cause discoloration. There are no hang strings so just fold nicely and place in a drawer to store.
Experience
SIZING:
Out of the sizes they had (s,m,l) I went with a small. A small should fit dress 5-7, cup A-B, bust 32-34", waist 23-25", hip 34-36". Before ordering I was in denial about what my size was (I've recently had a baby) and went with old habits by ordering a small. After receiving the corset I
measured
myself and found that I am actually a full B/C cup 36" bust, 30" waist, 36" hip. This actually worked out perfectly. There is a ridiculous amount of string so I had no problem making it fit, and there were tons of it left after I put it on. I'd guess I had two inches of skin showing in the back, and feet of left over string. The clinching is amazing. In my opinion when perching the main thing to make sure would fit is the cup size. The rest can be adjusted within reason.
The bust I have a problem with. Even though it has little padding and a plastic boning down the middle this corset offers no support at all. That's right no underwire. I wouldn't recommend wearing this out alone in fear of showing the girls off. The cups are very giving and your boobs can and will more than likely fall out. I think it'd help if the lacing came up higher in the back so I can pull my bust in, but it doesn't. In order to keep the top up involves pulling and tugging. I assume if you have any you can use some bobbie tape to keep it up. You can get away with wearing this out under your clothes though!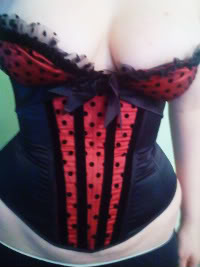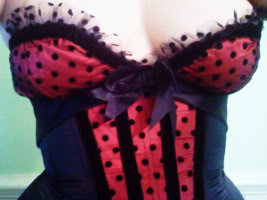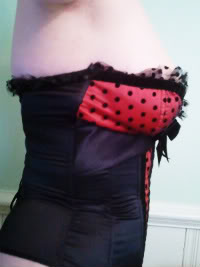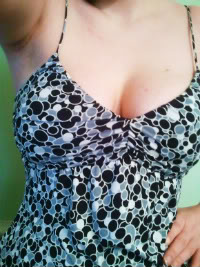 To give you a good look of what it looks like being warn by a non model. Also a picture of it worn under a shirt that hugs my body. My reasoning for posting the picture with the shirt over it is to show how it gives you that thin waist. This shirt clinches to my body so this corset helped with giving me a flattering look.
I'm giving this a 4 out of 5 stars. All though I LOVE the look of the corset and it clinches wonderfully. I just can't get over the bust of it. If only it had support; underwire, more padding, something! It broke my heart that the chest area wasn't made better. That simple detail will ruin a corset.
This product was provided free of charge to the reviewer. This review is in compliance with the FTC guidelines.

Thank you for viewing
Jesse corset
review page!